Apple's (NASDAQ:AAPL) business has currently lower impact and is less exciting than before. While it manages to make services grow, the development of old and new products keeps making the company as the overwhelming cash cow that everyone envies. One may say that even without reason to jump for joy the job is being done nicely. But for Apple it's not enough because it could do much more. In fact, there's a sense of missed opportunity when the huge amount of cash flow is not invested in new appealing and profitable businesses. For that purpose it doesn't matter if investments will be organic or inorganic - in other words, from internal growth or acquisitions.
An increasing number of analysts now talk about using the money available by the company to buy growth. I completely agree with that as the best strategy for Apple's success.
The options of investing mountains of cash is by no means small. From minor changes in products until investments related to the purchase of huge companies there is a wide field of choice because money is more than enough. Anyway, while investing Apple's cash pile is pointing in the right direction, I would give preference to several medium-sized business purchases with great potential.
New businesses don't need to be of disruptive innovation, instead they ought to be good deals that add value to the company. The investment of $1 billion in Didi Chuxing is a good example of an inorganic deal with promising potential.
On a long-term perspective, both financial metrics and prices have to be positive and growing. It's important to remember that Apple's share price is still in a downtrend which will be only reversed when it surpasses the top at $130.58. For now, prices have been making lower highs and lower lows since April 2015.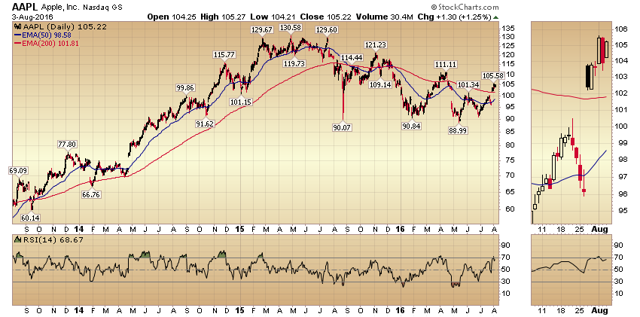 Charts courtesy of StockCharts.com
The three-year daily chart above shows us the said downtrend period. In order to regain a bullish stance it would be urgently needed a sustained stock price above $105-$106 and ready to challenge higher levels. In fact, immediately after last earnings report share price climbed above the mentioned level and appears to rise further. With Apple's share price above EMA(50) and EMA (200), it's now crucial to see if the momentum can hold and send prices much higher.
Conclusion
Apple has to invest its cash of ~$146.5 billion (less long-term debt and commercial paper). A large amount of money without real contribution to the company is a situation that the company should avoid. The development of the company and its growth must involve the use of a good portion of that money. It is no coincidence that the company is in a downward trend since April 2015 . The evolution of stock prices is the picture of the difficulties that Apple is experiencing in terms of sales and business development. The company is witnessing good momentum and should continue on this path of recovery as competition requires enhanced attention.
Disclosure: I/we have no positions in any stocks mentioned, and no plans to initiate any positions within the next 72 hours.
I wrote this article myself, and it expresses my own opinions. I am not receiving compensation for it (other than from Seeking Alpha). I have no business relationship with any company whose stock is mentioned in this article.
Additional disclosure: The author of this article gives only his personal view and opinion, never making any investment advice to buy or sell specific securities. Investors in financial assets must do so at their own responsibility and with due caution as they involve a significant degree of risk. Before investing in financial assets, investors should do their own research and consult a professional investment adviser.