Advaxis (NASDAQ:ADXS) has shown us a lot of promise over the years, with a lot of exciting research coming out for its programs in osteosarcoma, as I've written about previously. Its lead platform, modified Listeria monocytogenes designed to activate the immune system against tumors, has faced clinical holds due to adverse events, and its competitor Aduro Biotech experienced a setback in pancreatic cancer earlier this year, though I argued that this might not be the most damning news for the platform.
Now, 2016 is shaping up to be a big year for ADXS. This is on the heels of two huge pieces of news for the company that have already led to large gains in total valuation.
Cervical cancer development reaching its climax
Just last month, the company announced that its most clinically advanced therapy, axalimogene filolisbac (AXAL), received the FDA's fast track designation.
The news comes as quite welcome, though a little unsurprising since AXAL previously received orphan designation, and ADXS worked with the FDA to develop a special protocol assessment (SPA), which essentially establishes the clinical trial design the FDA will want to see in order to allow for approval of a new drug.
The pivotal trial for AXAL is called AIM2CERV, recruiting patients from 20 different countries. These patients have locally advanced cervical cancer, and they will receive chemotherapy and radiation before being randomized to placebo or AXAL in order to determine if disease-free survival is improved with this therapy.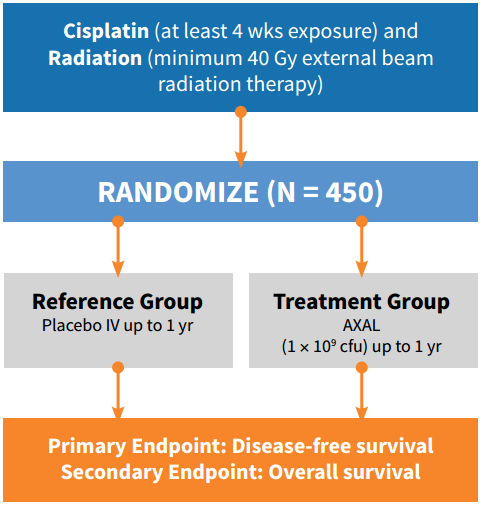 Trial design of AIM2CERV. Source: Advaxis website
ADXS expects that full recruitment will take them until mid-2018. However, with fast track designation, interim readouts are going to be very important. Cervical cancer currently lacks treatment options, and just this past June we saw at ASCO an updated analysis of GOG 0265, which looked at AXAL in relapsed, metastatic cervical cancer.
With a 12-month overall survival rate of nearly 40%, it looked like AXAL was quite active in this population. 12-month survival for other agents in this setting, including Avastin and oxaliplatin, do not exceed 30%.
Now that AIM2CERV is set to start, the outlook of ADXS in cervical cancer is quite exciting, with ongoing trials spanning the adjuvant therapy setting (AIM2CERV), combinations with other immunotherapies (AZ's durvalumab), and treatment for relapsed disease.
A new partnership
Aside from its attenuated Listeria platform, Advaxis touts its so-called "neo-epitope" program, which often falls short of reaching my radar because of its very, very early stage of development.
We can ignore it no longer. ADXS announced a global collaboration with Amgen for the development of its ADXS-NEO program, which gives Amgen worldwide rights to develop and commercialize this therapy in exchange for an upfront payment of $40 million and up to $475 million in milestone payments. ADXS will also collect royalties on the sales of this therapy.
So now we should consider the neo-epitope program a little more carefully. What is it?
Basically, it is personalized cancer therapy driven to an extreme. ADXS-NEO uses the same Listeria-based immunotherapy, but instead of a common target like HER2 or HPV, Advaxis takes a sample of tumor from the patient for deep sequencing to identify mutations within the tumor that do not occur naturally. These are called "neo-epitopes," which the immune system can recognize as foreign to mount an antitumor response.
We don't have much in the way of scientific evidence that this approach will or will not work in humans. I'd like to offer a few points of consideration, though.
1) Neo-epitopes are promising therapeutic targets, and they are one reason why immune checkpoint inhibitors have been so effective in certain diseases.
Consider this: nivolumab has been approved in melanoma, lung cancer, and renal cancer. What do they have in common? Environmental causes. Melanoma: radiation. Lung cancer: smoking/inhalation of carcinogens. Renal cancer: exposure to practically everything you ingest. The common thread is mutation, mutation, mutation, and by ramping up the immune system, the body can detect and attack the neo-epitopes formed by these insults.
ADXS is taking this a step further now with this platform. By looking at a patient's tumor, you don't rely on the body to mount a response against targets, which may or may not happen. This inconsistency is a bit of a sticking point for immune checkpoint inhibitors at this time, and combination therapy may or may not overcome it. The ADXS platform, however, bypasses the need for the body to figure out the tumor's unique bits.
2) That said, there is a disadvantage to approaching tumor therapy in this way: heterogeneity. If you take a biopsy of a tumor in one location, what are the odds that the neo-epitopes detected there will be present in another part of the tumor? What about metastatic cells? These are complex questions being explored in their own whole subfields of oncology.
Basically, if you take a patient's tumor from the primary site and manufacture the Listeria to promote an immune response, you should eliminate the cells similar to the ones you got from the biopsy. But if other parts of the tumor, including those that broke away and are growing elsewhere, have evolved beyond those mutations, then you may have a problem. Now, the immune response in itself may expose other neo-epitopes that allow for a collateral attack, but this may not happen. For me, it is a significant risk associated with this therapy.
Conclusions
The pros and cons I've put forward for the ADXS are theoretical, based only on my observations and conversations around tumor cell biology, and there is no evidence at this time that the neo-epitope platform will or won't work.
The key takeaways from an investment standpoint are: 1) This is a pristinely precise technology that may yield benefit, and 2) Amgen must be very confident to offer up a half a billion dollars in partnership.
The influx of cash from the upfront payment will help ADXS fund its near-term development, undoubtedly. Perhaps there will be no need for dilution, as predicted in the comments of my last article about ADXS.
Furthermore, the company is marching steadily toward realizing the potential of the Listeria-based immunotherapeutic strategy in cervical cancer. You'll definitely want to keep an eye out for further developments. If they show good early results, the FDA may grease the wheels for approval of AXAL.
Disclosure: I/we have no positions in any stocks mentioned, and no plans to initiate any positions within the next 72 hours.
I wrote this article myself, and it expresses my own opinions. I am not receiving compensation for it (other than from Seeking Alpha). I have no business relationship with any company whose stock is mentioned in this article.