Disclosure: I work at LendingRobot, a RIA specializing in the peer-to-peer lending industry.
Introduction
The internet-based Peer-to-Peer business model has been posited as providing a superior underwriting service with scalable operations and low fixed costs. These two key business advantages imply an ability to adapt to changing market conditions, quickly increasing capacity in times of expansion and decreasing capacity in times of contraction.
It has been three months since the departure of former CEO Renault Laplanche shook the Peer-to-Peer lending industry and bumped the company from its hockey-stick growth projections into a contractionary period. Therefore, the second quarter earnings report will represent an important validation of the Peer-to-Peer model. How well will Lending Club's (NYSE:LC) internet-based business model adapt in periods of contracting revenue?
Laplanche's departure amid allegations of scandal set the company on a month long damage-control mission. Further upsetting markets was the news that regulatory agencies would be closely scrutinizing company transactions. In addition, the company disclosed that pockets of loans were underperforming expectations. This triple whammy caused the stock price to tank and wary investors to pause funding of new notes.
To restore investor and note investor confidence, the company was tasked with three important missions:
Demonstrate to regulatory authorities that fraud had not spread throughout the company.
Immediately adapt company expenses to match the lower revenue growth expectations.
Shore up note investor confidence in the company's efficacy and underwriting.
First, the bad news: second quarter earnings expectations are dismal
The platform lending model has been marketed as a method to reduce costly overhead and provide flexibility to adapt to changing economic landscapes. Lending Club did not fully appreciate the impact of Laplanche's departure would have on investor confidence, and therefore did not begin cutting expenses prior to May 9th 2016.
What is impressive is that within two months, Lending Club reacted by reducing headcount by 179 positions (11.5% of its workforce), tightening underwriting policies, and increasing oversight.
Despite these quick changes, the company has made no secret that this quarter's results will be drastically lower than previous quarters. Total operating revenue is likely to be between $110M-$125M, a decrease of $27-$42M from the first quarter 2016.
This decrease in revenue, combined with several large one-time write-downs, means that the company is likely to report a second quarter loss of between $90-$120 million, or $0.23-$0.31 per share.
The company's cash will be decreased by a further $40 million, as the company was obliged to fund approximately 2% of loan originations from its balance sheet. From a historical perspective, this will represent the largest percentage of loans funded from Lending Club's balance sheet since December 2011. To add perspective, in Q1'16 the company funded just under $1M from its balance sheet, or 0.05% of originations.
Though diminished, the company's cash should remain significant at approximately $420M. This cash reserve allows the company some flexibility moving forward.
Internal Auditing has only turned up minor infractions
In response to the increased scrutiny, the company launched an internal probe. The auditors turned up revealed two infractions.
Laplanche and his family artificially boosted originations by taking out three quarters of a million dollars in loans in December 2009.
The accounting of one of the Lending Club funds did not follow GAAP, and also found non-adherence to the fund's investment strategy.
Lending Club reported that they have instituted policies and procedures to ensure that infractions of these sorts do not happen again in the future.
While internal auditors have completed their investigation, government regulatory agencies have not yet released any findings nor announced any fines. This suggests that fraud was limited in scope and affected only a small fraction of notes.
Adjustments moving forward: how tighter underwriting policies will affect revenue potential
As mentioned in my previous article, Lending Club earns the majority of its revenue from loan origination fees, which presents a potential conflict of interest. The company has a short term incentive to lower the threshold required to obtain a loan so that more loans are issued and revenue is increased. If loss projections are higher than anticipated, the risk/reward ratio becomes threatened as yields fall. As a consequence, note investors will pull funding.
Lending Club's credit policy has evolved since its founding in 2007. Since December 2010, most of the evolution has been in the form of loosening credit restrictions for high-risk borrowers. Loosening restrictions widened Lending Club's target borrower market and fueled faster growth.

(source: Compiled Lending Club 8k Reports)
In September 2014 the company loosened its credit policy and raised the acceptable level of a borrower's DTI from 35% to 40%. Borrowers who fell inside this new category represented an immediate increase of 3.2% of originations in August 2014, which has nearly doubled to 6% as of March 2016. Most of these new borrowers fell into grades D-E, which corresponds with higher risk.
In early 2016 Lending Club announced that it had discovered 'pockets of loans that were underperforming expectations'. According to SEC filings, Lending Club tightened credit requirements effective June 7th, 2016, returning DTI limits to 2014 levels. Their reasoning was explained in a 8k filing:
In some higher risk grades in early 2016, we identified some underperforming pockets of loans and made modifications to pricing and credit policies accordingly. The population eliminated from the credit policy represents slightly less than 5% of loan volume (annualized based on Q4 2015), and was mainly characterized by high indebtedness, an increased propensity to accumulate debt and lower credit scores.
Lending Club did not release statistics on how these underperforming segments were affecting investor return. The two questions are therefore,
How poorly were these loans performing?
How will this move affect company revenue?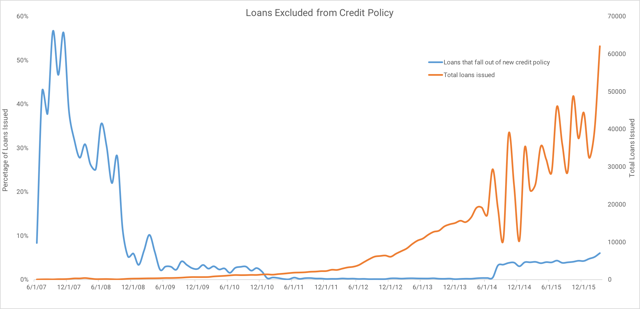 (Source: Compiled Lending Club data)
Although not directly comparable due to improvements in the company's overall underwriting algorithms, we have some reference to how these borrowers have done as a population as credit was extended to this category from the company's founding until late 2010. All of these notes have now reached maturity, which gives us the opportunity to calculate a definitive ROI. The results are stark: while the platform average return during this period was 7.7%, notes with similar characteristics to the underperforming segment returned -33%.
LendingRobot estimates that the elimination of these poorly performing segments will raise the platform average return by 0.6% to 1%. For those investing in higher-risk borrowers (grades D-G), returns may increase 2% to 3.5%.
While this move will benefit note investors (and hopefully lead to greater investor retention), in the short term the move will hurt company revenue and impede company growth. The segment that Lending Club cut from their credit policy represents a permanent decrease in annual originations and revenue of between $400-$600M and $20-$30M, respectively.
Investor appetite for notes is returning
While Lending Club has not yet released data files pertaining to loans released in Q2'16, a look at the retail loan inventory on their website offers an insight on investor sentiment.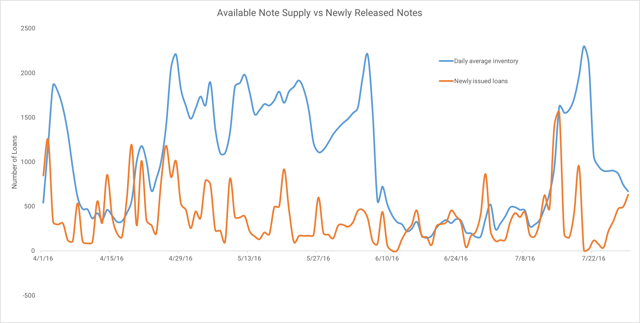 (Source: Internal LendingRobot Data)
From April 1st to May 9th, Lending Club released an average of 495 loans per day. From May 10th to July 10th, Lending Club decreased the amount of loans released in its retail channel to 279 per day - a 56% drop in new loan offerings. Even though new offerings fell considerably, inventory remained high for another month, representing a sharp decrease in investor demand and a reason why Lending Club was forced to use their balance sheet to fund some loans.
Since July 10th note releases have returned to 90% of their former levels and inventory levels have returned to historical levels, both of which suggest that retail note investors are returning to the platform. Although inventory levels and loan data will need to be watched, this data seems to point to origination growth resuming in Q3'16.
An important milestone
Lending Club has stated that second quarter loan originations are approximately $2B. Following this quarter, the company will break an important milestone: $20B in total originations. This represents growth of 185% in the past year.
Stock buy-back imminent?
As a reminder, in February 2016, the board authorized $150 million to repurchase shares in the open market. While the company's available cash has decreased over the past quarter, the current depressed share prices may represent an opportunity for the company to use its war chest to buy back shares once cash flow has stabilized. Although there are many options for the company's cash, a strategic share buyback would send a clear signal to the market that the company believes its is undervalued and sees continued growth ahead.
Disclosure: I/we have no positions in any stocks mentioned, and no plans to initiate any positions within the next 72 hours.
I wrote this article myself, and it expresses my own opinions. I am not receiving compensation for it (other than from Seeking Alpha). I have no business relationship with any company whose stock is mentioned in this article.
Additional disclosure: I work as an Investment Advisor Representative for LendingRobot, a technology-based niche RIA specializing in the peer-to-peer lending space.