Last year's monetary stimulus positively affected domestic consumption in Canada. Despite the fact that, after a rate cut, households' purchasing power has declined, the growth rate in consumption and consumer prices rose. I think this happened because of the high level of consumer confidence and favorable credit conditions.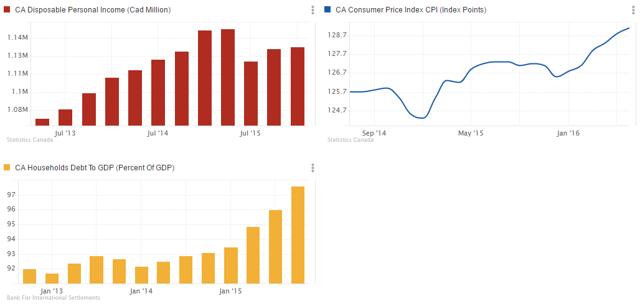 (Source: ieconomics)
The new liberal government of Canadian Prime Minister Justin Trudeau approved an increase in government spending on various socio-economic governmental programs, including an increase in financial assistance to various segments of the population and accelerating the pace of development of the Canadian housing market. I believe that these programs will further accelerate growth in consumer demand and in the Canadian CPI.
Growth in domestic consumption is also reflected in the substantial reduction of inventories, which indicates positive conditions for further growth in domestic consumption.
Despite steady growth in consumer demand, development of the industrial sector slowed, which is reflected in the manufacturing PMI and producer prices.
(Source: ieconomics)
Moreover, it is worth mentioning a reduction in the construction segment of production capacity in the industrial sector, as well as low oil prices, which adversely affect the profitability of Canadian companies from an energy industry. Despite the fact that the end of Canadian wildfires will lead to increasing output of manufacturing and mining businesses, industrial production growth will likely remain suppressed for the second half of 2016.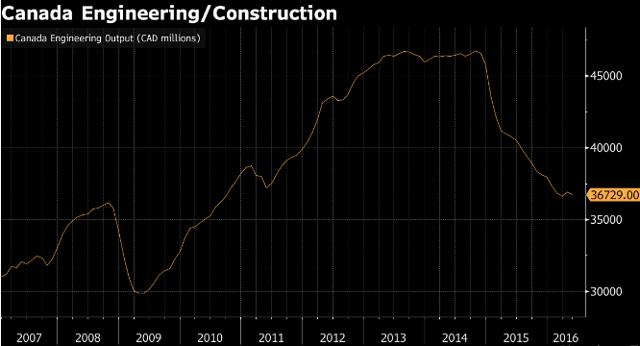 (Source: Bloomberg)
Conclusion
Hence, I believe a significant increase in the growth of domestic demand will lead to higher consumer prices and import volumes, given the stagnation in Canadian industrials. In this case, Canadian business and FDI volumes will become increasingly attractive. Consequently, a rising inflation rate will hurt the purchasing power of households. To maintain growth in domestic consumption, the Bank of Canada will have to intervene.
I believe these interventions will be aimed at boosting the value of the CAD, as the only alternative for slowing inflation growth is fiscal consolidation, which is likely too harmful in current economic conditions. I think the Bank of Canada will be forced to resort to the revaluation of the CAD until the end of 2016. Therefore, I recommend investing in FXC for the short term.
Disclosure: I am/we are long FXC.
I wrote this article myself, and it expresses my own opinions. I am not receiving compensation for it (other than from Seeking Alpha). I have no business relationship with any company whose stock is mentioned in this article.