Buying an airline stock is like buying a boat - the two happiest days are when you buy it and when you get rid of it. Indeed, investing in airlines is a terrible idea. The industry is fiercely competitive, highly cyclical and enormously capital-intensive. Even the best airlines tend to have volatile, often negative, earnings and debt-bloated balance sheets. So it's no surprise that there have been some 200 bankruptcies since the passing of the Airline Deregulation Act in 1978.
Southwest Airlines (NYSE:LUV), so far at least, has been an outlier in this notoriously brutal industry. Started in 1971 with the goal of stimulating demand through cheap fares, Southwest is now the largest domestic U.S. airline (by flight count) and the most consistently profitable, having generated positive EBIT for 43 consecutive years.
The secret behind Southwest's unusual profitability was its low-cost operating advantage. It obtained this advantage by flying direct, point-to-point routes to less congested secondary airports with a uniform fleet of Boeing 737s. This maximized aircraft utilization and employee productivity, while keeping expenses at a minimum since it required maintenance and pilot training on only one type of aircraft.
Over the years, the success of this strategy inspired smaller competitors like Alaska Air Group (NYSE:ALK), Spirit Airlines (NASDAQ:SAVE), JetBlue (NASDAQ:JBLU), and others to enter the market and mimic it. Furthermore, consolidation among the larger legacy players has enabled them to cut costs and become more efficient, pressuring Southwest and steadily eroding its once strong competitive advantage.
Today, that advantage has all but disappeared. The table below clearly shows that Southwest isn't the lowest-cost provider anymore as measured by cost per available seat mile, or CASM. As of the end of fiscal year 2015, Spirit Airlines, SkyWest (NASDAQ:SKYW) and Allegiant (NASDAQ:ALGT) are operating significantly below Southwest's CASM level.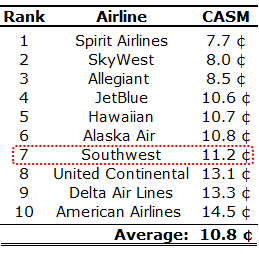 Note: (1) CASM = operating costs / available seat miles; ASM = number of seats available for passengers * the number of scheduled miles those seats are flown. (2) Generally, the lower the CASM, the more profitable and efficient the airline. (3) The CASM numbers presented here include fuel costs.
Source: A North Investments, Company SEC filings
These companies, as well as numerous other smaller airlines, are all trying to gain share in different niche markets and have played a significant role in limiting growth for Southwest. Case in point: between its first full year of operations in 1972 and 2000, Southwest's revenue grew at an impressive CAGR of nearly 28%. Subsequently though, between 2000 and 2015, the CAGR decelerated to below 9%. This is troubling because Southwest needs strong revenue growth in other to offset the continued rise in expenses.
Like, for example, salaries. Rising labor costs represent a significant risk to Southwest's profitability because more than 41,000 of its employees, including 7,600 pilots, are unionized. Southwest's pilots haven't had a raise since 2011 and earlier this year, their union was proposing a new contract that would make them the highest-paid pilots in the industry at $249.82 per hour of flying time (for a 12-year captain). Compare this with $245.80 at United (NYSE:UAL) and $234.67 at American (NASDAQ:AAL). As it stands right now, labor, at ~32% of revenue, is the largest single expense for Southwest and can only get larger going forward.
And then there's the second largest expense - jet fuel. Unpredictable, volatile and extremely difficult to hedge properly, fuel has by far the most impact on profitability of any other expense. Depending on whether oil prices were rising or falling, fuel costs have fluctuated from less than 10% to nearly 40% of revenue. As a result, Southwest's EBIT margins were in some years unusually low (2008 to 2013), and in others unsustainably high (2015 to present). This inverse oil price/profitability relationship is illustrated below.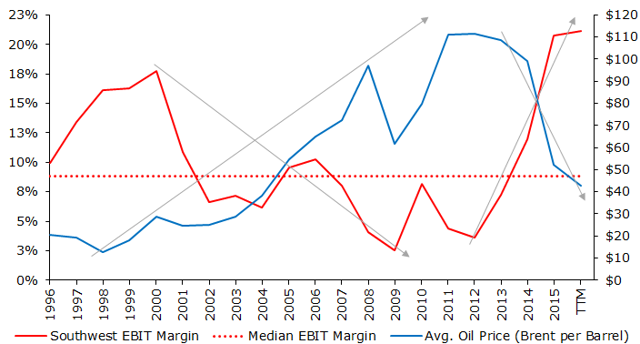 Note: (1) EBIT from 1996 to 2005 has been adjusted to deduct the "fair value cost" of stock-based compensation. (2) The median EBIT margin shown here is a 20-year median (1996 to 2015).
Source: A North Investments, Southwest's SEC filings, the U.S. EIA
Here's where the tricky part comes in. Given these large year-to-year variations in profitability, how does one go about determining Southwest's sustainable or recurring EBIT? We obviously can't rely on reported trailing 12-month EBIT as this level of profitability is unlikely to persist. For even if the company's growth wasn't decelerating and even if its labor costs as a percentage of revenue remained stable (two very optimistic "ifs"), fuel costs would still present a significant long-term risk. There's a finite amount of oil in the ground. Demand will eventually catch up with supply, causing prices - and hence Southwest's fuel costs - to rise.
In short, the only way to determine Southwest's sustainable EBIT is to cyclically adjust it. To do this, take the company's 20-year median EBIT margin, which captures the "normalized" long-term profitability level over multiple economic and oil price cycles, and multiply it by its trailing 12-month revenue. If calculated correctly, we should get normalized EBIT of 8.86% * $20.23 billion = $1.79 billion. This is nearly 60% (or $2.49 billion) lower than Southwest's reported trailing 12-month EBIT of $4.28 billion.
Which finally brings us to the valuation. With an enterprise value, or EV, of just under $23 billion, Southwest is currently trading for a somewhat reasonable 5.3x reported trailing 12-month EBIT. However, using normalized EBIT, which again, is a more accurate reflection of the company's sustainable earnings power, the valuation looks more than twice as expensive at 12.8x EV/EBIT - in-line with airline peers shown below.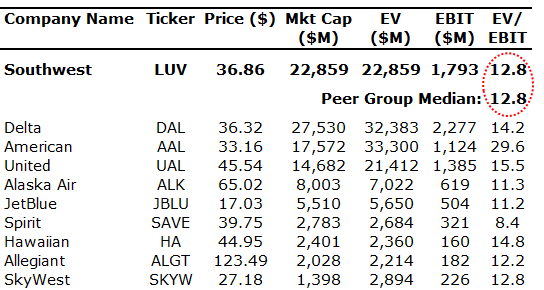 Note: All peer EBITs have also been normalized to make the valuation comparison fair.
Source: A North Investments
A peer-like valuation is simply not justified for a number of reasons: (1) The airline industry as a whole is grossly overvalued thanks to low fuel costs which have helped temporarily boost earnings, (2) Southwest has average fundamentals, and unlike some its peers, doesn't have a low-cost operating advantage, and (3) Delta (NYSE:DAL), American and United are much larger in terms of revenue and have a stronger international presence.
Taking all of this into account, Southwest deserves, at the very least, a 20% discount to peers (or ~10x EV/EBIT). This would imply a fair value of $28.90/share, or 22% downside potential from the recent price of $36.86/share.
In short, no matter how you slice it, Southwest is a lousy investment. Not only has its low-cost operating advantage withered away, its revenue growth is decelerating while expenses are climbing. This, coupled with intensifying competition from smaller niche airlines, will eventually squeeze Southwest's unsustainable double-digit EBIT margins back down to a normalized single-digit level. This will make the stock look more expensive than it currently looks, possibly prompting a sell-off.
Disclosure: I/we have no positions in any stocks mentioned, and no plans to initiate any positions within the next 72 hours.
I wrote this article myself, and it expresses my own opinions. I am not receiving compensation for it (other than from Seeking Alpha). I have no business relationship with any company whose stock is mentioned in this article.