On 8/3/2016 Tesla (NASDAQ:TSLA) reported its earnings for the quarter ending June 2016, with a loss of $1.06/share, missing consensus estimates for a loss of 52 cents/share. Tesla's reported net earnings even missed the lowest end of all the analysts' individual estimates, which ranged from a loss of $1.02/share to a profit of $0.26/share. Despite such miss, Tesla shares are trading at 226.01 as of 11:00 AM 8/4/2016, barely changed from the prior close.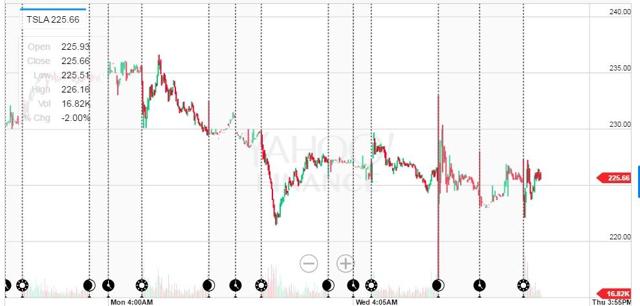 We had published an article on 8/2/2016 expecting Tesla shares to record a substantial move following earnings, favoring an options position expiring in January 2017, while also favoring a bullish bias (as we still expect Tesla shares to make new all-time highs). We also provided data whereby Tesla shares had previously often appreciated in the past following missing earnings estimates, whereby it had only declined in 6 out of 13 occasions where it had missed earnings estimates.
Although the price move in Tesla shares is still muted in the few hours following earnings release, the jury is still out for the rest of the day and the months between now and January 2017. However, most importantly, Tesla shares have shown their resilience in light of such earnings miss, with investors focusing on Tesla's potential, and the fact that it showed improvement in its production capabilities, announcing that it is on track to deliver 50,000 vehicles during the second half of 2016.
Meanwhile, short sellers are sticking to their thesis, as per article published by Business Insider, "This is the sentence all the Tesla shorts have been waiting for". As illustrated by such article, short sellers main thesis relies upon their belief that Tesla's cash burn is too great, and that Tesla will ultimately run out of cash, requiring additional funding which will drive shares lower:
The Tesla bears have been saying it for months.

Elon Musk is guzzling cash to fuel his burgeoning transportation empire, and he's going to need new sources for that cash sooner rather than later....

This is what the shorts believe will be the end of Tesla: that it will run out of funding for its incredibly ambitious plans, like completing its massive Gigafactory or, you know, self-driving public transportation - see: Musk's Master Plan Part 2.
What the sellers do not realize is that Tesla's ambitions are fundable, and such funding does not have to be raised in the equity markets; it can be successfully raised in the debt market, in an environment where interest rates are incredibly low, and where the related interest rate payments would not be too much of a burden on Tesla.
Having previously served as Chief Investment Officer for one of the subsidiaries of Qatar Investment Authority (the $256 billion sovereign wealth fund for Qatar), I was tasked in managing/optimizing the investment of our $5 billion declared capital, with the objective of launching $25 billion to $30 billion in projects. As we often found out, lending entities, including private banks, public banks, export credit agencies, and even high net worth individuals, were highly attracted to investments that had secured off-take agreements, such as power generation plants (with power purchasing agreements in place), industrial plants (with offtake agreements to sell commodity output to other manufacturers), dairy farms (with offtake agreements to sell milk output to dairy processing food manufacturers), and even real estate projects (with pre-sales and pre-leases in place). The principle is simple for such project finance appetite by investors for funding debt backed by offtake agreements: such offtake agreements simply minimize related risks for debt/interest repayment.
In the case of Tesla, it currently already has estimated orders for about 375,000 model 3 vehicles. Although clients can cancel orders, lending entities are likely to accept a financial model that would deduce what ultimate sales transactions are likely to be generated from such reservations. Furthermore, as per Tesla's reservation agreement , Tesla will provide clients a purchase agreement to sign once the "start of production for your reservation nears".
In other words, Tesla's reservations can act as the basis for the equivalent of offtake agreements (further solidified upon being converted into purchase agreements), and can be potentially used to back part of Tesla's short term funding requirements. Ultimately, Tesla's funding needs for the production of Model 3 will be provided by prepayments from Model 3 buyers (naturally, as long as Tesla maintains favorable margins and is not overwhelmed by cash burn and runaway costs once Model 3 production goes into full swing).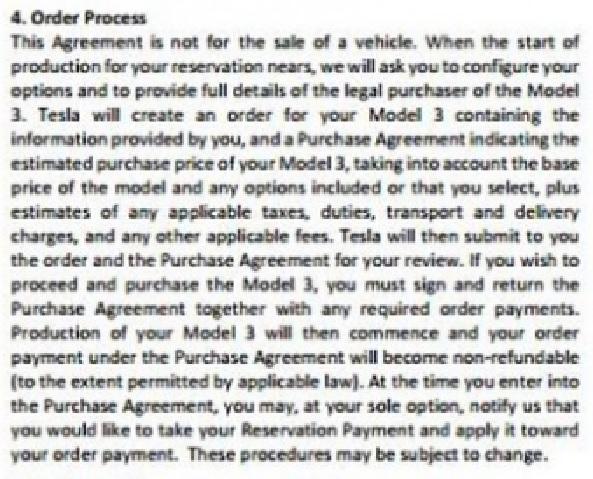 Tesla's Model 3 reservation agreement paragraph 4, "order process" - Source: Teslarati.com
Similarly, Tesla's $5 billion Gigafactory, which also seems to raise flags by short sellers due to its price tag, is another attractive candidate for project finance, backed by offtake agreements. If Tesla's Gigafactory was a stand alone project owned by a third party, with an offtake agreement in place with Tesla, lending entities would be scrambling over each other to provide needed debt... Furthermore, securing Panasonic as a partner for the project provides additional potential Japanese lending sources, and may even qualify for preferred rates as cells are expected to be imported from Japan; Japan Bank for international Cooperation ((JBIC)) is one example of a Japanese entity that is tasked in advancing Japan's external economic policy, and hence could consider providing debt financing to the Gigafactory, which promotes the interest of a Japanese strategic partner, and Japanese exports.
Whereby short sellers are treating the Gigafactory as a potential liability, such initiative actually adds tremendous value to Tesla. As reported by James Ayre in Clean Technica, Global Equity Research's Trip Chowdhry values the Gigafactory's market value at $50 billion. If Tesla wanted to, it could spin-off the Gigafactory upon entering into an offtake agreement with the Gigafactory, hence potentially generating billions in investments profits:
"The analyst bases his valuation on the potential revenue stream he sees being generated by the battery factory. Chowdhry believes that the Gigafactory will be capable of generating as much as $100 billion in revenue for the company over the next 20 years. He calls what Tesla is doing with its Gigafactory 'new industry creation activity,' meaning that the potential revenue from the enterprise is far greater than most people realize," Teslarati notes.
Oil Prices
Another reason we believe short sellers are wrong about Tesla is related to oil prices. Despite the fact that oil prices have declined steadily from two years ago, demand for Tesla's electric vehicles is still robust (as illustrated by Model 3's successful launch). One would expect demand for electric vehicles to fade as oil prices drop, as the incentive for consumers to save on fuel costs wanes. As per our article of June 29, 2016, "Tesla Shares Will Make All-Time Highs Boosted By SolarCity", 37% of consumers buy electric vehicles to save money on fuel.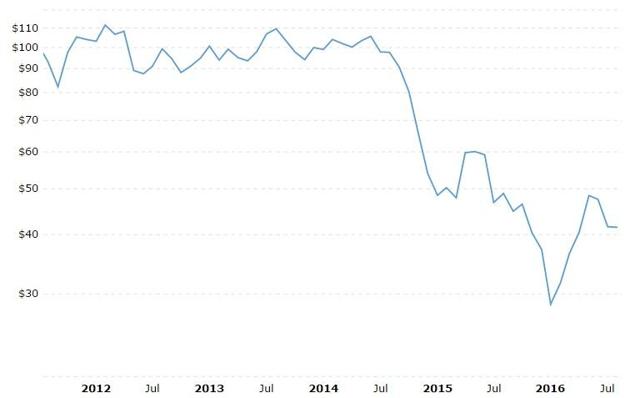 Crude oil prices 5-year chart - Source: Macrotrends
Oil prices are cyclical, and the industry often fluctuates between boom and bust. Due to lower capital expenditures in the oil industry as a result of the drop in oil prices during the last two years, oil demand and supply are expected to come back into balance, and oil prices are expected to rise again. As reported by CNBC, Raymond James in June raised its oil price forecast to $80 a barrel in 2017, $75 in 2018 and $70 in 2019, while currently, oil prices are trading around $40/barrel.
Ultimately, it is inevitable that oil prices will rise again. Once that happens, all components of Tesla's strategy, including electric vehicles, storage batteries, solar panels, etc... will gain substantial momentum. It simply seems that short sellers have become very comfortable with the current oil price environment, and have discounted what a rise in oil prices in the future could mean to Tesla's proposition.
Conclusion
Short sellers are wrong about Tesla because Tesla has several potential funding alternatives to fund its growth aside from stock issuance. In addition, short sellers are wrong about Tesla because they have become too comfortable in the current low oil price environment; whereby a future rise in oil prices will further boost Tesla's proposition. As a result, we continue to favor a long position in Tesla, and still expect Tesla shares to make new all-time highs.
Disclosure: I/we have no positions in any stocks mentioned, but may initiate a long position in TSLA over the next 72 hours.
I wrote this article myself, and it expresses my own opinions. I am not receiving compensation for it (other than from Seeking Alpha). I have no business relationship with any company whose stock is mentioned in this article.