It was not that long ago when many investors believed that master limited partnerships had minimum exposure to the volatile oil prices. The downturn proved that wrong as MLPs turned out to be one of the biggest casualties of crude's collapse. A number of energy infrastructure companies faced severe cash flow shortfall. Some, like Crestwood Equity Partners (NYSE:CEQP) and NGL Energy Partners (NYSE:NGL), were forced to make wholesale cuts to distributions while others, like Azure Midstream Partners (NYSE:AZUR), suspended payouts. But in this turmoil, Enterprise Products Partners (NYSE:EPD) is an island of safety.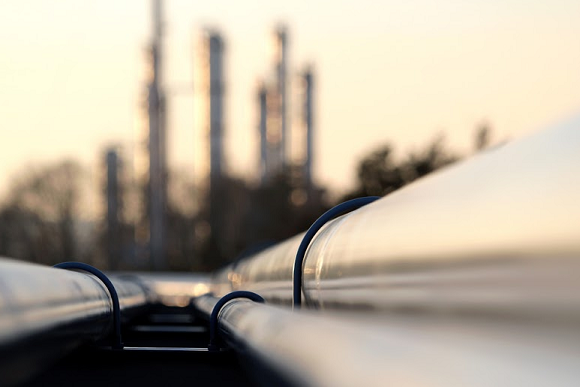 Enterprise Products Partners is one of the largest MLPs, boasting a market cap of more than $56 billion. The company has interest in roughly 49,000 miles of natural gas, NGL, crude oil petrochemical and refined products pipelines, 250 million barrels of liquid storage and 14 billion cubic feet of natural gas storage capacity, more than 50 natural gas processing plants, fractionators and distillation facilities and owns LPG, PGP, crude oil and refined products export facilities. This makes Enterprise Products one of the rare fully integrated MLPs, with access to every major shale basin, ethylene crackers and 90% of refineries East of Rockies, which can meet domestic and international demand. The partnership gets more than half of its segment earnings (gross operating margin) from NGL pipelines and services business while the rest comes from crude oil, natural gas, petrochemicals and refined products pipelines and services.
Unlike a majority of MLPs, Enterprise Products has been remarkably resilient in the downturn, and this was evident from its latest quarterly results. During the three months ended June, Enterprise Products said that its revenues declined almost 21%. But this hardly matters since revenues are heavily influenced by commodity prices and tell little about the MLP's performance.
What really matters is two things. Firstly, at a time when other MLPs are finding it difficult to maintain the flow of oil and gas from pipelines, Enterprise Products has managed to consistently grow volumes. In the previous quarter, the onshore natural gas pipelines was the only area where the company's volumes declined, and that too by just 2.4%. Meanwhile, the MLP posted higher volumes for onshore liquids, marine terminal, NGL fractionation, natural gas processing and equity NGL production.

Secondly, Enterprise Products continued to clamp down on costs, with total costs and expenses declining by 24.1% on a year-over-year basis in the second quarter. The decline in costs offset the impact of lower revenue on earnings. As a result, Enterprise Products' operating income actually climbed 4.6% to $837 million while adjusted earnings were up 1.5% to $1.31 billion.
But for an MLP, the distributable cash flow is watched more closely than revenue or earnings, since this is what fuels the distributions which are central to an MLP's dividend-paying structure. In the downturn, most of the energy infrastructure companies have seen their distributable cash flows decline which has forced them to cut distributions, such as the above-mentioned MLPs. Enterprise Products, however, continues to defy this trend by posting increase in distributable cash flows. In the latest quarter, the DCF clocked in at slightly more than $1 billion, an increase of almost 5% from last year. So far, in the first six months of this year, the company has seen DCF climb almost 4% to $2.09 billion.
Buoyed by increase in DCF, Enterprise Products has ramped up distributions by 5.3% to $0.40 per share. That's something which most MLPs can't afford to do. Enterprise Products, however, has further solidified its track record by making 48th consecutive increase in distributions in a row. Moreover, the strong level of DCF was more than enough to cover distributions, leading to retained DCF of $200 million and a coverage ratio of 1.2-times. So far in 2016, the MLP has retained $428 million of DCF, which reduces Enterprise Products' need to tap into capital markets to fund its operations and future growth projects.
Enterprise Products is working on $7.4 billion of growth projects which it plans to bring online between 2016 and 2018. Of these, it has already started $900 million of projects in the first half of this year, such as the ramp up of crude oil storage at Houston and Beaumont terminals. The MLP is nearing completion of the ethane export plant on the Houston Ship Channel and the natural gas processing plant in Delaware Basin. In 2017 and 2018, Enterprise Products plans to finish $5.2 billion of growth projects, including the PDH ( propane dehydrogenation) plant. With these projects, Enterprise Products should be able to continue growing volumes in the coming years.
Conclusion
In short, Enterprise Products Partners continues to defy expectations by growing volumes, earnings and distributable cash flows while maintain a strong coverage ratio of 1.2-times. The company has performed well in the downturn, which is a testament to a great management team and a rock solid business model that can withstand low commodity prices. For these reasons, Enterprise Products remains one of my favorite MLPs.
Remember, however, that Enterprise Products is not completely immune from the downturn. Its DCF is still climbing, but the growth is significantly smaller when compared against the double-digit increase seen in 1H-2014, before commodity prices collapsed. Although oil prices have gained substantially, climbing to $40 from lows of $26 a barrel seen recently while natural gas has gained from $2 to $3 per mmBtu, if they fall back again, then that could negatively impact the energy infrastructure demand. That's going to hurt Enterprise Products' ability to continue growing volumes, earnings and DCF.
Note from author: Thank you for reading. If you like this article, then please follow me by clicking the " Follow" link at the top of this page.
Disclosure: I/we have no positions in any stocks mentioned, and no plans to initiate any positions within the next 72 hours.
I wrote this article myself, and it expresses my own opinions. I am not receiving compensation for it (other than from Seeking Alpha). I have no business relationship with any company whose stock is mentioned in this article.