FireEye (NASDAQ:FEYE) will report its second quarter earnings results after the closing bell Thursday, and investors are anticipating with bated breath. Or at least I am. I don't know about the rest of you, but FEYE has become somewhat of an enigma that I can't help but be transfixed by. The rapid rise after its IPO and the even more rapid fall after expectations came crashing down have created a rich narrative, shall we say drama, surrounding the stock and the underlying company.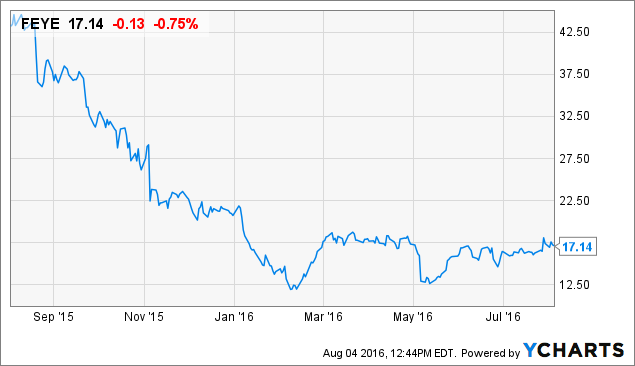 FEYE data by YCharts
So what will the second quarter hold in store for FireEye? I'll get into that in a bit, but first let's look at some context. As FEYE shareholders will likely remember, shares plummeted into the $12 range after first quarter earnings on lackluster guidance and a CEO change. The stock has spent the last 3 months essentially clawing its way back towards pre-drop prices. Yet this run-up has persisted despite no significant positive news from FireEye or from the cybersecurity industry at large, which leads me to question just how stable current prices.
Let's take a brief look at what FireEye management expects in the second quarter. Management guided for revenues between $178 million and $185 million, net loss per share of between $0.38 and $0.40, and operating margin between -31% and -33%. There was also mention on the Q1 conference call that Q2 operating cash flow is expected to be worse than the -$22.5 million in the first quarter, but still expects full-year 2016 operating cash flow of $70 million to $80 million. At the time, I think these numbers warranted a sell-off. Perhaps not one so deep as the one we witnessed, but guidance was certainly not encouraging.
I am now looking at what I expect from FireEye in the second quarter, and I have come to the conclusion that anything less than a healthy beat will send the stock lower. The guidance given during Q1 has not changed or improved at all, yet FEYE is still worth approximately the same price. I like FireEye and I own shares in the company, but I don't feel confident going into this earnings report.
It's possible that management knew share prices would take a hit no matter what they released during Q1 so they guided very conservatively for Q2, but I'm not holding my breath. And there's historical earnings results to back me up. In the last four quarters, FEYE has never risen after earnings, whether the company beat or missed:
| | | |
| --- | --- | --- |
| Quarter | Beat/Miss/Split | Approx. Price Move |
| Q1 2016 | Split | -25% |
| Q4 2015 | Split | -4% |
| Q3 2015 | Split | -15% |
| Q2 2015 | Beat | -5% |
I hope management has set up FireEye for a beat because otherwise the stock is going to crash hard. On the other hand, if the company beats estimates and provides an optimistic outlook, shares could really take off. Based on historical earnings reactions and the recent recovery in price despite no improvement in guidance for the quarter, I think the odds weigh slightly in favor of the former right now.
Because of the probability that FEYE will drop after earnings, I think it wise for investors to protect themselves against downside before the market closes Thursday. I will be buying some slightly out-of-the-money put options in order to hedge against the possible downward price movement. Selling covered call options is of course another strategy to protect against downside risk.
(Note: I implore you, beg of you, and plead with you, dear reader, that you make sure you understand options and know what you're doing before you attempt to use them as a financial instrument. Options can be very risky if you do know how use them properly so please perform some due diligence before sprinting to your brokerage account to do something you might later regret.)
Again, I would like to reiterate that I am bullish on FEYE and think the stock is undervalued at current levels. I refer you to my article debunking some of the points of the bear thesis here. However, FireEye has a bad earnings history, and with little changed since last earnings report, I think FEYE is in danger of suffering losses after it reports second quarter results.
Lastly, I will give a list of the things for which I'll be watching intently in the earnings release and conference call:
Q3 revenue guidance, and any update on full-year 2016 revenue guidance
Expectations for Q3 operating cash flow. Assuming around -$25 million in operating cash flow in Q2, Q3 and Q4 will have to generate $122.5 million combined in order to reach full-year guidance.
Whether operating margin is within guidance (negative 31%-33%), and operating margin guidance for Q3. Would like to see at least a couple hundred bps improvement.
Whether the strategy of cutting operating expenses as a percentage of revenue continues to show progress.
Less likely, but any talk of M&A would be interesting.
Best of luck!
If you want to stay up-to-date on my articles, you can Follow me by going to my author page or by clicking "Follow" at the top of this page.
Thanks for reading!
Disclosure: I am/we are long FEYE.
I wrote this article myself, and it expresses my own opinions. I am not receiving compensation for it (other than from Seeking Alpha). I have no business relationship with any company whose stock is mentioned in this article.
Additional disclosure: I plan on buying slightly out-of-the-money puts on FEYE before the market closes.