BlackBerry (NASDAQ:BBRY) entered into the patent litigation game with their first suit filed versus Avaya (Pending:AVYA) filed in the Northern District of Texas. The complaint states BlackBerry sent a letter to Avaya on December 17, 2015 notifying them of infringement and likely to take a license to BlackBerry's patent portfolio. The parties likely entered into a six-month standstill agreement to negotiate an agreement (or Avaya ignored the letter). Obviously, nothing was agreed too and BlackBerry was forced to file a suit. BlackBerry in the suit alleges that Avaya infringed eight patents across patents that cover seven technology areas:
9,143,801/8,964,849 - The patent relates to data compression for video using partition selection with the product alleged to infringe is the Avaya Scopia® XT7100 Room System using the H.265 standard.
8,116,739 - The patent relates to dynamic session placeholder for a message collection user interface. The alleged infringing feature is the Avaya Communicator Product such as on the iPad.
8,886,212 - The patent relates to techniques for sharing location and other tracking data with mobile devices. The alleged infringing product is the Avaya one-X Mobile Preferred for IP Office.
8,688,439 - The patent relates to speech coding and decoding for reproducing high quality speech at low bit rates. The alleged infringing products include Avaya's IP Desktop phones, H100 Series Video Collaboration Stations, IP Wireless phones, and TSG-Certified Secure IP Phones, and the Avaya Aura Communication Manager.
7,440,561 - The patent relates to selectively establishing communication with one of plural devices associated with a single telephone number. The alleged infringing products include the Avaya EC500 Extension to Cellular and the Avaya Aura Communication Manager.
8,554,218 - The patent relates to a telecommunication method, server and system that route an outbound telephone communication initiated by a wireless remote device through an enterprise communication network. The alleged infringing product is the Avaya one-X® Mobile client using Avaya Servers S8300, S8400, S8500, and S8700 Media Servers.
7,372,961 - The patent relates to key generation techniques for public key cryptosystems. The alleged infringing products include Avaya CMS, Avaya Breeze™ Platform, Avaya Aura® Conferencing, Avaya Aura® Collaboration Environment, Avaya Aura® Experience Portal, Avaya IP Office Server Edition, Avaya IP Office Application Server, Avaya one-X® Client Enablement Services, Avaya Session Border Controller for Enterprise, Avaya Aura® Session Manager, Avaya WLAN 9100 Access Points, and Avaya Communicator.
Potential timeline
With the case now filed, the timeline will look something like this. I estimate it will take at least two years for the case to reach a jury trial. Below is a timeline of a typical patent case.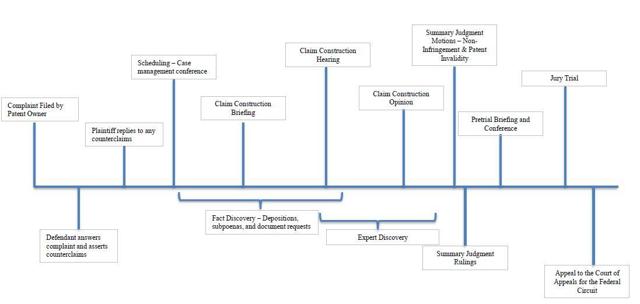 Avaya will be sure to file patent reviews using the Inter Partes Review process instituted by the American Invents Act of 2011, which is a mini patent validity trial at the US Patent Office's Patent Trial and Appeal Board (PTAB). If the reviews are instituted for review, meaning the petitioner (Avaya) showed the patent office there was a reasonable likelihood the patent claims are invalid, the Judge in the District Court case has the option to stay the case pending the review at the PTAB. This typically adds another year to the above timeline.
BlackBerry's patent monetization
BlackBerry has become active over the last eighteen months in moving to monetize their portfolio. The company signed a cross license with a royalty component with Cisco (NASDAQ:CSCO) in June 2015 although the details have not been disclosed. BlackBerry also sold a portfolio of patents for an estimated $50m to Centerbridge Partners. Canon (NYSE:CAJ) has also licensed patent related to power charging technologies, which was announced on February 12, 2016.
Activity is picking up, but landing the material patent licensing agreements will require a substantial amount of litigation and time. The patent licensing and legal environment has become very challenging over the last half decade. Defendants or potential licensees more often than not have taken a scorched earth policy and have forced patent holders to file complicated time-consuming patent litigations. Anyone expecting material numbers from patent licensing to hit the top and bottom lines immediately will be disappointed. John Chen confirmed this on the most recent conference call in response to questions from an analyst at JPMorgan:
Unidentified Analyst

All right. Could you also talk about your expectations for IP licensing revenue? I know you talked about generating maybe a little less than last year in the previous earnings call. Do you have any update of that?

John Chen

We have very, very small, almost none.

Unidentified Analyst

But what are your expectations for the fiscal 2017, the whole year?

John Chen

We will have some expectation, we really haven't broken it out, and IP is one of those that it takes a long time. We have a long pipeline of that, because you probably know the fact that we have probably 38,000 patents. They are very, very current and so we are very interested in licensing to everybody for that matter. But it's not something that we are forcing it, it's not something, we like to get it on more of the recurring basis, which of course make it a bit harder to negotiate. So there are lots of them going on over the world. But I'm not really counting, like I'm counting them to have some effect to our bottom line this year, but not really counting a big implement [ph].
The licensing strategy instead of selling patent portfolios was again reiterated on the call:
Anil Doradla

Okay, and you have been selling patents. Over the years BlackBerry has accumulated tons of these. So where would you say -- what innings are you in terms of the total sale of your patents, is there still a long way to go or you somewhere in the middle of it in terms of their sale?

John Chen

First of all inning we are still in the -- if you want to go in inning we are probably in the first inning and I'm not really interested in just selling my patent. I'm interested in licensing our patent. If we want to sell our patent then we could get a very events innings in a very short time. Many people have wanted to buy the patents. But I'm not really in a patent selling mode, I'm in a patent licensing mode.
I view this move as very smart. It is a buyers' market for patent assets after the "patent bubble" has deflated after the Nortel bankruptcy and Motorola sales in 2011. Selling patent assets at rock bottom prices would be a terrible move, not to mention the irony as BlackBerry/RIMM has been critical of patent trolls for over a decade.
Conclusion
With the case now filed versus Avaya, BlackBerry has officially entered into the patent litigation game. It is a long hard road to land a patent license, and I am sure, as the case progresses more focus will be put on the case. I fully expect more litigation to be filed in the future targeting other tech companies. Stay tuned.
Disclosure: I/we have no positions in any stocks mentioned, and no plans to initiate any positions within the next 72 hours.
I wrote this article myself, and it expresses my own opinions. I am not receiving compensation for it (other than from Seeking Alpha). I have no business relationship with any company whose stock is mentioned in this article.