Dividend growth investing is a popular model followed by the investing community to build assets. Companies which not only pay dividends, but raise them year after year have been shown to perform better overall for investor returns. A big part of this involves capturing the details.
As part of my due diligence, I closely monitor all companies that raise dividends (or cut them) and this article shares the dividend amount changes announced by companies.
Note that only companies with a market cap of $2B+ are included, as the list of small/micro cap companies is too long to include here.
The lists of all increase announcements can be found here.
Raises and cuts from previous months (starting Jan. 2016) can be found in this document.
New Resource: Get regular updates of dividend raises and cuts by following Dividend Growth Info.
Dividend raises were noted from companies such as: Paychex (NASDAQ:PAYX), Enterprise Products Partners (NYSE:EPD), Duke Energy (NYSE:DUK), Cummins Inc. (NYSE:CMI), Walgreens Boots Alliance (NASDAQ:WBA), J.M. Smucker (NYSE:SJM), Charles Schwab (NYSE:SCHW), Mondelēz International (NASDAQ:MDLZ), Stanley Black & Decker (NYSE:SWK), Reynolds American (NYSE:RAI), Papa John's (NASDAQ:PZZA), Kellogg Company (NYSE:K), Hershey Company (NYSE:HSY), Simon Property Group (NYSE:SPG), National Retail Properties (NYSE:NNN), Omega Healthcare Investors (NYSE:OHI), Realty Income Corporation (NYSE:O) and many more.
The following lists the highest raises and cuts from the month of July 2016.
The Dividend Raises
Zions Bancorporation, a financial holding company, provides a range of banking and related services in Arizona, California, Colorado, Idaho, Nevada, New Mexico, Oregon, Texas, Utah, Washington and Wyoming. The company offers community banking services, such as small and medium-sized business and corporate banking; commercial and residential development, construction, and term lending; retail banking; treasury cash management and related products and services; and residential mortgage servicing and lending. It also provides trust and wealth management services; capital markets services, including municipal finance advisory and underwriting; and investment services. Zions Bancorporation was founded in 1873 and is headquartered in Salt Lake City, Utah.
Zion Bancorp cut its dividends during the financial crisis and started raising them since 2013. The quarterly dividend will be raised from $0.06 to $0.08.
Dividend Raise: 33.3%. Forward yield is 1.5%.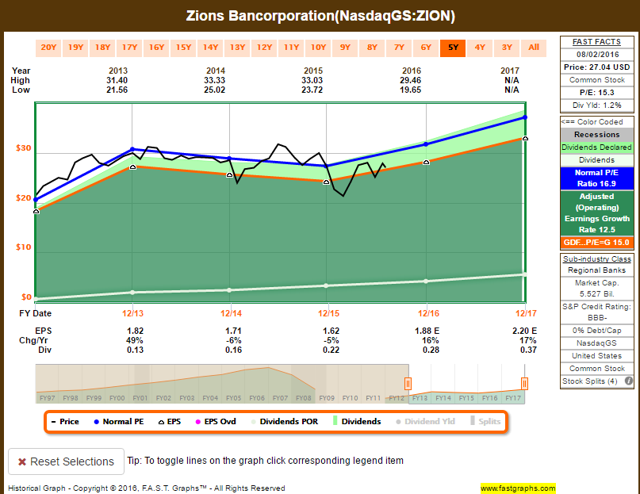 Agnico Eagle Mines Limited engages in the exploration, development and production of mineral properties in Canada, Finland and Mexico. It operates through three segments: Northern Business, Southern Business and Exploration. The company primarily produces and sells gold, as well as explores for silver, zinc and copper. Its flagship property is the LaRonde mine located in the Abitibi region of northwestern Quebec, Canada. As of December, 31, 2015, the LaRonde mine had a proven and probable mineral reserve of approximately 3.1 million ounces. The company has exploration activities in Canada, the European Union, Latin America and the United States. Agnico Eagle Mines Limited was founded in 1953 and is headquartered in Toronto, Canada.
This is the first raise from Agnico after a dividend cut in 2013. The company announced that the quarterly dividends will increase from $0.08 to $0.10.
Dividend Raise: 25%. Forward yield is 0.67%.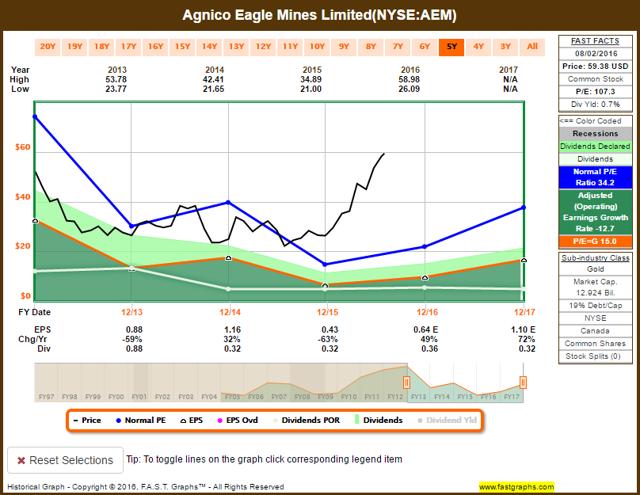 BancorpSouth, Inc. operates as a financial holding company for BancorpSouth Bank that provides commercial banking and financial services to individuals and small-to-medium size businesses. As of February 10, 2016, the company operated through 241 full service branch locations, as well as mortgage, insurance and loan production offices in Alabama, Arkansas, Florida, Louisiana, Mississippi, Missouri, Tennessee and Texas. BancorpSouth, Inc. was founded in 1876 and is headquartered in Tupelo, Mississippi.
BancorpSouth started raising dividends in 2013 after subsequent cuts in 2011 and 2012. The quarterly dividend will be raised from $0.10 to $0.125.
Dividend Raise: 25%. Forward yield is 2.09%.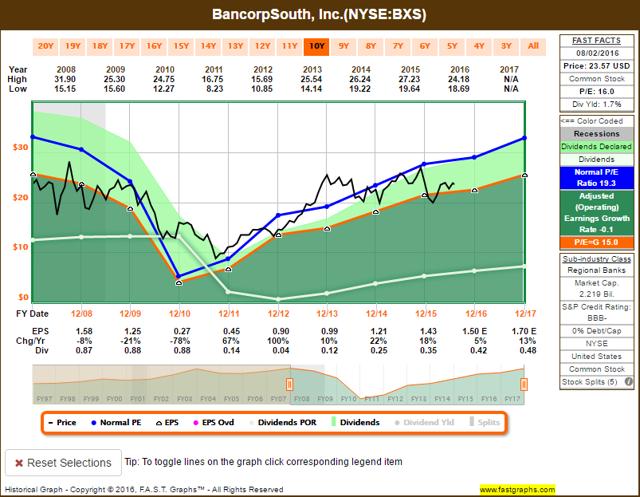 Watsco, Inc., together with its subsidiaries, distributes air conditioning, heating and refrigeration equipment; and related parts and supplies in the United States, Canada, Mexico and Puerto Rico. The company distributes equipment, including residential central air conditioners; gas, electric, and oil furnaces; commercial air conditioning and heating equipment and systems; and other specialized equipment. It also distributes various parts comprising replacement compressors, evaporator coils, motors, and other component parts; and supplies, such as thermostats, insulation material, refrigerants, ductwork, grills, registers, sheet metal, tools, copper tubing, concrete pads, tapes, adhesives, and other ancillary supplies. The company serves contractors and dealers who service the replacement and new construction markets for residential and light commercial central air conditioning, heating and refrigeration systems. It also exports its products to Latin America and the Caribbean Basin. Watsco, Inc. was founded in 1945 and is headquartered in Miami, Florida.
The company has been raising dividends since 2013 after cuts in previous years. The quarterly dividend will be raised from $0.15 to $0.20.
Dividend Raise: 23.5%. Forward yield is 2.97%.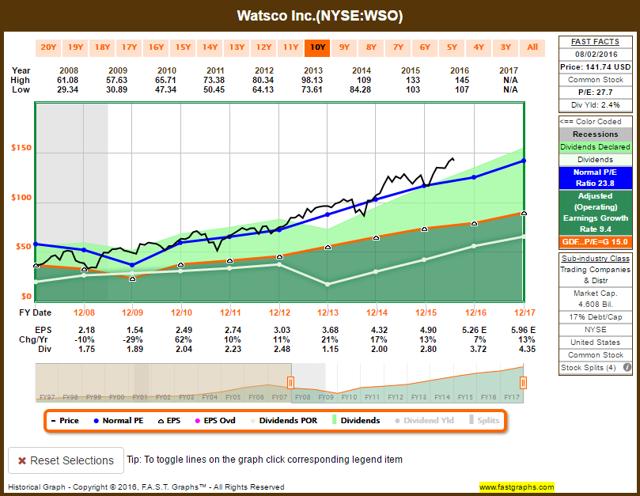 CBS Corporation operates as a mass media company worldwide. The company operates through four segments: Entertainment, Cable Networks, Publishing and Local Broadcasting. CBS Corporation was founded in 1986 and is headquartered in New York, New York. CBS Corporation operates as a subsidiary of National Amusements, Inc.
CBS Corp. is a Dividend Challenger that has been raising dividends for 6 consecutive years. The 1-, 3-, and 5- dividend CAGRs (compound annual growth rate) are 17.6%, 12.6%, and 24.6%. The company announced that the quarterly dividends will increase from $0.15 to $0.18.
Dividend Raise: 20%. Forward yield is 1.38%.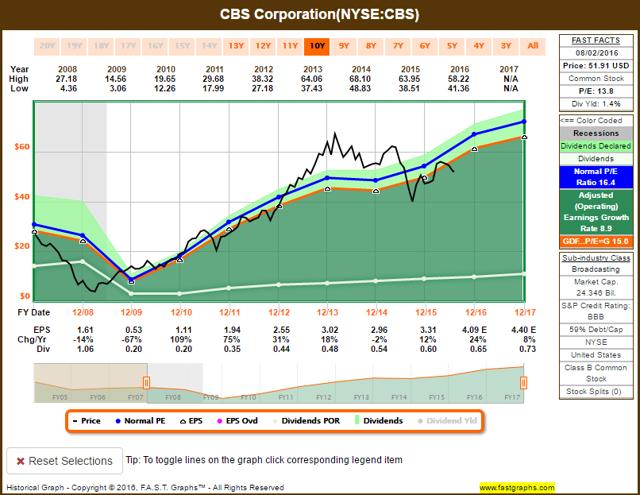 The Dividend Cuts
As much as we like to see higher profits from our investments, it is also important to keep an eye on the dividend cuts. Keeping an eye on the cuts gives us a window to view the corporate world and spot overall trends.
As can be seen, most dividend cuts are in the commodity market - with mining or energy companies leading the way. For these companies, the name of the game has become capital preservation - as companies have already cut jobs, cut back on capex and the final step in preserving cash is suspension of dividends. Things look bleak as is evident from the charts shown below.
Potash Corporation of Saskatchewan Inc., together with its subsidiaries, produces and sells fertilizers, and related industrial and feed products worldwide. It operates in three segments: Potash, Nitrogen and Phosphate. The company''s products primarily include standard and granular potash; diammonium phosphate, monoammonium phosphate and phosphoric acid; and ammonia, urea, nitric acid, ammonium nitrate and nitrogen solutions, as well as purified acids and metal finishing products. It owns and operates five potash mines in Saskatchewan and one potash mine in New Brunswick. The company sells its products to wholesalers, retailers and cooperatives. Potash Corporation of Saskatchewan Inc. was founded in 1953 and is headquartered in Saskatoon, Canada.
Speaking about the dividend, PotashCorp President and Chief Executive Officer Jochen Tilk said:
"This measured approach to markets and operations is also reflected in our approach to capital allocation. Protecting our balance sheet while maintaining a competitive dividend remains a top priority as it not only enables us to weather challenges like those experienced this year, but it also positions us to seize opportunities as we go forward. In that context - and with a need to balance the interests of our shareholders and debtholders - we intend to realign our quarterly dividend to $0.10 per share beginning with the declaration of our next dividend in September."
The company's quarterly dividend is reduced from $0.25 to $0.10.
Dividend Cut: 60%. Forward yield is 2.5%.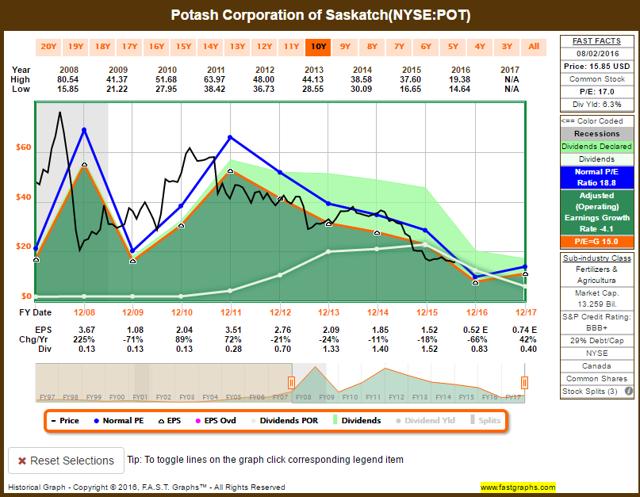 American Capital Agency Corp. operates as a real estate investment trust (REIT) in the United States. The company invests in residential mortgage pass-through securities and collateralized mortgage obligations for which the principal and interest payments are guaranteed by government-sponsored enterprise or by the United States government agency. It funds its investments primarily through short-term borrowings structured as repurchase agreements. The company has elected to be taxed as a REIT under the Internal Revenue Code of 1986 and would not be subject to federal corporate income taxes, if it distributes at least 90% of its taxable income to its stockholders. American Capital Agency Corp. was founded in 2008 and is based in Bethesda, Maryland.
American Capital Agency Chief Executive Officer Gary Kain said:
"As we have discussed on prior earnings calls our dividend policy is not based upon our net spread income. In this case our decision to lower the dividend was a function of a number of different factors. The single largest driver was the rallying interest rates which coupled with a flattery yield curve and the performance of agency MBS impacted our near term outlook."
The company's quarterly dividend is reduced from $0.20 to $0.18.
Dividend Cut: 10%. Forward yield is 11%.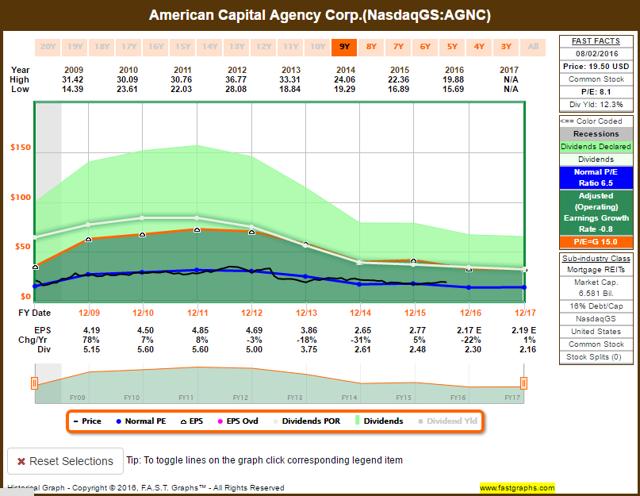 Summary
July was another great month for dividend growth investors as companies announced dividend raises. All round, some great dividend raises from various sectors of the economy. These dividend raises provide us a window to the corporate world and the economy as the companies share increased profit with shareholders. Investors should do their own due diligence before investing in any of the companies mentioned. Did you get any raises from the stocks mentioned?
Full Disclosure: Long O, OHI. My full list of holdings is available here.
Disclosure: I am/we are long O, OHI.
I wrote this article myself, and it expresses my own opinions. I am not receiving compensation for it (other than from Seeking Alpha). I have no business relationship with any company whose stock is mentioned in this article.