"If you don't risk anything, you risk even more." Erica Jong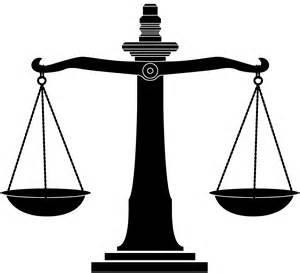 I have been an investor in the stock market since I first begged my dad to co-open a brokerage account when I was a teenager so I could buy Chrysler stock when Lee Iacocca first started to pitch K-cars to turn that company around. That five-fold first investment return got me hooked on the market, a passion that has never died, even as I turn 50 next month.
Over the past two decades the most fascinating part of equities has been in biotech, as nowhere else is mankind making greater progress in prolonging and enhancing life. Over that time span, AIDS has gone from a death sentence to a manageable disease, hepatitis C can now be cured and myriad other diseases have seen great progress as well.
From an investment point of view, there is no more lucrative or volatile part of the market. This is especially true in the small cap developmental part of the market. These are companies that have no approved products and only trade on the promise of their pipelines. I have long called this the "Tier 4" category within biotech. There is no more high risk/high reward part of the sector or of the market for that matter. There are more "strike outs" and "home runs" in this area of equities than any other. Getting the next Biogen (NASDAQ:BIIB) or Celgene (NASDAQ:CELG) while they are still developmental concerns can obviously turbocharge your overall investment returns.
Of course, for every Regeneron (NASDAQ:REGN) there are going to be many "whiffs" in the batter's box. The best way to minimize risk is to make myriad small investments in these types of developmental concerns within a well diversified biotech portfolio. The returns when you get one of these small bets correct can be tremendous as a recent winner, Exelixis (NASDAQ:EXEL) below clearly demonstrates.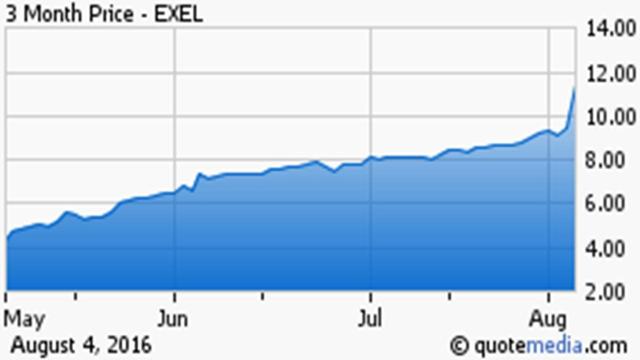 Improving your "batting average" by deploying some tips I have learned over the years can greatly help your overall returns from your biotech portfolio. Let me share a couple of key things I keep in mind before making a small investment in these small developmental concerns in hopes they can improve your hit rate. I will then provide a quick list of recently profiled small biotech stocks that meet all of these criteria and I have recently profiled and own.
TIP #1: Invest in companies with multiple "shots on goal". Only roughly one in eight candidates that gets through Phase I testing becomes an approved and commercialized product. This is why I always want to see a few candidates in the pipeline or at the very least the primary drug candidate in trials for the treatment of multiple indications. This is also why I prefer companies with late stage pipelines to early stage ones.
TIP #2: Unless you can get in at the IPO price of a hot offering from your broker, do not buy newly public companies. There is always so much hyperbole around them and they are very volatile. In addition, they tend to be early stage companies as well. Often, after all the hype, lock up dates and analyst support has died 12-18 months out, you can pick up these same companies at 30-50 cents on the dollar.
Tip #3: Avoid penny stocks, anything from the pink sheets as well as companies that have been public for over decade and still have no approved products. I must get pitched three to five stocks a week that are either penny stocks, under a $20 million market capitalization or are from the pink sheets. I can only seem to remember one or two occasions where I passed up a good opportunity by avoiding these types of investments. There is plenty of risk as it is in investment in the larger developmental biotech companies on the listed exchanges, no need to dial it up any further than what already exists on the NASDAQ or NYSE.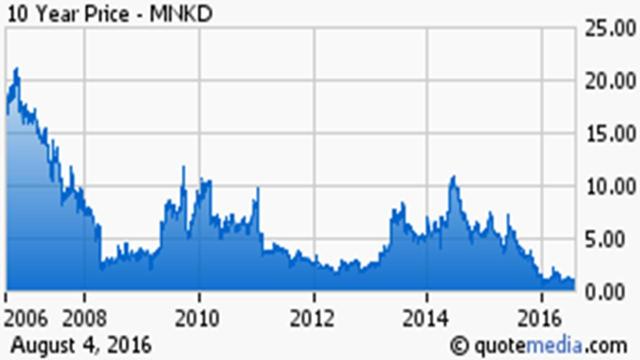 In addition, remain wary of any company that has been on the public markets for over a decade and still has not enjoyed any commercial success. I have been writing on SeekingAlpha for six years. I must have been asked about or pitched a company called Mannkind (NASDAQ:MNKD) an average of once a week over that time span. This company was founded 25 years ago and been public for more than half that time. The only think this concern seems to be good at is burning through cash, raising funding through secondaries and dashing its shareholders' hopes. I can name another dozen biotech companies in same category. With few exceptions, avoid them.
Tip #4: Make sure your company has enough funding on hand to get through all milestone dates for their pipeline and into FDA approval without having to come back to the secondary or credit markets. There is nothing worse than being a company that needs to raise additional funding for development when the market goes "risk off" on the sector and/or the high yield credit market experiences a spike of volatility. If this happens and you have an investment in a company that needs funding in the foreseeable future, it is going to get pummeled. This is exactly what happened when biotech went into a bear market late last summer. The sector has only recently emerged from that. Avoid this mistake by making sure your developmental company has the balance sheet it needs to be successful.
Tip #5: Finally, make sure the developmental biotech concern you are thinking of investing in has definable upcoming catalysts over the next few quarters. These can be key trial readouts, upcoming Ad Comm Panels or PDUFA dates where the FDA makes approval decisions.
There are a variety of calendars available to know these key dates in advance. Here is one I use. Without upcoming milestones, your stock is likely to ebb and flow with whatever direction the sentiment on the overall biotech sector is at any current moment. Having known upcoming catalysts can make your stock more of an event driven investment.
Okay, now that you know my five tips, here a few stocks I own that meet all of these criteria with links to recently issued more granular research on the companies for consideration.
Portola Pharmaceuticals (NASDAQ:PTLA) - PDUFA date of 08/17 for ANDEXXA, very likely approval, two other key compounds in pipeline and well-funded. See a deeper dive here.
Redhill Biopharma (NASDAQ:RDHL) - Two key Phase III trial readouts due out in late 2016 on two different products, well-funded, also very strong recent analyst support. Just issued an in-depth report here. Shares have been "en fuego" since that article hit this weekend, but they still have upside.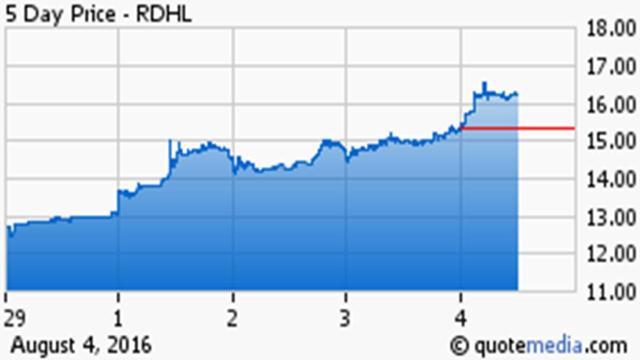 Dynavax Technologies (NASDAQ:DVAX) - Its hepatitis B vaccine "Heplisav-B" has its PDUFA date on 12/15. Approval is highly likely given results in over 10,000 subject Phase III trial. It also has mid-stage asthma and oncology compounds in development. Over $150 million in cash on balance sheet, more than 25% of market capitalization. This is my latest full take on this attractive biotech stock.
Note: To get these types of articles on attractive biotech and pharma stocks as soon as they are published, just click on my profile and hit big orange follow button.
Thank You & Happy Hunting
Bret Jensen
Founder, Biotech Forum
Disclosure: I am/we are long BIIB, CELG, DVAX, EXEL, PTLA, RDHL.
I wrote this article myself, and it expresses my own opinions. I am not receiving compensation for it (other than from Seeking Alpha). I have no business relationship with any company whose stock is mentioned in this article.