Teekay Offshore (NYSE:TOO) is an oil services partnership, managed by its general partner Teekay Corporation, that specializes in providing vessels to large offshore oil producers with operations focused on deep-water offshore oil regions of the North Sea, Brazil, and the East Coast of Canada. In 2015 Shell, Petrobras, Statoil, and E.ON accounted for 26%, 18%, 11%, and 11% of Teekay Offshore's revenues respectively (Source 2015 20-F). It is important to note that Teekay Offshore's vessels service existing oil fields, and oil exploration firms have already invested heavily in developing these locations. With an average variable cost of $11 per barrel, Teekay Offshore's Floating Production Storage and Offloading (FPSO) fleet continues to produce oil at existing fields (see Current FPSO Fleet Contract Status chart below). Oil exploration firms contract with Teekay Offshore to provide these vessel operations because Teekay Offshore can deliver better quality at a cheaper price than if these large firms brought Teekay Offshore's functions in-house. Additionally, oil firms gain financial flexibility from renting these large assets from Teekay Offshore instead of purchasing them.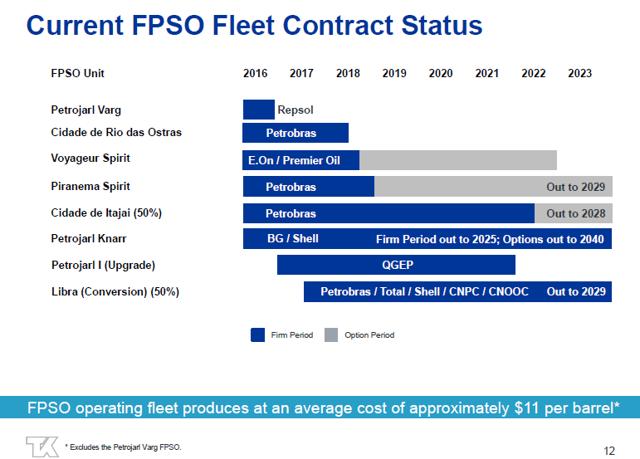 Source: Teekay Offshore Q4 2015 Guidance Presentation
Like many other oil firms, when Teekay Offshore lost its ability to raise additional capital in late 2015 the company was caught off-guard. Teekay Offshore had committed contracts to deliver over $1.6 billion in new vessels to customers in 2016 and 2017, and planned to raise the cash for these capital expenditures by issuing debt and equity as bills became due. Teekay Offshore ended 2015 with a $5.7 billion asset base and a $3.4 billion debt load that left Teekay Offshore unable to fund the $1.6 billion in capital expenditures internally. Although increasingly profitable from operations, Teekay Offshore faced an insolvency scenario that could force it into bankruptcy. In December 2015, Teekay Offshore decided to cut its common unit distribution by 80% in an attempt to conserve cash.
The decision to cut the dividend by 80% took the market by surprise. On December 16, 2015 TOO shares closed at $7.80, and after the overnight announcement shares closed the next day at $3.76. The morning conference call on December 17, 2015 discussing the distribution cut even got a little chippy during the Q&A:
Wayne Cooperman, Analyst: I'm a little surprised you guys are moving forward more on asset sales given the existing assets are worth so much higher multiples. Can you instead of just giving us dividend guidance can you give us some, you know, operating guidance for '16 as far as, you know, operating cash flow or EBITDA and Capex for some of the daughters so we can just see. You know, value these as real companies and not just on a dividend.
Peter Evensen, Teekay Offshore CEO: Hi Wayne. It hasn't been our practice to give 20 - guidance going forward. So, I'm going to...
Wayne Cooperman: Well it hasn't been your practice to cut dividends 80% either so maybe we should try.
Source: Minute 33 of December 17, 2015 Webcast replay
Cutting the distribution saves about $225 million per year, but still not enough to make up the cash shortfall. Since December, Teekay Offshore's management has been in crisis mode in an effort to raise cash; asset sales, sale-leasebacks of unencumbered vessels, negotiations to push back 2017 bond maturities to 2018, contract negotiations with oil firms and shipyards to delay vessel deliveries, and negotiations for a private placement equity issuance. Teekay Offshore's shares fell 90% from their 2015 highs to as low as $2.30 on February 12, 2016.
On June 29, 2016 Teekay Offshore announced that it had closed its $1.6 billion funding gap after concluding a $200 million private placement and acquiring $400 million in additional bank debt financing. In June Teekay Offshore raised $100 million in common equity at a price of $4.55, diluting existing common unit holders by approximately 20%. $100 million in Series D preferred units paying 10.5% were also issued, with 4.5 million common unit seven-year warrants and 2.25 million common unit seven-year warrants (exercise prices were $4.55 and $6.05 respectively).
Teekay Offshore has weathered the storm for now, but the increase in Cash Flow from Vessel Operations (CFVO) from the 2016 and 2017 growth projects intended to be accretive for common unitholders is now dilutive.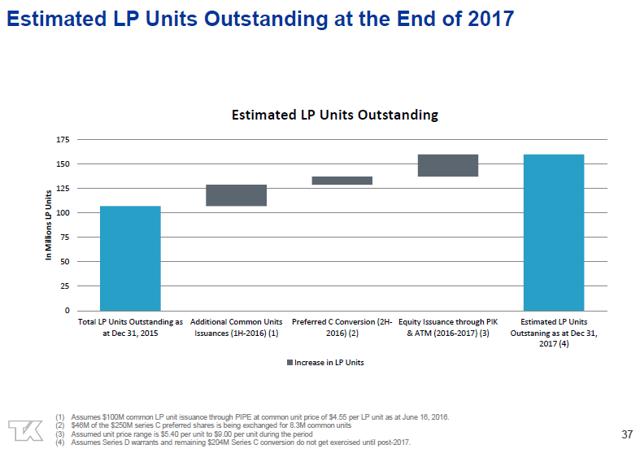 Source: Teekay Offshore Partners Announces $200 Million Private Placement of Equity Securities
As you can see above, common units will be diluted almost 50% from December 31, 2015 to December 31, 2017. Teekay Offshore is so cash-strapped that its new private placement units will pay dividends over the next two years in the form of common units, i.e. stock dividends. Despite this major dilution, Teekay Offshore will exit 2017 in a position to substantially increase its dividends in 2018. Teekay Offshore projects that it will begin 2018 with a Distributable Cash Flow run-rate of $320 million (see Committed Growth Will Increase Distribution Cash Flow chart below). That would leave $80 million available for distribution per quarter, or $0.50 per common unit. Of course, that is a best case scenario estimate assuming Teekay Offshore's three FPSO vessel contracts expiring in 2018 are renewed at rates equivalent to existing contracts.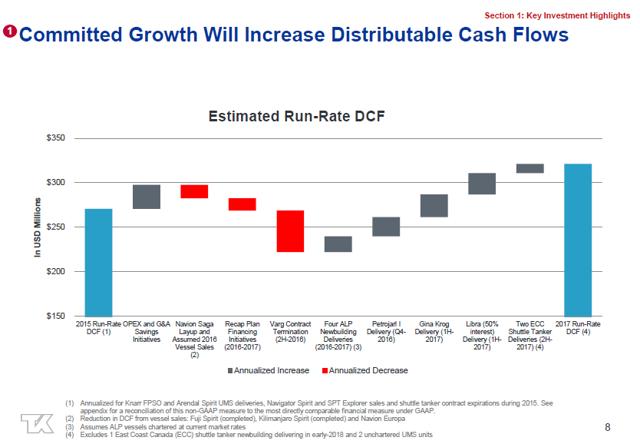 Source: Teekay Offshore Q1 2016 Earnings Presentation
Teekay Offshore is an MLP with an unconventional governance structure. As of December 31, 2015, 35.7% of Teekay Offshore's limited partnership interests were owned by its general partner Teekay Corporation. In addition to this limited partnership interest, Teekay Corporation has "incentive distribution rights" which strongly incentivize Teekay Corporation to keep Teekay Offshore's distribution over $0.525 per quarter. Above the $0.525 quarterly distribution, half of additional distributions to limited partners go to the general partner. The incentive fee percentage increases from $0.4025 following the structure outlined in the table below.

Source: Teekay Offshore 2015 20-F
This table explains a lot about Teekay Offshore's handling of its dividend cut, and propensity to distribute 100% of Non-GAAP distributable cash flow in the years prior. This table is also the reason I believe that management has a strong reason to get Teekay Offshore's dividend back into the incentive distribution range. At the current share price of $5.30, a quarterly distribution of $0.40 per quarter is a 30% yield. If that dividend were re-instated then I believe Teekay Offshore would trade at about a 12% dividend yield in 2018, resulting in a 2018 price target of $13.33. If this were achieved in mid-2018 then that would be a greater than 50% annualized return over the next two years.
The long-term bearish case for Teekay Offshore is that in ten years when the existing deepwater offshore fields are depleted that there will be no new offshore projects for them to service. This is due to competition from onshore horizontal-frack drillers who continually cut costs and have reduced their breakeven all-in prices to below $50. However, these low costs have been achieved by drilling the best acreage first, and leaving the higher cost acreage to be developed in later years. In ten years the best low-cost acreage will have been fracked (horizontal wells' production decays at a much faster rate than traditional vertical wells), causing the price of oil to trade in a range above $50 and future deepwater exploration to be profitable.
Finally, I believe Teekay's management has learned from this ordeal. In the future Teekay will unlikely commit to future newbuild contracts that require large capital expenditures unless they raise financing in-sync with the contract's closing.
Disclosure: I/we have no positions in any stocks mentioned, but may initiate a long position in TOO over the next 72 hours.
I wrote this article myself, and it expresses my own opinions. I am not receiving compensation for it (other than from Seeking Alpha). I have no business relationship with any company whose stock is mentioned in this article.