It's no secret that there's a glut of gasoline on the market and over the past couple quarters crack spreads have been terrible. As a result, support for Phillips 66 (NYSE:PSX) -- generally lumped into the refining sector -- has been tepid at most. Until yesterday. That's when Cowan & Company upgraded PSX to "outperform" from "market perform" based on valuation. Cowan's price target: $92.
One catalyst Cowan sited was the roll-off of some large cap-ex projects next year. So the combination of a significant increase in EBITDA as these projects come on-line with a large drop in cap-ex should lead to increased shareholder distributions in terms of dividends and stock buybacks. This is a theme I have expressed in my own analysis of PSX - including the article Why Buffett's Berkshire Hathaway Continues To Fill-Up With Phillips 66. These include the following large-scale strategic projects, which according to management remain on track and are progressing nicely:
Development of the Sweeny Hub is nearing completion with construction of the LPG Export Terminal ~80% complete. The project is on time & on budget with startup expected before the end of this year.
3.2 million barrels of new storage capacity under construction at the company's largest terminal in Beaumont, TX. This infrastructure is also scheduled to come online before year-end.
CPChem's [a 50/50 JV with Chevron (NYSE:CVX)] world-scale U.S. Gulf Coast Petrochemicals Project is ~75% complete, with startup expected in mid-2017. This project will increase CPChem's global ethylene and polyethylene capacity by ~1/3.
But the thing is, we don't have to wait until next year to see a deceleration in cap-ex. The following chart shows estimated capital spending for full-year 2016: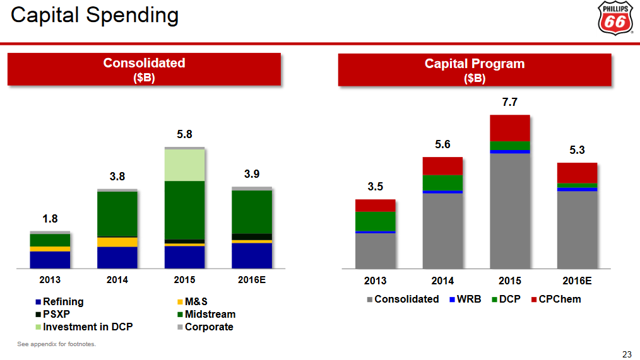 Source: Investor Update.
In addition, despite the horrible crack margins in Q2, note that Phillips 66's Q2 EPS report still demonstrated strong earnings of $496 million, or $0.94/share. That easily covered the quarterly dividend of $0.63. Earnings were supported by strong results in the chemicals segment and refining profits that were up significantly over Q1.
Phillips continues to invest in the midstream and chemicals segment in order to diversify the company away from an over-dependence on refining and to achieve overall higher returns. In fact, note that in Q2 only 30% of net income came from refining. By the end of next year, it is conceivable that less than half of total EBITDA will come from the refining segment.
Recently there were a couple new developments worthy of mention. First off, PSX finally sold its Whitegate refinery in Ireland. Although the price was undisclosed, this was a non-core asset for the company and is a win-win: get some cash, reduce exposure to refining, and streamline the portfolio.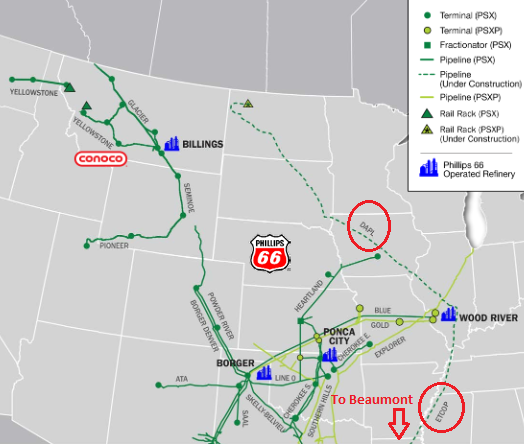 Secondly, Energy Transfer Partners (NYSE:ETP) and Sunoco Logistics Partners (NYSE:SXL) announced an agreement this week to sell 36.75% of the Bakken Pipeline Project -- which includes the Dakota Access pipeline and the Energy Transfer Crude Oil pipeline -- to Enbridge Energy Partners (NYSE:ENB) and Marathon Petroleum Corporation (NYSE:MPC) for $2 billion in cash. That effectively values PSX's 25% interest in the Bakken pipelines at $1.36 billion. These pipelines will provide light-sweet Bakken crude to the company's Wood River refinery (and other refineries in the Midwest -- i.e., MPC's) and all the way to Phillips 66's Beaumont terminal. Note how the new storage projects in Beaumont, as well as the Bayou Bridge pipeline from Beaumont to Lake Charles and East Louisiana, dovetail very nicely with DAPL and ETCOP. DAPL is a big crude oil pipeline with a top capacity of 470,000 bpd.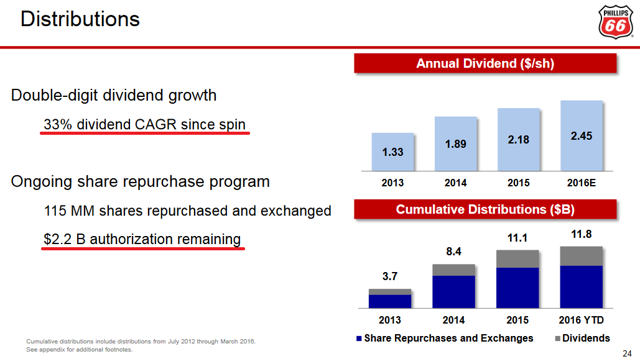 Bottom line: Phillips 66 strategic growth plan is unaffected by the current refining down-cycle. Earnings continue to be strong in spite of the headwinds in refining - demonstrating the company's diversified operations in its Chemicals, Midstream, and Marketing & Specialties. As a result, I believe PSX will continue to be one of the leading companies in the S&P 500 when it comes to shareholder returns (see above graphic). The company is expected to earn $5.66/share next year. The current yield is 3.2% and the P/E=13.6. Along with Spectra Energy (NYSE:SE), Phillips 66 is a great candidate for your IRA for its potential growth in both income and capital appreciation.
At least there is one firm that gets it (Cowan). And then of course there is Warren Buffett. And me.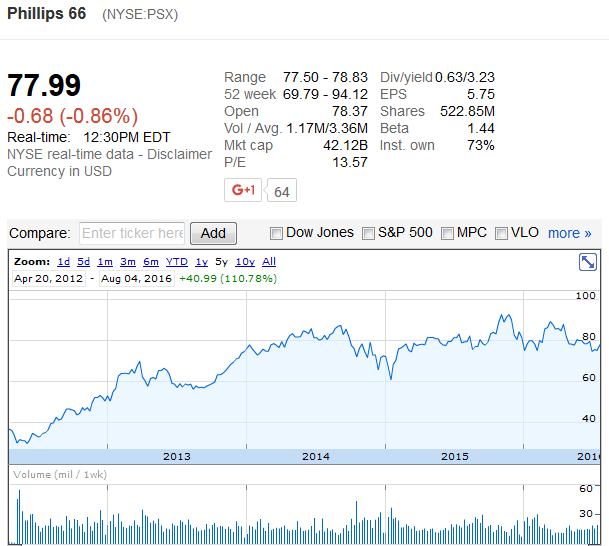 Disclosure: I am/we are long PSX, SE, CVX.
I wrote this article myself, and it expresses my own opinions. I am not receiving compensation for it (other than from Seeking Alpha). I have no business relationship with any company whose stock is mentioned in this article.
Additional disclosure: I am an engineer, not a CFA. The information and data presented in this article were obtained from company documents and/or sources believed to be reliable, but have not been independently verified. Therefore, the author cannot guarantee their accuracy. Please do your own research and contact a qualified investment advisor. I am not responsible for investment decisions you make. Thanks for reading and good luck!