Sandstorm Gold: Q2 Earnings Analysis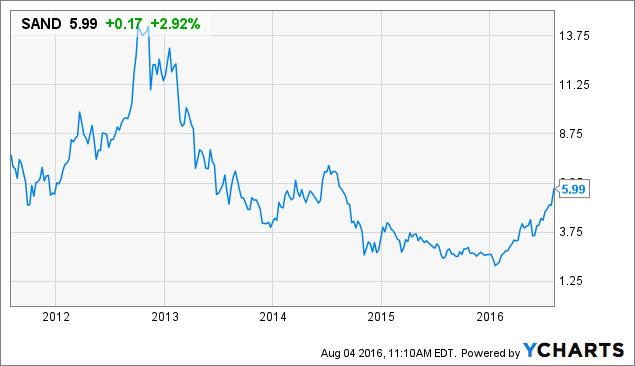 SAND data by YCharts
Sandstorm Gold (NYSEMKT:SAND) has reported its second-quarter 2016 financial results, and it certainly wasn't a poor quarter by any means. However, it wasn't perfect, either, but I expect things to improve over the next few quarters. Here, I'll break down the earnings and give my thoughts on the quarter, as well as provide a recommendation on what to do with shares here.
In the quarter, Sandstorm says it reported gold equivalent ounces sold of 12,517, revenue of $15.7 million, average cash costs per attributable gold ounce of $261, resulting in margins of $994 per gold ounce, and finally, operating cash flow of $8.9 million and net income of $5.2 million.
This strong production and cash flow should come as no surprise to readers as Sandstorm recently reported its Q2 production results, which I covered in detail here, and because gold prices rose over $100 per ounce from Q1. And earnings and cash flow should improve further in Q3 due to higher gold prices.
Operating cash flow was down just slightly from last year due to a 3% drop in production, mainly due to the temporary shutdown of operations at Luna Gold's (OTCPK:LGCUF) Aurizona mine, but was higher than last quarter.
However, as you can see above, net income was higher than in previous quarters, and the company says it is due to a revaluation of its equity investments (gold has risen in price, and so has Sandstorm's investments).
Sandstorm ended the quarter with $56.23 million in such investments - a mix of equity and debt. Remember, Sandstorm owns shares in various junior gold miners, including a 7.5% stake in Mariana Resources, in which it also acquired a royalty on Mariana's Hot Maden project in the Teck royalty portfolio acquisition (I'm going to be covering Mariana soon, so stay tuned). It also owns shares and debt in Luna Gold.
Strong cash flow and net income was certainly a positive in this report. However, the company's balance sheet has also improved quite a bit. Besides holding $56.2 million worth of investments, Sandstorm is now a completely debt free company following the recent equity financing and repayment of the balance on its revolving credit facility.
Sandstorm now has a little more than $110 million in available capital to acquire new streams and royalties, even after spending a bunch of money on the Teck royalty acquisition and the huge Yamana Gold (NYSE:AUY) deal earlier this year.
Now, for the bad. Sandstorm reported just 911 ounces sold from its Chapada stream. As a reminder, Sandstorm paid $70 million for a large copper stream on Chapada. Sandstorm did not talk much about this in its quarterly report, but Yamana suffered a few issues at Chapada this past quarter, including a mechanical failure with its crusher and several weather related issues that made it harder to access higher grade ore body.
Due to the issues at Chapada, the company has reduced guidance and now expects 110 million pounds of copper and 106,000 ounces of gold production in 2016. More details can be found in my analysis here.
This looks like it was just a short-term issue, but shareholders should definitely keep an eye on Chapada going forward, and I would recommend following Yamana Gold to track its progress at Chapada.
Guidance is strong: based on the company's existing streams and royalties, attributable gold equivalent production for 2016 is forecasted to be between 43,000 - 50,000 ounces; by 2020, the company is forecasting an increase to approximately 65,000 ounces.
Again, this does not include any potential new streams or royalties between now and 2020, and it's highly likely Sandstorm does at least another 1-2 deals in this year alone. Just don't be too surprised if Sandstorm does another equity financing this year instead of tapping into its credit facility, as the company does not have much cash on hand currently.
However, since the share price is doing quite well lately, this will limit shareholder dilution.
As of writing, Sandstorm has 150.4 million shares outstanding. If Sandstorm needed to raise, say, $50 million to complete new deals, if would have to issue approximately 8.3 million new shares (at $6 per share, the current stock price). If the company needed to raise the same amount in February, then it would have needed to issue 20 million shares of stock (at $2.50 per share).
So clearly the dilution to shareholders would be much less of an issue now if Sandstorm issued equity than if it did so back in February of this year. I honestly prefer Sandstorm issue some equity here if it finds very attractive deals that are immediately accretive to shares, instead of going too much in debt.
While the issues at Chapada were a little worrisome, I think Sandstorm had a strong quarter overall and I like that the company is now debt free and planning on making new deals -according to CEO Nolan Watson, Sandstorm is working on a wide range of deals now, from smaller royalties on exploration-stage assets, to larger gold streams and royalties on producing mines.
Final thoughts: I recommend buying and holding Sandstorm shares on any future pullbacks, because I love the company's long-term growth potential and the company's ability to complete attractive acquisitions, such as the recent Teck portfolio acquisition.
Disclosure: I am/we are long SAND, MRLDF.
I wrote this article myself, and it expresses my own opinions. I am not receiving compensation for it (other than from Seeking Alpha). I have no business relationship with any company whose stock is mentioned in this article.
Editor's Note: This article covers one or more stocks trading at less than $1 per share and/or with less than a $100 million market cap. Please be aware of the risks associated with these stocks.