Spectra Energy (NYSE:SE) gathers, processes, stores, and transports natural gas in the U.S. and Canada. It also provides retail gas distribution to ~1.4 million customers in Canada through its ownership of Union Gas. Spectra is an excellent income candidate to hold in your IRA. I say this because despite recent stock price appreciation, SE still sports a healthy 4.5% yield. The dividend income growth catalyst going forward is a plethora of mid- and large-scale pipeline projects that will be coming on-stream before the end of this year. Spectra Energy is the kind of company you just want to buy-and-hold for the long term in your IRA.
Spectra has largely recovered from a tough 2015 due to the company's exposure to commodity prices and a weaker Canadian dollar. Yet despite the headwinds and stock drop last year, Spectra still grew distributable cash flow by 7%. That shows the resilience and diversity of the company's fee-based business - a business which is supported by long-term contracts with investment grade counterparties. In fact, in spite of the challenges Spectra faced last year, the company had a dividend coverage ratio of 1.3x and increased the dividend by $0.14/share in 2015.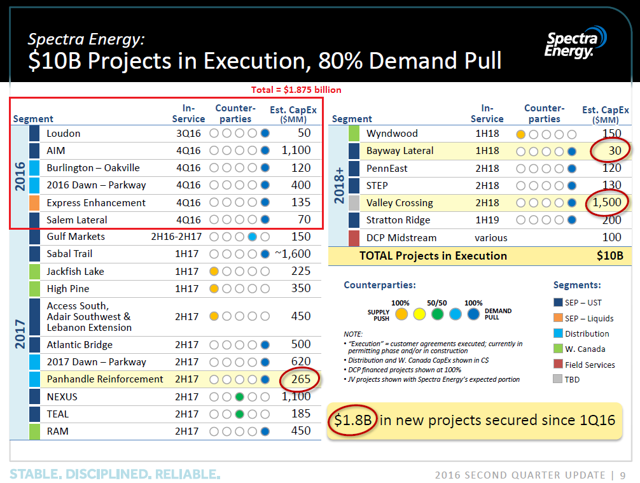 Source: Q2 presentation (available here).
As shown in the graphic above, Spectra is on the cusp of placing over $1.8 billion of new pipeline projects into service by year-end. This includes the $1.1 billion Algonquin Incremental Market ("AIM") project to supply the Northeast U.S. with critically needed supplies of low-cost natural gas from the Marcellus shale. This project is shown in green on the map below: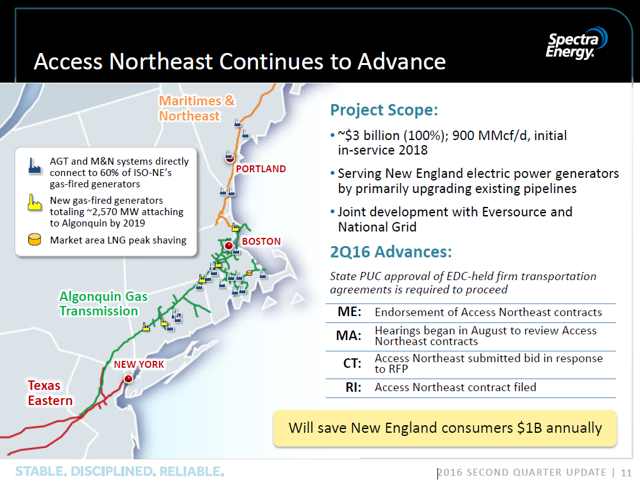 AIM is a "demand pull" upgrade and expansion of SE's existing Algonquin Gas Transmission system and includes six new compressors (81,620 additional horsepower) as well as larger diameter pipes to increase the system's total throughput to 342,000 dekatherms/day. This project is being constructed largely on Spectra's existing AGT footprint and is therefore one of the very few new large-scale natural gas pipelines projects receiving regulatory approval in the NorthEast due to its limited impact on landowners, communities, and the environment. This is a big competitive advantage for Spectra.
The AIM project is 100% owned by Spectra's MLP - Spectra Energy Partners (NYSE:SEP). In April, Spectra purchased 9.1 million SEP LP units and now owns ~78% of Spectra Energy Partners. As a result, the fee based AIM pipeline will end up funneling even more tax-advantaged distributions to the GP and majority LP unit-holder: Spectra Energy.
Spectra's Q2 EPS report showed the company is continuing to make good progress in its efforst to reduce commodity price exposure. This includes better results at DCP - a 50/50 JV with Phillips 66(NYSE:PSX) - and the pending sale of the Empress natural gas plant in Canada to Plains All American (NYSE:PAA). From the Q2 Seeking Alpha conference call transcript:
Next, we reduced our commodity exposure with the sale of the Empress NGL business to Plains All American. We expect the sale to close in the next few days and generate proceeds of approximately $200 million. Lastly, DCP is making great progress towards its goal to meet or exceed $0.35 NGL cash breakeven target.
EPS are expected to come in around $1.26/share this year, up a nickel from last year. However, in 2017 earnings growth should accelerate to $1.59/share - up 26% yoy. With such a big jump in earnings from these new fee-based projects, there will be excellent potential for accelerated dividend growth as well. And this is why SE is a good candidate for your IRA: excellent prospects for dividend growth along with the potential for long-term capital appreciation too. A recovery in NGL prices and new demand pull from LNG exports would be additional positive catalysts for the stock. As a result, Spectra should trade back up to its previous all-time high of $42 (set in 2014) over the next 12 months. Combined with the current yield, that equates to an annual total return potential of ~20%.
Spectra Energy is VERY ATTRACTIVE for income oriented investors looking for a safe and solid yield in this new era of ~1.5% 10-year T-bills.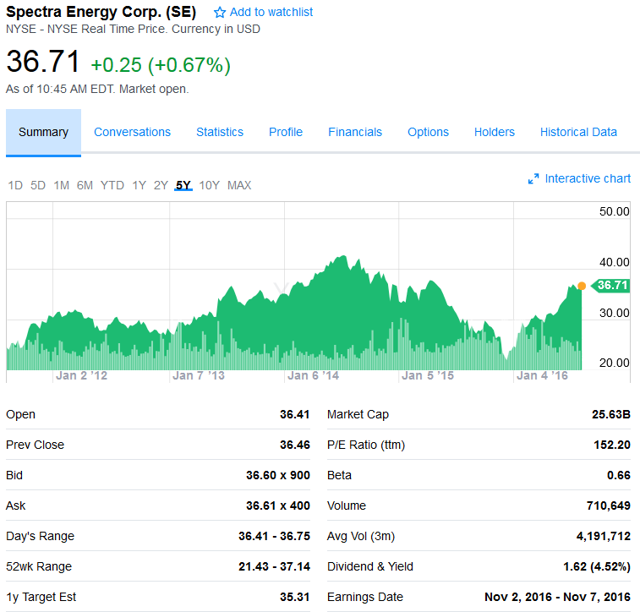 Disclaimer: I am an engineer, not a CFA. The information and data presented in this article were obtained from company documents and/or sources believed to be reliable, but have not been independently verified. Therefore, the author cannot guarantee their accuracy. Please do your own research and contact a qualified investment advisor. I am not responsible for investment decisions you make.
Disclosure: I am/we are long SE, PSX.
I wrote this article myself, and it expresses my own opinions. I am not receiving compensation for it (other than from Seeking Alpha). I have no business relationship with any company whose stock is mentioned in this article.