Background:
In a recently posted article What The Bond Market is Saying About Valeant the author notes an interesting dichotomy in both the performance between Valeant (NYSE:VRX) bonds and stock performance. The author notes that Valeant bonds in recent months have remained fairly stable and do not appear to be adequately depressed to imply bankruptcy, despite the continued dismal performance of the stock that has lost nearly 75% of its value in 2016.
This article will attempt to explain what appears to be unusual behavior in the performance of Valeant bonds and equity.
What are Valeant shareholders worried about?
In a nutshell, EBITDA estimates have been coming down fast. This is impacting the cash flow remaining for shareholders and is also approaching levels that could trigger a breach of various interest coverage covenants. The company's guidance in June for FY 2016 Adjusted EBITDA was for $4.8-4.95 billion. This is below prior guidance in March of $5.6-5.8 billion that was already revised down from $6.9-7.1 billion in December. Somehow in a matter of just six months $2.0 billion in 2016 EBITDA seems to have disappeared.
In June the company estimated FY 2016 interest payments of ~$1.7 billion. Taking out ~$1.5 billion in other mandatory payments leaves ~$1.7 billion in cash flow for shareholders to reinvest in the business, pay down debt, repurchase stock, etc. This alone is less than half the ~$3.8 billion in cash flow shareholders would have expected based on December EBITDA forecast of ~$7.0 billion.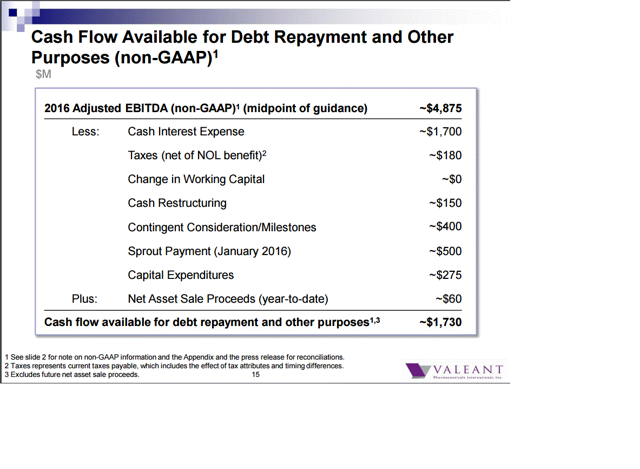 Source: Valeant Q1 2016 Earnings Presentation
In addition to the loss of cash flow, shareholders are approaching a technical default on secured leverage covenants that require certain interest to EBITDA ratios be maintained. According to Morgan Stanley, the minimum EBITDA under this secured leverage covenant is $4.8 billion so the company has little room for error before triggering technical default.
No big deal, if they trigger, they just renegotiate with creditors?
Yes they can, but if the delayed 10-K filing is any indication they won't have much leverage with creditors. Typically in the event of covenant breach, debt holders can demand immediate repayment. With ~$32 billion in total debt, ~$1.3 billion in cash and ~$8.0 billion market cap, repayment would be extremely unlikely giving most of the leverage to the creditors over shareholders.
The recent delay in financial reporting illustrates the power that the creditors have. For simply failing to file on time the company agreed to pay $50,000 fee per $10 million of loans and increase interest rates on the debt by 1%. This may not sound like much, but for illustrative purposes if you apply this to the nearly $20 billion in bonds outstanding, shareholders end up forking over a $100 million upfront penalty plus an additional $200 million a year moving forward. This is quite a steep price to pay for being a few weeks late on financial filings.
It's impossible to tell how negotiations might go, but I believe it's reasonable to think that an even steeper price would need to be paid for an interest coverage breach. If a breach occurs, debt holders will also start to feel some concern about their ability to be repaid. Merely increasing interest payments could further damage the company's financial position and potentially end up being self-defeating to debt holders. I think it's likely they could also impose other terms to their benefit that would be unfriendly to shareholders. This could include the forced divestiture of businesses to repay debt that would further negatively impact cash flows available to shareholders.
So why have bondholders been so complacent?
As I illustrated above, shareholders are highly "leveraged" to any changes in EBITDA while debt holders are much less impacted. As I noted previously, company estimates for FY 2016 EBITDA have dropped from $6.9-7.1 billion in December to just $4.8-4.95 billion by June. This cut the shareholder cash flow from ~$3.8 billion to ~$1.7 billion while debt holders still continue to get ~$1.7 billion in interest. Let's assume that hypothetically FY 2016 EBITDA drops by another $1.0 billion to $3.8 billion because debt holders force the sale of part of the business. At current base interest expense of ~$1.7 billion and ~$1.5 billion in other mandatory payments plus assuming $0.5 billion in additional penalty for breaching interest covenants, then the bondholders end up pocketing another $0.5 billion in penalties while ~$1.7 billion in cash flow going to shareholders is now gone.
Aren't the debt holders worried about not being repaid?
The worst case scenario is that the debt ultimately can't be repaid and a default occurs. In this case the shareholders will likely get wiped out and the debt holders will take over the remaining assets in a bankruptcy restructuring. The current debt structure is ~$12 billion in bank loans and ~$19 billion in bonds. I estimate that during Pearson's tenure the company made ~$32 billion in acquisitions. Some of them at the extreme are likely to be total busts (e.g. Sprout) but many likely maintained significant value (e.g. Salix) or potentially even increased in value (e.g. B&L). Let's assume the ups and downs net out and the businesses acquired are still worth close to the original $32 billion. I think this is reasonable to assume given Salix and B&L alone could easily fetch $10 billion or more each. Since the bank loans would likely have preference over the bonds I could see the bondholders converting to ~$20 billion in new equity and issuing ~$12 billion in new debt/loans to repay the banks. In this case the debt holders would be made whole by swapping their debt for new equity, the annual interest would be reduced to a sustainable level of about a 1/3 of the current $1.7 billion. In this case the banks are made whole, the debt holders take the remaining equity and shareholders likely end up with nothing.
Conclusions:
Both shareholders and bondholders are looking out to protect their share of Valeant's declining EBITDA. Shareholders want as much cash flow as possible to reinvest in the business and to pay down debt. Bondholders also want to retain as much a possible so they can continue to receive interest payments and ensure the return of their principal.
To date, shareholders have seen their share of cash flow decline by over 50% as EBITDA has been revised downward. At the same time debt holders have seen their cash flows increase slightly due to penalties related to delayed financial filings. The potential for further negative scenarios (interest covenant default, further decline in EBITDA or liquidation of the company) is likely to further negatively impact shareholders, with the potential to have minimal impact on the debt holders. Conversely, the potential for improvement in EBITDA is expected to lead to significant appreciation in the share price, as shareholder cash flow increases, and minor upside for the debt. I believe this explains why the debt has been relatively stable while the equity has declined to reflect the potential downside risks to future shareholder cash flows.
Disclosure: I/we have no positions in any stocks mentioned, but may initiate a short position in VRX over the next 72 hours.
I wrote this article myself, and it expresses my own opinions. I am not receiving compensation for it (other than from Seeking Alpha). I have no business relationship with any company whose stock is mentioned in this article.