Coach's (COH) third quarter for fiscal 2016 ended on a positive note, as it finally snapped its string of negative same-store sales. Comps coming in flat is always better than negative. Margins aren't what they once were, but they seem to be trending higher not lower, and the fourth quarter will be telling as to whether or not the turnaround story still has any gas left in its tank.
What's happened to Coach over the last decade?
Coach is back to being valued like a premium franchise.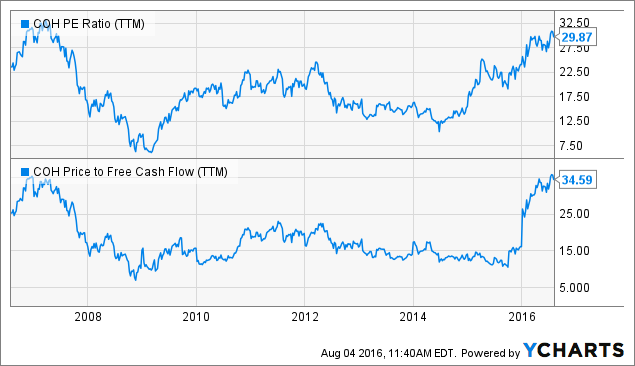 COH PE Ratio (TTM) data by YCharts
Valuations are almost back to where they were at the beginning of the decade, in fact. Is this warranted? I don't think so.
While comparables are expected to return to positive growth for the fourth quarter and this growth would be nice, I'm more focused on margins. At the beginning of the decade, gross margins were almost touching 78% and operating margins were 36%. Net margins were in general comfortably above 20% as recently as 2013.
Fast forward to the present. The company is now guiding for operating margins to hit 20% in fiscal 2017. Operating margins were only around 13% for its most recent quarter. It seems that the last ten years have been a story of margin compression, but how has this affected the company overall?
Breaking down return on equity
Weakening margins have in turn dragged down Coach's return on equity. I pulled numbers from financial statements found in its annual reports to create the below Dupont analysis.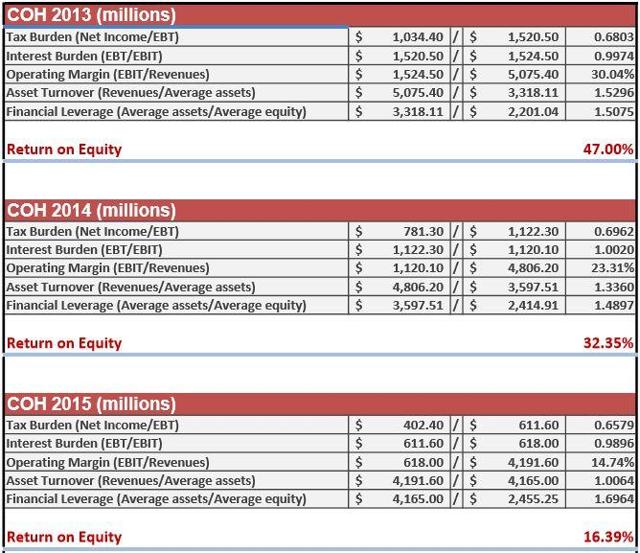 We can see how devastating declining margins have been to Coach's ROE over the last three fiscal years. Not only that, but ROE is also dragged down by a declining asset turnover, too. The company's tax burden has also shifted slightly higher (the lower the ratio, the higher the burden on ROE), and the addition of debt has added to its interest burden in 2015 (which was actually positive in fiscal 2014 due to positive interest income).
Coming back around to its asset turnover, the company has expanded its asset base while revenues have continued to shrink. The explanation? A notable bump in cash with a touch of increased intangible assets, so this isn't too concerning. Cash more than doubled from fiscal 2014 to 2015.
Operating income was decimated in 2015, as gross profit was lower (largely due to lower sales), but selling, general, and administrative expenses in aggregate increased. It's hard to know how much of this higher spend came from what (i.e. higher admin costs or more marketing to drive the brand), but management seems focused on efficiency, announcing during its recent third quarter conference call that it's implementing:
an operational efficiency plan today focusing on creating a more agile streamlined corporate structure enabling us to be more responsive to rapidly changing business conditions. The plan includes the elimination of over 300 positions worldwide representing about a 10% decrease in global corporate staff or about a 2% reduction in our total workforce.
The bottom line? Rapidly deteriorating underlying fundamentals and flat-lining sales over the last three full fiscal years. This is why a turnaround is much needed, and looking at current valuations, it seems the market is already pricing in a successful one. I'm not so sure about its premium price tag, however. Assuming Coach is able to achieve a 20% operating margin, applying a three year average tax burden, and holding everything else constant, I estimate Coach's underlying return on equity would be at around 22% to 23% - still a far cry from its glory days.
Now for the bright side....
Not everything is terrible for Coach. Despite high valuations, we also need to consider that the overall market is trading for a very high multiple relative to history itself. A rising tide lifts all boats, even vessels containing a few leaks. Despite Coach's seemingly lofty valuations, its dividend yield is actually more towards the high end in relation to history.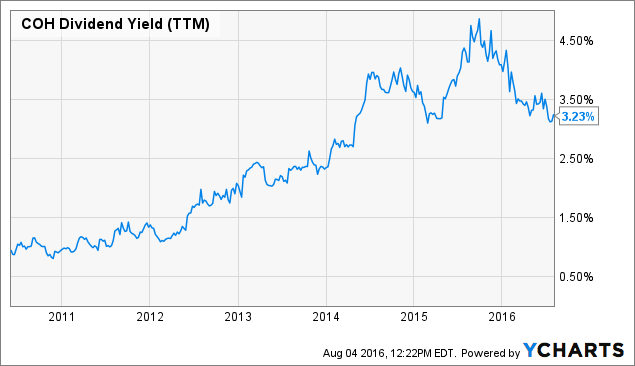 COH Dividend Yield (TTM) data by YCharts
I'd say the yield is generous, but I'm not sure if it's generous enough if Coach's turnaround doesn't come to fruition. It's also been higher in recent times, when the business was doing arguably better.
Coach has also recently added debt to its capital structure, but still maintains a strong, financially flexible balance sheet with more cash than all of its debt combined. It also spits out a large amount of free cash flow, converting roughly 16% to 17% of sales right into free cash flow. That gives the company some more breathing room while turning things around.
Conclusion: the turnaround needs to materialize, starting with margins
I'd hesitate to buy a stake in Coach at current levels without firm evidence that a turnaround is in place. Even then, the firm is still trading at valuation levels not seen since before the financial crisis, but it's not as great of a business as it was back then when ROE consistently exceeded the 40% mark and operating margins exceeded 30%.
20-22 times earnings would be more attractive for me personally, assuming margins stabilize or even reverse back towards expansion. The dividend would be much more hefty in this scenario as well. I still like the company's long-term prospects overall.
Coach is expecting a return to growth for fiscal 2016, but margins matter, and so do valuations. To its credit, it's noticed its problems and is increasingly focused on peeling away some of its bureaucratic layers, shaking up managerial positions, renovating stores, and even pushing into e-commerce to improve efficiency and margins. Now it's up to management to execute. We will get a glimpse of its progress next Tuesday before the bell.
If you enjoyed this article and would like to receive further updates and articles in the future, please feel free to hit the "Follow" button at the top of the page next to the author's name.
Disclosure: I/we have no positions in any stocks mentioned, and no plans to initiate any positions within the next 72 hours.
I wrote this article myself, and it expresses my own opinions. I am not receiving compensation for it (other than from Seeking Alpha). I have no business relationship with any company whose stock is mentioned in this article.
Additional disclosure: Articles I write for Seeking Alpha represent my own personal opinion and should not be taken as professional investment advice. I am not a registered financial adviser. Due diligence and/or consultation with your investment adviser should be undertaken before making any financial decisions, as these decisions are an individual's personal responsibility.