When Netflix (NASDAQ:NFLX) released its most recent earnings results, the stock tumbled 16% based on growth figures significantly below expectations. Since that time, the stock has recovered about half of the immediate loss that drove the stock to close below $86, leaving the stock around $93 at the time of this writing. Netflix has had a history, going all the way back to when Reed Hastings decided to split the streaming service from the DVD by mail service, of turbulent shifts based on investor reaction to news. Repeatedly, the stock has been punished for a perceived wrong and then fought its way to progressively new highs. If one looks carefully at the depth of the recent earnings call, the stock is in better shape than might have been thought and belongs in your long portfolio.
A Deeper Look at the Numbers
When you look beyond the slower-than-expected growth numbers of 1.7 million new subscribers against a forecast of 2.5 million new subscribers, the statistics are encouraging. Using this decelerating growth as a backdrop, the company beat analysts' estimates of earnings-per-share of $0.02 by $0.07 to net a $0.09 EPS number. Additionally, revenue was up 28% for the quarter - 3% better than Q1 and 5% on a year-over-year basis. Essentially, while subscriber growth has slowed, earnings and revenues are moving in the right direction and proving that the "un-grandfathered" subscriber loss is not hurting the bottom line as much as some had feared. On the contrary, Nomura analyst Anthony DiClemente sees the move as benefitting Netflix to the tune of about $500 million: this has long been a tenet of our investment thesis on the domestic business, as slowing subscriber trends are more than offset by increased monetization."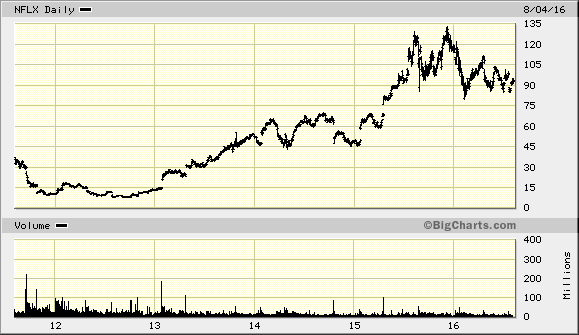 A Period of Transition
The crux of the call on Netflix is to recognize that the service is in the midst of a period of significant change as consumers begin to change their habits. The detractors for Netflix are factors such as the increased maturity and breadth of offering from competitors like Amazon (NASDAQ:AMZN) Prime. As Prime continues to offer more premium and original content, and more importantly, as consumers begin to see other streaming services as legitimate add-ons or alternatives to Netflix, the market is in a state of flux. Amazon currently has roughly half the number of U.S. subscribers as does Netflix. Growth may be slowing, but Hastings remains positive: "Disrupting a big market can be bumpy, but the opportunity ahead is as big as ever."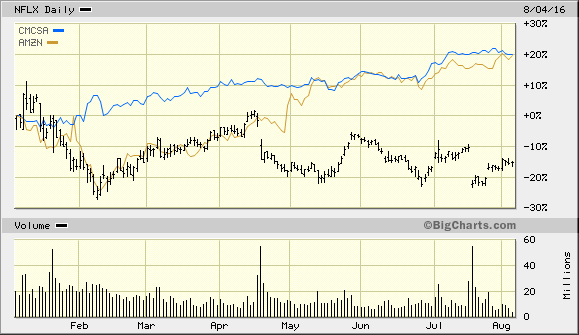 On the positive side for Netflix, cable bills have continued to increase as those providers like Comcast (NASDAQ:CMCSA) try to add services like Netflix to justify their cost. In spite of these arrangements, Netflix is continuing to add original content, and getting critical acclaim for many of its offerings - this in one of the reasons behind Comcast's decision to move forward with the recent deal. The dropping appeal of set-top boxes, shifts in Federal regulation, and increased cord cutting are all likely to drive growth in the streaming market, despite the perceived slowing in growth.
The bottom line for investors is that while Netflix is hardly a smooth ride, it has continued to move steadily higher over the years as Hasting's "bumpy road" has proven to lead where he expects. Over the long-term, the picture for Netflix looks strong. The recent sell-off and ensuing stabilization makes this a good time to add the stock to your long-term portfolio.
Disclosure: I/we have no positions in any stocks mentioned, and no plans to initiate any positions within the next 72 hours.
I wrote this article myself, and it expresses my own opinions. I am not receiving compensation for it (other than from Seeking Alpha). I have no business relationship with any company whose stock is mentioned in this article.