In the latest move in Walmart's (NYSE:WMT) efforts to grow beyond its traditional brick and mortar business and expand into e-commerce, WMT is in talks to acquire Jet.com. Jet is an online discount retailer that launched in July of last year selling a broad range of consumer products (approximately 4.5 million different items). The company is not yet profitable but it has grown revenues using a dynamic pricing model that calculates the lowest possible price to consumers by taking into account basket size and warehouse locations, so as to minimize collection and shipment costs. Jet.com has improved its value proposition by scrapping its annual $50 membership fee and by offering free shipping on all orders over $35. We believe a Jet.com acquisition can give WMT a much-needed boost in the e-commerce space.
Expanding into e-commerce has been costly for WMT. The company has invested heavily in technology and fulfillment infrastructure but performance has lagged management's expectations. WMT had $14 billion in e-commerce sales last year (equal to 3% of total revenue) compared to $107 billion for Amazon, and the company's e-commerce sales have declined for 9 consecutive quarters (Figure 1). Walmart needs to expand the number of products it sells online in order to become more competitive, and WMT could enhance its offering by acquiring Jet.com. Jet is still small but the company has a broad range of product categories, many of which overlap with WMT's. Jet also has an impressive growth outlook. As of May 16, the company had a gross merchandise value (sale price multiplied by number of items sold) of $1 billion, but Jet is targeting $20 billion in GMV by 2020. According to Cowen analyst Oliver Chen, this implies roughly $120 million of revenues now and $2.4 billion in 2020, which equates to a CAGR of more than 100%.
Figure 1: Walmart's Slowing E-commerce Sales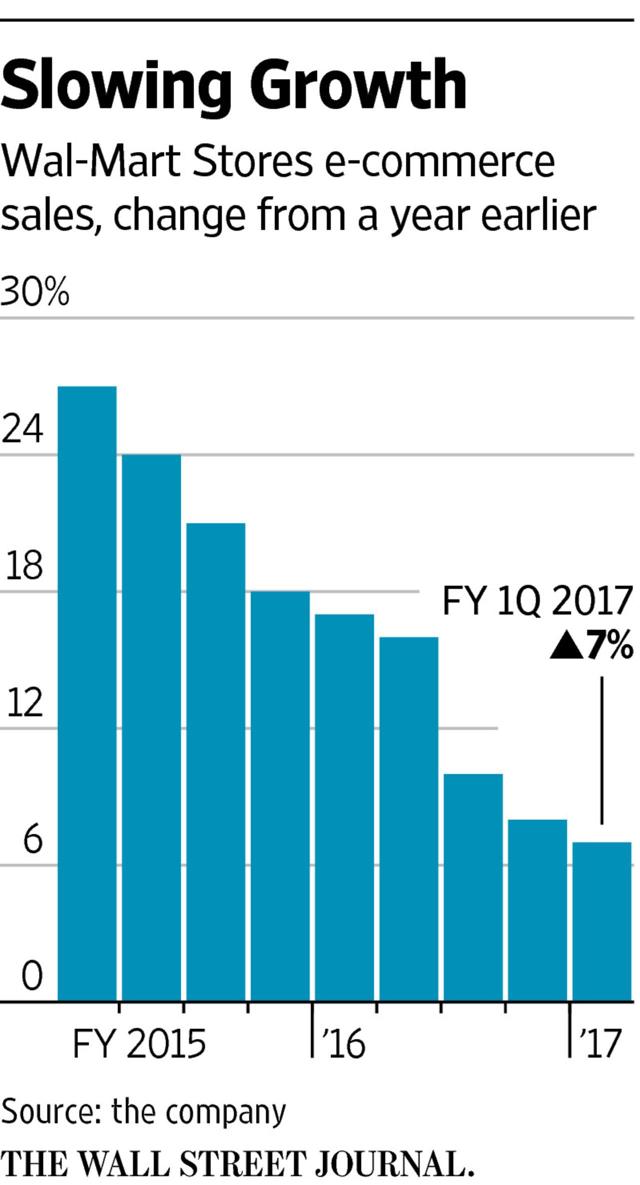 Source: Wall Street Journal
But the biggest benefit to WMT is that a Jet.com acquisition would likely make the firm more competitive against Amazon. Any company that enters e-commerce has to deal with Amazon in one way or another, and most struggle because they simply can't match Amazon's combination of value and convenience. Rather than attempting to compete with Amazon on convenience, which is virtually impossible given AMZN's massive scale, distribution networks, and speed of delivery service, Jet.com leverages its dynamic pricing formula to undercut Amazon on price. Customers understand that they will most likely find the best deal for a given item on Jet.com, and this is essentially what made Walmart such a force in the first place. WMT's brand and customer loyalty advantages are based on the perception that the company offers the best deal on virtually everything. Both WMT and Jet.com prioritize efficiency and price, and we think the meshing of similar cultures can strengthen WMT's status as a low-price retailer and lead to synergies down the road.
A Jet.com acquisition would also open up new markets for Walmart. WMT's shoppers tend to earn lower incomes than those of Amazon and other retailers, which is one of the reasons why WMT's ecommerce sales have decelerated more rapidly than those of other players, in our view. WMT's shoppers earned a median household income of $58,000 in 2015, compared to $68,000 for Amazon. According to Kantar Group, a market research firm, Jet's customers earn higher incomes than AMZN's shoppers. This is a surprise to use given that Jet targets the price-sensitive consumer, but the access to new demographics should help WMT offset slowdowns from less affluent consumers. The broader customer base also gives WMT a chance to increase scale in e-commerce, which would strengthen the firm's bargaining power over suppliers and give it more room to undercut Amazon's prices.
Conclusion:
There's no avoiding Amazon if you want to play in the e-commerce space, and a Jet.com acquisition would make WMT's online platform more competitive. Analysts speculate that WMT would end up paying as much as $3 billion for Jet, which would make it WMT's biggest acquisition since 2010. But this would ultimately be a small price to pay if WMT can integrate Jet and maintain market share in e-commerce.
Disclosure: I/we have no positions in any stocks mentioned, and no plans to initiate any positions within the next 72 hours.
I wrote this article myself, and it expresses my own opinions. I am not receiving compensation for it (other than from Seeking Alpha). I have no business relationship with any company whose stock is mentioned in this article.