Some years ago I served an internship at a German company's Shanghai office. During that time I have a few Chinese friends to whom I talk regularly. With Baidu (NASDAQ:BIDU) starting to decline from the share price run-up throughout the year 2014 I became interested in the company since for me it appeared that Baidu had a strong business model. Based on my sum-of-the-parts valuation the company is worth around $255 per ADR. To better understand how the company and its products are perceived in China it was only reasonable to ask some Chinese residents on how they thought about Baidu. In the following I will recall on what insights I got when talking with them about Baidu.
On Baidu Search (Baidu.com):
Baidu.com is the search engine of Baidu. It generates almost all of the company´s profits. One particular statement that I received from a colleague of mine regarding the search service stood out for me:
"I don´t like Baidu very much. It is a search engine with too many advertisements, which does not feel professional..."
This was more or less the overall tenure of the feedback. It seems like Chinese people do not like the user experience on Baidu very much. They mostly complained about too many adds which additionally take too much space in search results. Want a quick example, then briefly look at what Baidu returns when I search for BMW.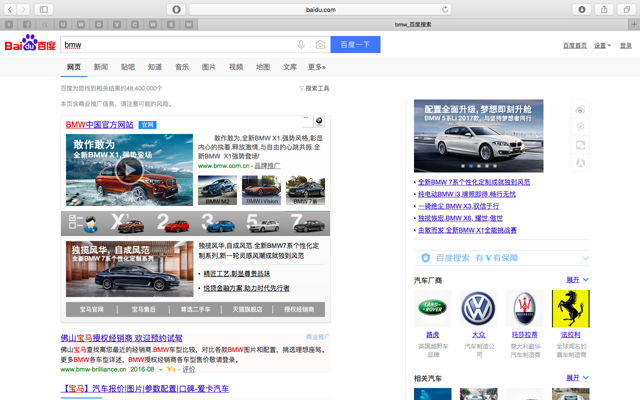 The entire first page is usually covered in sponsored ads. In this case BMW is represented by pictures and Baidu also allows other vendors buy into the party (see on the right). The first result and sponsored ad is filling almost half of the web-page and cannot be overlooked. For more neutral content and information on the company and its products the user has to scroll down quite a bit. While this is exactly what makes money for Baidu, namely selling ads, it also overwhelms and to some degree annoys users when they are constantly presented with ads that want to sell them stuff. Cleaner results would be very welcome and would help Baidu to regain its professional aspiration.
So far this paints a bleak picture for China´s number one search engine. But initially mentioned quote had a second part attached to and here it comes:
"... but there is no other usable search engine in China. Google might be better but they are not in China. So everyone uses Baidu."
I believe this statement is a case study of how a moat can be described. People use it because they have to, because there is no other practical alternative. Baidu through its 80%-plus market share has the market cornered. They are far ahead on the collection of user data and are therefore able to present results that deliver what the user is looking for despite the ad overload. Other search engines cannot compete because ad revenue and costumer data go primarily to Baidu. Hence competitors lack funds and user information to build a truly competitive service. Couple this with recent regulation that less sponsored ads on web-search are allowed and that no single ad is allowed to take up more than 30% of space of search results, the user experience on Baidu will actually benefit, making switchers to other search engines even rarer. For Baidu that means a sustainable competitive advantage. I'm willing to bet on that.
On iQyi:
iQyi is a movie portal that provides movies, TV shows (also original content) and other videos. It generates revenues through placed ads and a subscription fee, which enables consumers to watch specific content early.
While this seems like a successful mix given the explosive growth that Netflix (NASDAQ:NFLX) has shown with a similar business model, feedback on iQyi wasn't´t very encouraging. It ranged from
"I don´t know iQyi,
to a comment that very well describes Chinese attitudes when it comes to the protection of Intellectual property.
"I only watch for free. Chinese people don´t pay for movies."
While this made me chuckle the statement presents pretty well the obstacles that a paid subscription service faces in China. As soon as the company tries to charge meaningful amounts for the service people will probably move to other sources that provide them the same content for free. Still Baidu management made clear that they have 20mm-plus paid subscribers that receive content earlier than others. Maybe if Baidu can deliver enough original content that people are eager to see right upon release the strategy might finally work. Until now I'm skeptical also due to my experience in China where the newest American blockbusters and TV shows were only one click away and of course free to watch.
Unfortunately I haven´t received much feedback on o2o services like Nuomi and Baidu Takeout. When I do so I will provide an update here.
Conclusion
I'm aware that the experiences presented here are by no means representative for all Chinese, but I believe the reported sentiment toward search and iQyi is valuable information. Search will most likely continue to thrive since users are locked in, while iQyi will have a hard time to turn profitable. Presenting ads in the correct doses might be the go-to way over expensive subscriptions that only turn people to other free to watch websites.
Disclosure: I am/we are long BIDU.
I wrote this article myself, and it expresses my own opinions. I am not receiving compensation for it (other than from Seeking Alpha). I have no business relationship with any company whose stock is mentioned in this article.