Two companies dominate the chip industry: Intel Corporation (NASDAQ:INTC) and Qualcomm (NASDAQ:QCOM). Both companies operate in the same industry, their stocks trade for similar valuations, and they both pay dividends to shareholders. But underneath the surface, their businesses are going in different directions. The big drag on Intel is the stagnation of the personal computer; while this is certainly nothing new, what is new is that Intel's high-growth segments, namely data centers and the Internet of Things, are slowing down.
This could have significant implications, because Intel is counting on these segments to grow at high rates. Qualcomm stock has performed significantly better than Intel this year, which I expect to continue, as the market realizes that Intel is not likely to generate enough growth in data centers, the Internet of Things, and the cloud, to offset the deterioration in its PC business.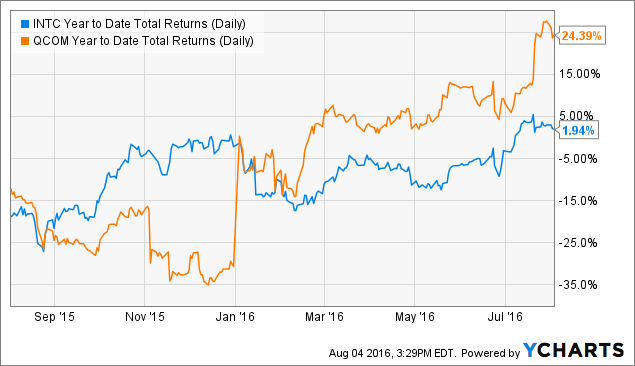 Intel: Between a Rock and a Hard Place
The Intel story has been a challenging one. First, the decline in the PC industry has weighed on the company. Its Client Computing group, which includes the major PC business, saw revenue decline 0.5% over the first six months of 2016, after an 8% decline last year. On the surface, Intel's results look promising, as the revenue decline is moderating. This is presumably why the stock has bounced so strongly off its low this year. But underneath the surface, things aren't going as well as it seems.
The reason is because Intel's two biggest growth segments are slowing. Last quarter, revenue in data centers and the Internet of Things increased just 4.5% and 2.3%, respectively. Consider that in 2015, Intel grew data center revenue by 11% and IoT revenue by 7%. This matters because Intel badly needs these businesses to continue growing at high rates, as the Client Computing segment still represents more than half the company's total revenue. And, due to higher levels of spending in these areas, operating profit in both the data center and IoT segments is down over the first half of the year.
This puts Intel in a difficult position. On the one hand, it is abundantly clear the PC industry is not growing. On the other hand, its investments to carve out market share in tablets, drones, and mobile devices simply isn't working. Intel made a huge push into tablets two years ago, and while it successfully shipped more than 40 million tablets that year, its mobile business lost a whopping $4.2 billion in 2014. More recently, Intel had to issue a recall for all of its Basis Peak smartwatches due to the risk of users being burned.
Meanwhile, Qualcomm has made significant progress in its own turnaround, and its future looks much better. Qualcomm's revenue rose 4% last quarter, year over year, but revenue increased 9% from the previous quarter. The important thing to look at is the trend -- Qualcomm's growth is accelerating, while Intel's is decelerating.
Qualcomm is more effectively positioning itself to capitalize on the growth areas of this business, specifically in 5G and connectivity. In mobile, the Snapdragon now has more than 150 premium smartphone and tablet designs, and is also poised to make inroads into virtual reality, another promising future growth catalyst.
Broadly speaking, there are simply a lot more opportunities for Qualcomm, not just in mobile, but in a wide array of new device applications, such as automotive, networking, and IOT as well. This is an exciting opportunity for Qualcomm. CEO Steve Mollenkopf stated on last quarter's conference call:
Collectively, the addressable opportunity for these adjacent areas is expected to grow at a CAGR of 18% over the next five years from $12 billion to $29 billion according to a combination of third-party and internal estimates.
Qualcomm has more financial flexibility than Intel to continue investing aggressively in future growth. It has $17 billion in cash and equivalents on its balance sheet. By comparison, Intel has spent a huge amount of money on these initiatives, which may work, but is a concern if the growth slowdown continues, because the company has less money in the bank to go after future opportunities. For example, Intel ended last quarter with $8.2 billion in cash and short-term investments on its balance sheet, down from $18 billion at the end of 2015.
Final Thoughts
I believe Qualcomm sets up as a much better risk/reward situation than Intel. In my view, Qualcomm is likely to produce stronger growth due to its position in mobile. Intel is just too chained to the PC. Plus, Qualcomm offers a 3.5% dividend yield, while Intel's yield is 3%. And, Qualcomm is likely to grow its dividend at much higher rates than Intel. This is already bearing out; Qualcomm has increased its dividend by 20% per year over the past five years, while Intel's dividend has grown just 4% per year in that time.
Ultimately, Qualcomm is a much better growth play. Intel has invested huge amounts of resources to grow beyond the PC. While it has admittedly seen good growth from data centers and the Internet of Things, investors should be concerned that the growth rates in these two segments has slowed considerably over the past year. And Intel's efforts in tablets and smartwatches have come up empty.
The future is clearly not in PCs, but that is still where Intel reigns. It is likely to remain a highly profitable company, with a nice 3% dividend, but investors looking for growth should look elsewhere. That's why Qualcomm is the better buy of the two chip giants.
Disclaimer: This article represents the opinion of the author, who is not a licensed financial advisor. This article is intended for informational and educational purposes only, and should not be construed as investment advice to any particular individual. Readers should perform their own due diligence before making any investment decisions.
Disclosure: I am/we are long QCOM.
I wrote this article myself, and it expresses my own opinions. I am not receiving compensation for it (other than from Seeking Alpha). I have no business relationship with any company whose stock is mentioned in this article.