Verizon (NYSE:VZ) is one of the world's leading providers of communication, information and entertainment products and services to consumers. However, with the stock up 20% this year it may be time to wait for a pullback prior to opening a position. Verizon has enormous coverage and a substantial user base and is a great business, however its top line growth continues to slow and the company will have to rely on cost savings in order to appease investors by exhibiting margin growth. Additionally the company is spending billions on bets within social media and the Internet of Things with Fleetmatics (NYSE:FLTX), areas which are outside of its core competency of being a great network provider.
We have been stockholders in Verizon over the past year and have been very happy (see below). However, given the run up and the numerous concerns we have around the business, now may be a good time for long investors to realize some capital gains and find some new dividend investments which offer capital gains potential concurrently. Our concerns stem around whether they will be successful in their adoption of AOL, Fleetmatics and other bets within their business and the stagnant/declining top line growth the company is experiencing (below) which is expected to continue in coming years. These concerns make it very difficult to project a price target above the current price per share with any degree of confidence.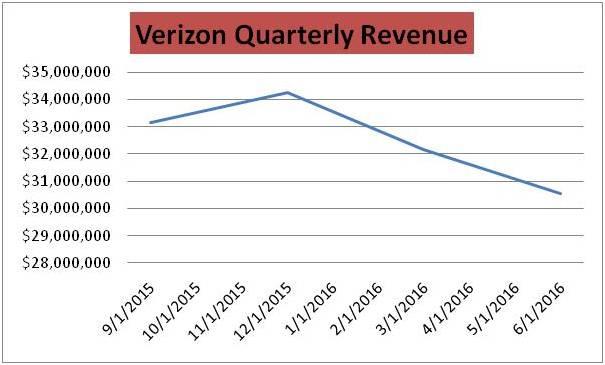 Source: Author Analysis/ Company Financials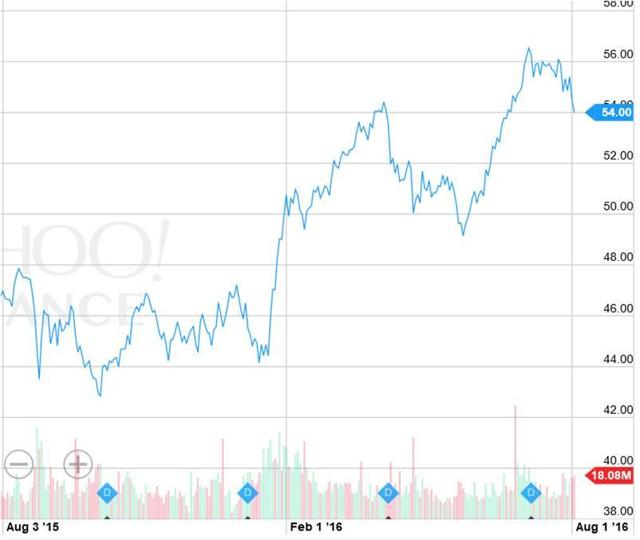 Source: Yahoofinance
Verizon recently announced its intent to acquire Yahoo's (YHOO) core business for $4.83 billion in cash. This acquisition was intended to position Verizon as a top mobile media company and help accelerate their revenue stream in digital advertising. However, Verizon has no experience successfully monetizing web properties and has achieved success as being a data provider, not a social media advertising business. Yahoo also was struggling to monetize these properties historically and the purchase price likely assumes that major synergies will take place between the web and mobile destinations and Verizon's existing business of providing Internet and phone service, which we feel will be difficult to make happen. The acquisition of Fleetmatics for $2.4 billion, a company which manages mobile workforces, makes sense strategically but again the question of how quick synergies will be realized is a major issue. The acquisition was also done at a 40% premium to the company's closing price, meaning significant revenue and/or cost synergies are going to have to be realized in order for this to be an accretive acquisition. Additionally the Internet of Things is still a very early business for technology companies. The Internet of Things is still in its infancy and it may take a while for the growth Verizon projects to actually occur. Most businesses and consumers are just starting to consider the Internet of Things and its widespread adoption will take some time.
In terms of valuation, Verizon trades relatively in line with its peer set. Verizon trades for 2.4 times trailing revenue, which is in line with its peer set multiple. It also trades for seven times enterprise value to EBITDA, which is in line with the seven times median multiple for its peer set. In order to consider purchasing shares currently, we would want to see a more substantial valuation discount to its peer group given the numerous risks we have already articulated. Sell side analysts are in agreement with our valuation, with a mean analyst price target which roughly equals the current share price of $54. Thus even from a discounted cash flow valuation, which is what a majority of analysts employ, the company appears fairly valued after this years run up.

Source: Author Analysis/10-K Filing
In summary, Verizon a great overall business but it is not an attractive investment currently in our view. Verizon is facing stagnant top line growth in addition to major risks around the positive and hopefully accretive integration of its new technology investments. Despite the 4% dividend yield, we would suggest investors wait for a major pullback prior to purchasing shares in Verizon when shares trade below two times trailing revenue.
Disclosure: I/we have no positions in any stocks mentioned, and no plans to initiate any positions within the next 72 hours.
I wrote this article myself, and it expresses my own opinions. I am not receiving compensation for it (other than from Seeking Alpha). I have no business relationship with any company whose stock is mentioned in this article.