Cisco Systems (NASDAQ:CSCO) is a very diverse corporation with products that incorporate both hardware and software along with service support. At my job, we use its phone system, and I must say it has performed beautifully for as long as I have been here. Cisco recently has been growing further into the services side for revenue to complement its product line. This will help diversify income streams and provide revenue strength in market downturns. Corporations may slow down on purchasing newer technology in rougher times, but in order for businesses to operate, their existing products must be maintained. Since the second-quarter results have not been posted yet, I will retrieve all information from the most recent 10-Q. Service revenue has jumped to $3.125 billion from the 1Q15 number of $2.811 billion, which is good for about a 9% increase. I would expect Cisco to maintain this growth for years to come as it expands its service abilities.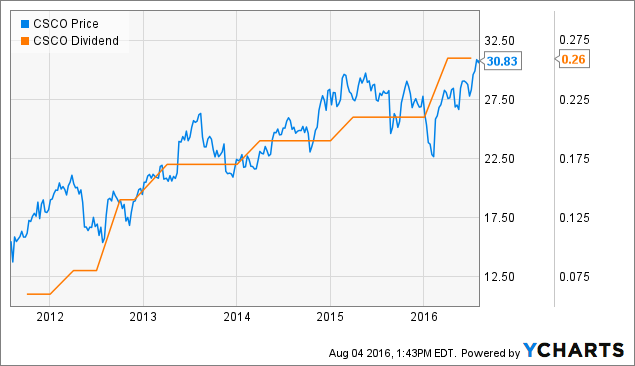 As you can see, the stock has performed beautifully in the last five years. Not only have shareholders doubled their money, the dividend increased at a blistering pace. Based on Thursday's mid-day stock price of $30.80, the dividend yield is a juicy 3.4%. A yield this high is a great fit for any style of dividend portfolio. I do believe that this stock will increase its dividend once again next year in a double-digit growth fashion. With that in mind, Cisco has officially made it to our short list for the August addition of our Covered Call DGI portfolio.
Cash, Cash Baby!
This company is sitting on a large amount of asset and very little debt. Its FCF per share has been increasing steadily for more than a decade. The company's most recent FCF per share was $2.21 for fiscal-year 2015.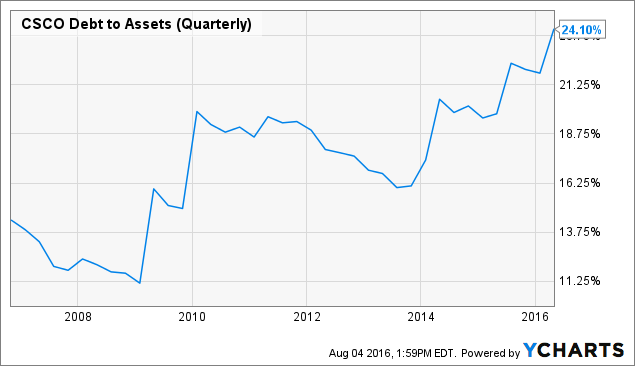 I understand that this number has been creeping up, but it should not be of any concern for current and future stockholders. At any time it wishes, Cisco could use its great operating income to lower long-term debt liabilities. Short-term debt was sitting a little over $4 billion in 1Q16 and long-term was around $24 billion. The company could use its $63 billion cash hoard to wipe all the debt clean in one shot, but that would not be the best use of such resources. I would rather like to see some further growth in its service business model. The increased demand in cloud technology and the "Internet of Things" around the world could also be a spot for increased revenue growth. Investors should expect more revenue to be directed towards these new categories of business in coming years. A successful move into these new business opportunities could help accelerate revenue growth, which the company needs for the future.
Dividend Growth
Cisco Systems' dividend has been growing at a furious pace ever since it was instituted in 2011. While young in nature, investors should expect the growth to continue for next year and far into the future. In 2014, CSCO increased its dividend by 16% and 11% in 2015. This year alone, management has increased the dividend by 24%. Based on the increased revenues and free cash flow per share, investors should expect another 15% or more increase for 2017.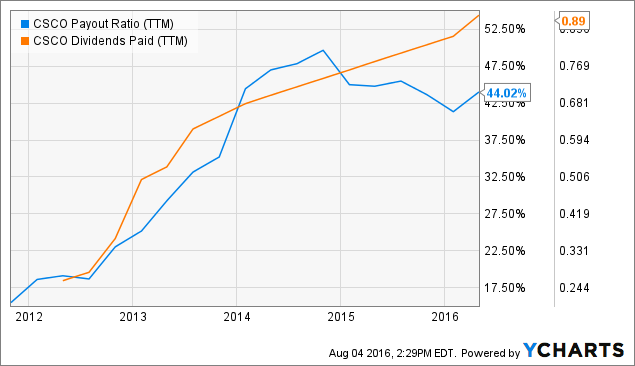 You can see the divergence from total dividends paid to its payout ratio on a trailing 12-month basis. This means that Cisco has been paying out more dividends while increasing its free cash flow at the same time. The strength and safety of its dividend could not be more clear. Should a recession occur, I would expect the dividend to be safe. With a payout ratio below 50%, Cisco's revenue could be slashed in half, and the dividend would still be covered even though. Last recession (2008-09), Cisco survived rather well. This should give some peace of mind for investors in a worst-case scenario.
A Hypothetical Scenario
Let's assume you invested $10,000 in Cisco on July 29th 2011. If you held onto all your shares and reinvested the dividend, your investment would be worth $21,923, which is good for an annualized ROR of 16.9%. Total dividends collected would be $2,091 for all you income replacement folks out there. If you did the exact same trade with the SPDR S&P 500 Trust ETF (NYSEARCA:SPY), you would have a value of $17,124 with total dividends of $1,291. This would be good for a ROR of 11.3%. Pretty easy to see which investment you would rather have.
Price Target
I currently have a price target of $33.50 a share by fall of 2017. Cisco historically trades around the 12-13 P/E range. Based off of forward EPS growth in the single digits for the next two years, this would be right in line with estimates. While this is not a highflier growth stock, steady capital gains, plus rapid dividend growth, make it a perfect fit for our Covered Call DGI portfolio. For covered calls, the option premium on monthly contracts is quite attractive and could easily turn this stock into a 10%+ yielding stock. For more information on our "Covered Call DGI Portfolio," please click here.
Conclusion
I strongly believe that Cisco has a spot in all dividend portfolios. The recent growth in its service-based portion of the business should reduce the negative effects of a possible recession in the US and/or world. With great free cash flow per share and a low payout ratio, there is no reason why Cisco should not increase its dividend by double digits again in 2017 and beyond. My research has placed this stock onto the short list of considerations for the Covered Call DGI portfolio for August.
Happy Investing!
Please follow for weekly market updates, options trading, dividend stock analysis and our Covered Call DGI portfolio.
All ideas, data and trades should be used for information purposes only. All investors should do their own research and due diligence to determine what is best for their portfolios and needs. I/we cannot be held responsible for any loss of capital.
Disclosure: I/we have no positions in any stocks mentioned, but may initiate a long position in CSCO over the next 72 hours.
I wrote this article myself, and it expresses my own opinions. I am not receiving compensation for it (other than from Seeking Alpha). I have no business relationship with any company whose stock is mentioned in this article.
Additional disclosure: Short SPY through bear call spreads, long PSEC,V,XOM,T,DHT,XLE,SLV