Last week, Verizon (NYSE:VZ) announced that it would be acquiring Yahoo's (YHOO) core assets for about $4.8 billion dollars. After the core assets are sold, Yahoo will be left with a few major holdings: a stake in Yahoo Japan and Alibaba (NYSE:BABA), and a few pieces of IP. I believe the value represented by these holdings is not accurately represented in Yahoo's share price.
Breaking down the deal
In layman's terms, the two-step deal will work something like this. The first step, will involve the transfer of all assets related to Yahoo's core business to a single subsidiary. This subsidiary is what Verizon is buying. The second step, the closing of the deal, is slated for the first quarter of 2017. Shares of the subsidiary, which will carry the name Yahoo, will be sold to Verizon. After the sale is complete, Yahoo will be required to change its name. Yahoo shareholders will be left with shares in the renamed company. Yahoo executive currently refer to this company as Remain Co.
Stake in Alibaba and Yahoo Japan
Yahoo considered spinning off its Alibaba stake in order to raise cash last year, but the plan was slashed in order to avoid a potential tax burden. So, Yahoo is left with 384 million Alibaba shares after the Verizon purchase of its core assets. Those shares are worth just a hair over $32.5 billion as of midday on August 4th. Yahoo also owns a considerable stake in Yahoo Japan. Yahoo's 35.5% stake, about 2.02 billion shares, in Yahoo Japan is valued at ¥873 billion (yen). On August 4th, the exchange rate makes the stake worth about $8.6 billion. Yahoo's holdings in these two companies alone is worth right around $41 billion, Yahoo's market cap is currently hovering around $36.5 billion.
Patents
According to the New York Times, "A license of Yahoo's oldest patents is being held back in the so-called Excalibur portfolio." The Excalibur portfolio holds about 2,600 patents, of which some have already been sold. According to PatentVue, "The vast majority of Yahoo's patents are related to software, with 68% of its US patents grouped in a software-related classification." PatentVue valued the portfolio as it stands at about $1 billion to $1.5 billion. However, if the company was able to figure out a way to begin generating long term revenue from those patents, they could be worth more.
Yahoo also has a patent leg up on competitors Google, Microsoft, and AOL. Yahoo's patents have the longest remaining average patent terms of the group, about 10.4 years per patent. This means Yahoo will be able to make use of the patents for just over the next ten years. If Yahoo figures out how to monetize the portfolio and generate steady income for Remain Co, the earnings could be distributed in the form of dividends.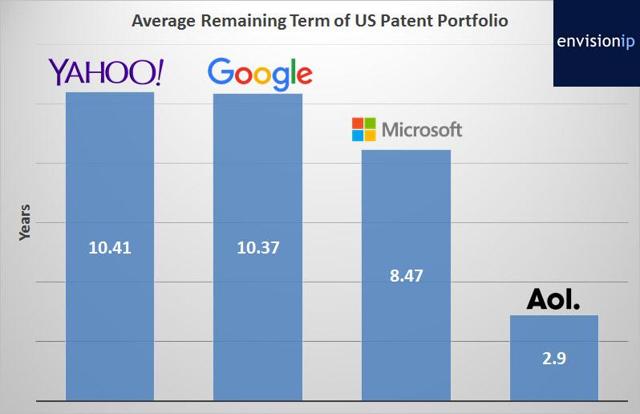 Risks
Betting on the future of Remain Co after the Yahoo-Verizon deal will expose investors to some risk. Mainly currency risk associated with the value of the yen, and Alibaba's ability to continue growing. The Bank of Japan is currently pursuing a very aggressive stimulus package. After Brexit, the Yen experienced significant gains against most major currencies despite the BOJ's best efforts to lower its value. Goldman Sachs believes this trend will continue. However, if the BOJ does manage to tame the value of the yen, there is a possibility that Remain Co's stake in Yahoo Japan will lose value. I believe Alibaba is a great company, it is focusing on growing its revenue through expanding its global footprint. For example, the company is currently making a huge push into the Indian business to consumer sales market.
The bottom line
Shares in Remain Co, what will be left of Yahoo after its core business is sold to Verizon, are undervalued. Remain Co will include roughly $10 billion in cash, a stake in Alibaba worth $32.5 billion, a stake in Yahoo Japan worth $8.6 billion, and a patent portfolio worth around $1 billion. My conservative estimate places the value of Remain Co around $50 billion. Yahoo is currently trading at a market cap around $36.5 billion. I think buying Yahoo stock is a no brainer.
Disclosure: I am/we are long BABA.
I wrote this article myself, and it expresses my own opinions. I am not receiving compensation for it (other than from Seeking Alpha). I have no business relationship with any company whose stock is mentioned in this article.