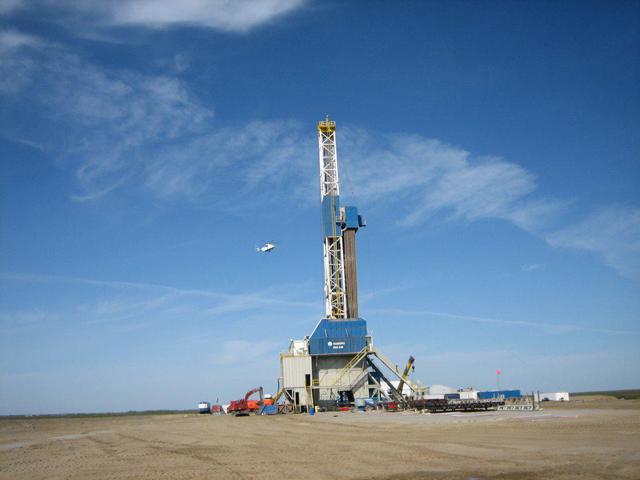 Nabors Rig 536. Source: NBR website.
This article follows my Q1 earnings review for Nabors Industries (NYSE:NBR) published April 26, 2016.
For Nabors Industries' year-ago presentation (Q2 2015), click here.
Description of the Fleet
Nabors can be divided into different segments (actively marketed rigs):
Offshore drilling: Nabors owns seven jackups and 37 offshore platforms (19 in the USA).
Land drilling: Nabors owns 449 rigs as of 3/31/2016. Including 4 rigs under construction and 19 offshore in the US.
Nabors owns and operates approximately 428 land drilling rigs throughout the world. Nabors's actively marketed offshore fleet consists of seven jackups and 37 platform rigs in the United States, and multiple international markets.
Q2 2016 Earnings Results Snapshot
The Q2 earnings conference call transcript is available here.
Financial Snapshot: (Six Consecutive Quarters)
Q2 2016
Q1 2016
Q4 2015
Q3 2015
Q2 2015
Q1 2015

Total Revenues

$ million

517.1
430.8
693.7
812.4
863.4
1,421

Total Revenues from drilling (excluding rig services)

$ million

571.6
597.6
738.9
847.6
863.4
1,4154

Adjusted net income from operations

Adjusted income

$ million

(186.57)

(53.41)

(396.6)

(53.77)

(161.1)

(7.81)

(250.9)

7.52

(41.89)

70.30

124.4

86.95

Non-cash impairment + other charges

$ million

95.78

("CJES")

15.78

("others")

308.9

123.56
245.41
-
-

Cash and Cash equivalent and short-term investments

$ million

255.86
221.50
274.59
276.56
469.90
621.17

Total debt

Net debt

$ billion

3.5034

3.247

3.5903

3.369

3.6552

3.387

3.738

-

3.691

-

3.817

-

Net debt to Capitalization

46.64%
46.32%
44%
-
-
-

Adjusted

EBITDA

$ million

165.51
162.05
223.33
247.63
288.49
367.96

Earnings from continuing operations

Adj. $/s

basic $/s

(0.65)

(0.65)

(1.41)

(1.41)

(0.57)

(0.58)

(0.86)

(1.02)

(0.14)

(0.13)

0.43

0.43

Shares outstanding

in million

276.55
275.851
276.371
284.112
286.17
285.36
CFO William Restrepo, as quoted in the press release, stated:
In addition to our current cash balances, our $2.25 billion revolver remains undrawn. And although we see signs of improvement in both international and U.S. markets, we remain committed to maintaining liquidity and financial discipline, while targeting positive free cash flow during the remainder of the year.
Restrepo said on the conference call:
Excluded from the above second quarter losses were charges of $95.8 million after-tax, or $0.34 per share, for a portion of C&J's earnings as well as impairments and costs related to our remaining investment in that company. Also excluded were $15.8 million after-tax, or $0.05 per share, related to the impairment in the value of certain assets we have agreed to sell as well as the write-down of a receivable from a previously sold business.
Detailed Operating Revenues Q1 2016 and Comparison
Q2 2015

$ million

Q1 2015

$ million

Q4 2015

$ million

Q3 2015

$ million

Q2 2015

$ million

Q1 2015

$ million

Q4 2014

$ million

Q3 2014

$ million

US
140.34
148.68
222.06
259.94
321.2
453.8
544.9
571.7
Canada
6.62
17.49
28.31
29.93
21.41
57.84
88.2
80.5
International
401.02
401.06
448.51
516.18
458.55
445.4
432.1
424.7
Rig services
39.25
53.85
72.86
73.52
100.60
144.08
190.4
191.4
Total Operating Revenues
587.23
621.08
771.74
879.6
901.8
1,101
1,256
1,268
Completion and Production services
Completion
-
-
-
-
-
(55.2)
361.8
254.0
Production
-
-
-
-
-
(3.3)
239.9
259.9
Nabors' business in a few graphs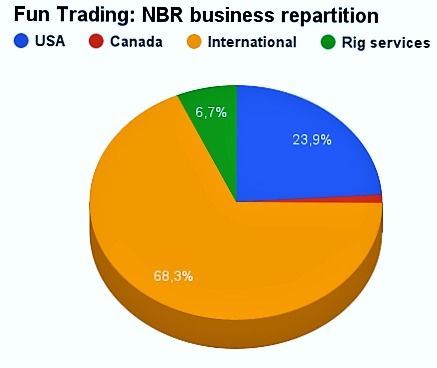 As we can see the International segment is the most important, and represents 68.3% in Q2.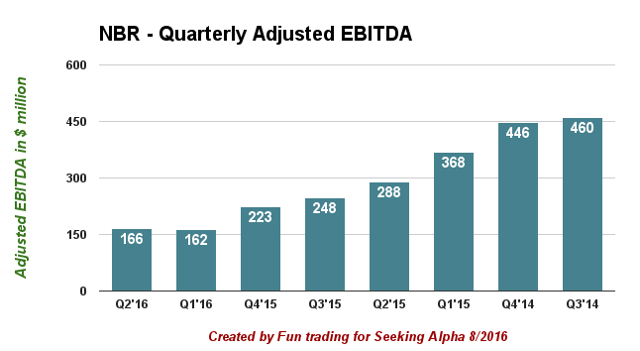 Commentary
Nabors Industries released its Q2 2016 results on August 2, 2016. NBR reported a second-quarter loss of $186.6 million or a loss of $0.65 per share, and operating revenues of $571.6 million.
Q2 losses were charges of $95.8 million after-tax, or $0.34 per share, for a portion of C&J's earnings and impairments and costs related to NBR remaining investment in that company or $15.8 million after-tax, or $0.05 per share.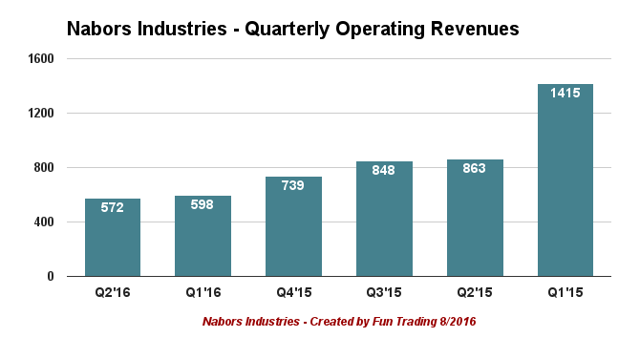 CEO Anthony G. Petrello was more upbeat this quarter about the general business trend identifying a potential bottom, and said activity has begun to increase, at least in the USA:
The second quarter marked a turning point in customer sentiment. Despite the recent drop in commodity prices, our customers remain more positive than they were as the year began. Two main factors that drove second quarter sentiment include, first, the price of WCI crude, which during the second quarter increased by $10 a barrel; and second, the Baker Hughes land rig count, which declined to 374 rigs in May before increasing to 397 rigs by quarter end and further to 440 rigs last week.
The problem is that the biggest part of the business for Nabors is Internationally as I have shown above, and Patella is more cautious in this segment.
In our International segment, the rig count declined in the second quarter. We expect declines in activity in the third quarter and fourth quarter, leading to a bottom at approximately year end. Keep in mind that while the international cycle typically lags the U.S., it is also usually less volatile as a whole.
However, the rig count continued to decrease this quarter, in both the Lower 48 (59 rigs to 44) and internationally (from 188 rigs to 159).
The company announced new contracts.
Petrello said on the conference call:
1 - We reached agreement with our customer for the MODS 400 rig. This is the rig that was destined for a deepwater TLP in the Gulf of Mexico. The agreement includes a five-year initial term with a drop dead date of April 15, 2018 to commence full rate.

2 - We signed a contract for the first M800 rig and it is now mobilizing to West Texas. Customers continue to express strong interest in this rig.

3 - We signed a contract for our new-build PACE-X rig with a key customer in the Lower 48 under a term contract. The rig deployed to West Texas after the end of the quarter.

4 - We began mobilizing new-build rigs to the North Slope on a five-year contract and to Kazakhstan on a six-year contract.
This is very encouraging and confirm the idea that we may have reached a bottom?
However, the outlook is still uncertain, whereas sentiment is turning more positive. The recent oil pullback is not helping and put more pressure on O&G operators to get clear traction on cash flow improvement, making difficult to increase spending in the next two quarters, at least.
Conclusion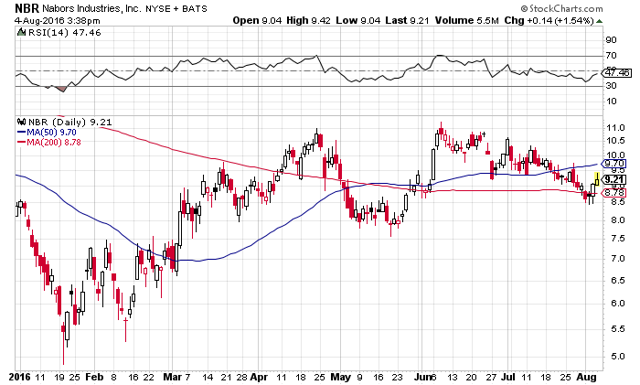 NBR may have reached a support at $8.75 in my opinion. It is still too early to conclude anything, but the business is clearly stabilizing now and will help the stock to set a shy recovery to probably $11 soon. I recommend a cautious buy around $9.
Disclosure: I/we have no positions in any stocks mentioned, and no plans to initiate any positions within the next 72 hours.
I wrote this article myself, and it expresses my own opinions. I am not receiving compensation for it (other than from Seeking Alpha). I have no business relationship with any company whose stock is mentioned in this article.