Corporate Debt "Bond Fire"
The bank of England cut its benchmark interest rate to a new low Thursday and said it would buy government and corporate bonds as part of a broad package of measures to stimulate the U.K. economy in the wake of the Brexit vote.
Specific actions include:
An interest rate cut from 0.5% to 0.25%, lowest allowed in the bank's 322-year history.
Reviving a long-dormant government bond buying program and initiating corporate bond purchases beginning next September.
Fueling bank lending with billions of pounds in cheap four-year loans.
An expansion in quantitative easing.
Accelerating a Hot Trend
The BOE boosted its government bond buying program by 60 billion pounds with an addition 10 billion pounds in U.K. corporate bonds. The corporate bond purchase is small at his stage but Peter Boockvar, chief market strategist of the Lindsey Group said, "it'll trigger probably more issuance, but by continuing to compress yields, you're making this appear less and less attractive.
The corporate debt market is already on fire with investors looking for the highest rates they can find. Bringing in a new buyer, the BOE can only accelerate this trend.
Opening the Door To Financial Engineering
Expect corporations to issue more debt to do as they please as financial engineering. Andrew Brenner, dealer-broker of National Alliance Securities, has made the following points:
You have historically lower rates and you can basically issue debt for nothing. You can issue dividends. You can buy back stock. There's insatiable demand right now. But when it stops, it's going to hit a stone wall. That's not today.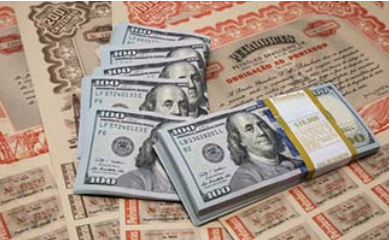 U.S. Government Bond Rates Strengthen
The immediate effect of bond purchases by central banks is to reduce the supply of available bonds. With greater demand, bond prices increase. The effect is immediate. For example, yesterday the yield on the benchmark 10-year Treasury note was 1.542%. Today after the BOE announcement it is 1.499. Bond prices rise, yields fall.
Take Away
Expect lower bond yields and central banks to continue in easing mode.
The Federal Reserve's interest in tightening money policy will continue to be cautious having held fast since last December.
Fed-funds futures indicated a 12% chance of a Fed interest rate hike next September with a 39% chance of it doing so in December according to a CME Group report.
Disclosure: I/we have no positions in any stocks mentioned, and no plans to initiate any positions within the next 72 hours.
I wrote this article myself, and it expresses my own opinions. I am not receiving compensation for it (other than from Seeking Alpha). I have no business relationship with any company whose stock is mentioned in this article.