Overview
BioMarin (NASDAQ:BMRN) currently has five drugs on the market, and every one of them has an orphan designation. BioMarin's products are marketed worldwide, though for a drug to be granted "orphan status" in the US, the disease it treats must affect less than 200,000 individuals. Orphan status gives the drug developer myriad financial incentives to subsidize the cost of producing, testing, and marketing the drug. In addition to the five drugs currently being marketed, five more are in at least Phase I clinical trials.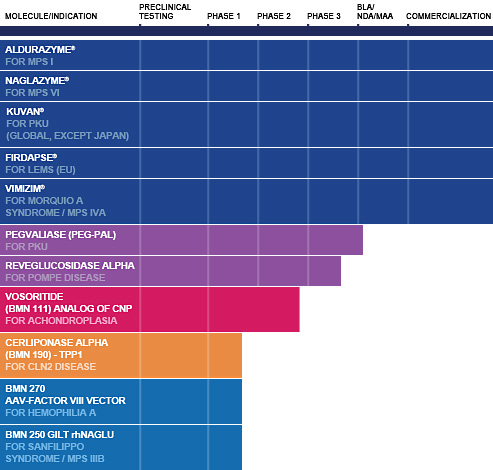 Revenue Breakdown
Aldurazyme, Naglazyme, Kuvan, and Vimizim are all marketed worldwide while Firdapse is currently only marketed in the European Union. In BioMarin's most recent quarterly report the company provided a breakdown in revenues for each of its drugs. This allows us to see if there is any correlation between revenue and disease frequency.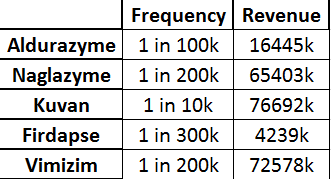 Kuvan is used to treat phenylketonuria and Vimizim treats Morquio A Syndrome. Despite one having a 20x higher incidence than the other, revenues for the two drugs are about equal, suggesting that there is little correlation between drug revenue and the incidence of disease in the general population. The two factors that do cause a difference in revenue generation are penetrance into the global market as well as how the drug is commercialized. Aldurazyme is manufactured by BioMarin and commercialized by Genzyme (GENZ), which could explain the reduced revenue available to BioMarin. Also, Firdapse is currently only available in the EU though Catalyst pharmaceuticals (NASDAQ:CPRX) has completed a phase III global multi-centered study and initiated a phase IV open label study while it waits for FDA approval.
Next in the Pipeline: Pegvaliase
BioMarin already sells the only drug available to treat PKU, so why develop another? The reason for this is touched on in the press release for the phase III clinical trial in which Pegvaliase met its primary endpoint of reduce blood phenylalanine levels. Currently, PKU patients on Kuvan need to follow a strict, unpalatable diet deficient in phenylalanine in order to remain healthy. Pegvaliase lowered blood phenylalanine in PKU patients eating approximately 75% of the recommended daily intake of phenylalanine for a healthy adult. So, rather than competing with their own product, Pegvaliase will likely provide a third tool, in conjunction with dietary restriction and Kuvan, for physicians to control phenylalanine in PKU patients.
There was some skepticism surrounding the results because mean attention scores were not significantly impacted. However, patients with the greatest reduction in blood phenylalanine levels had the greatest improvement in attention scores.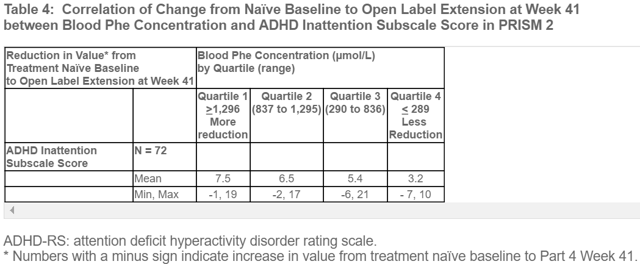 Given these results, it is highly likely that this tool will be put into the hands of physicians, who will then slowly introduce food into the diets of PKU patients and give them Pegvaliase to keep phenylalanine levels low enough such that they do not cause harm.
Growth, Stagnation, and Sustainability
BioMarin is currently in a period of growth. Its products are producing revenue, but it posts losses because of its heavy investment in research and development. This is readily apparent by taking a peek at the company's balance sheet.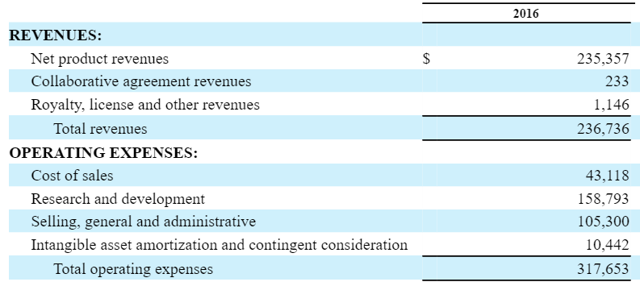 If Pegvaliase produces revenue comparable to Kuvan, Naglazyme, or Vimizim then they will nearly break even between revenue and expenses, and one more successful drug trial will push them over the edge into consistent, sustainable profitability. This would make their balance sheet resemble that of the larger company Regeneron (NASDAQ:REGN).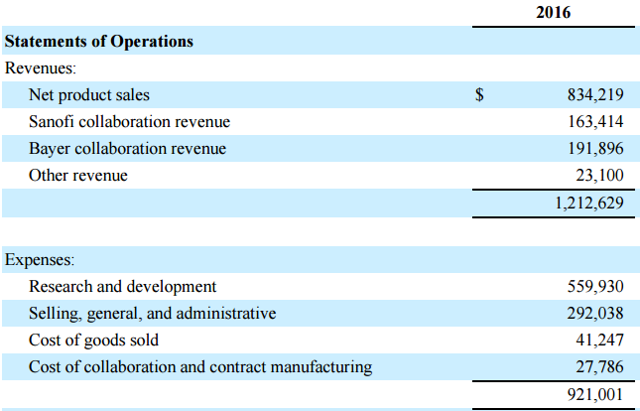 Regeneron also invests heavily in research, but has enough products on the market to maintain consistent profitability. This is in contrast to another company I recently examined, Biospecifics Technologies Corp (NASDAQ:BSTC).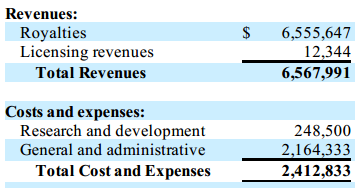 Biospecifics Technologies Corp. Form 10-Q
Biospecifics Technologies Corp is accruing tens of millions of dollars, but spends almost nothing each quarter performing research. Their sole source of income is a single product protected by a patent that expires in six years, and as such they are in a period of stagnation. Yes, they post positive earnings per share each quarter, but their lack of diversification and lack of research investment is troubling.
Conclusions
BioMarin, in targeting rare genetic disorders that primarily affect children, is an attractive stock for activist investors. The company is currently in a period of rapid growth with one product (Pegvaliase) likely to receive FDA approval within the year and four others in varying stages of development. Just one product in the pipeline being completed would push the company close to profitability, while a second would allow them to sustainably fund future research as well as providing consistent profit generation. Near term catalysts for a movement in share price would be FDA approval of Pegvaliase and completion of the Phase III clinical trial for Reveglucosidase Alpha, or any of the other products in the pipeline showing results, positive or negative. For the long term, BioMarin has multiple consistent streams of revenue and a commitment to aggressive growth that suggests investors will be rewarded.
Disclosure: I/we have no positions in any stocks mentioned, and no plans to initiate any positions within the next 72 hours.
I wrote this article myself, and it expresses my own opinions. I am not receiving compensation for it (other than from Seeking Alpha). I have no business relationship with any company whose stock is mentioned in this article.