Cummins (NYSE:CMI) has shown a strong performance over the last months, but this came from a huge share price drop over the last year. Right now, the stock is still rather inexpensive and offers strong income opportunities, especially when using an option strategy to increase the income further. Cummins' last quarterly report showed that the company is alright, despite weaknesses in some of its end markets.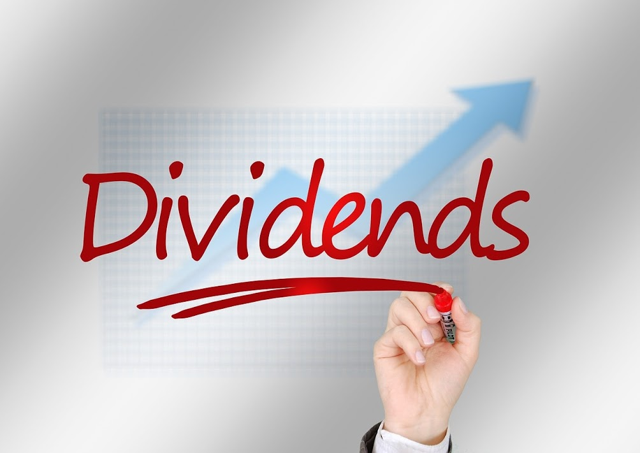 In the second quarter, the company grossed revenues of $4.5 billion, down 10% year on year. The revenue decline was based on lower truck sales in North America and weak demand for off-highway and power generation equipment. Total units sold during the second quarter came in at 140,000 versus 153,000 in the prior year's quarter. Cummins' gross margin remained relatively flat; the lower revenues led to a slightly lower operating margin, though (12.6% versus 14.3% in Q2 2015), which means earnings dropped by more than ten percent. Cummins' net income of $410 million is still sizeable, and due to a lower share count, its earnings per share dropped by only 8% to $2.40.
This is a cyclical company, and right now the trucking industry is in a downtrend - when we account for that fact, the company's results look pretty good. Daimler (OTCPK:DDAIF) believes global Class 6 to 8 truck demand will be down 15% in 2016, yet Cummins' earnings per share declines are in the single-digit area. This shows that company management was able to make Cummins more resilient to the cyclicality of the industry it operates in, among others, due to the expansion into power generation and a strong component segment (where sales declined by a smaller amount than in the engine business, and where margins are a lot higher as well). Cummins' distribution unit saw a sales increase in the last quarter (up 3% yoy to $1.5 billion), which was partially due to acquisitions the company made over the last year.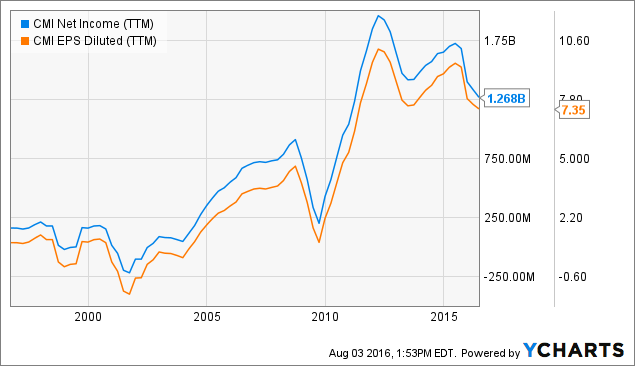 Cummins' net income and earnings per share have always been cyclical, so a small decline (as the one we have seen over the past quarters) is not a red flag. In the long run, it is very good at increasing its profitability. Over the last 20 years, Cummins has grown its earnings per share by 690% - an annualized growth rate of 11%.
With EPS growing at a low-double digit pace, investors can expect share prices to grow by a double-digit amount annually as well, and Cummins pays an attractive dividend on top: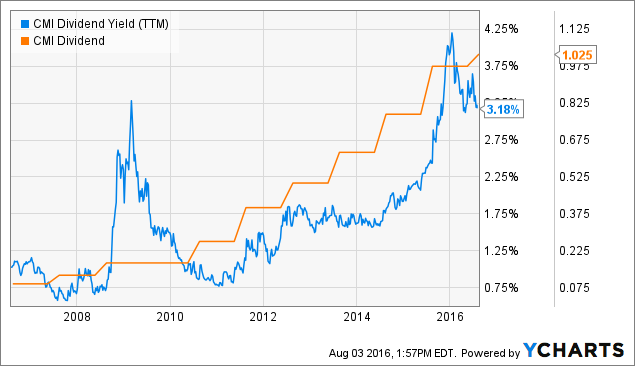 The company has a long history of consistent dividend growth. Most recently, it has hiked its dividend by a little over 5% to $1.025. This means Cummins shares trade with a forward dividend yield of 3.3%, or roughly one and a half times as much as the broad market's (NYSEARCA:SPY) yield of 2.1%. In comparison to fixed-income investments, such as Treasury bonds, Cummins' dividend looks attractive as well, and due to the fact that the dividend yield is also high in comparison to the company's past, right now could be a good buying opportunity for income seekers (although Cummins was even more attractive a couple of months ago).
In the first six months of 2016, the company has paid out dividend totaling $333 million, whereas net income for the same period stood at $760 million and free cash flows stood at $545 million - this gives it a payout ratio of 44% and a free cash flow payout ratio of 61%. Even during a time of economic headwinds for the company, Cummins' dividend is very safe, and the payout ratio is a lot lower than those of more traditional income stocks such as Coca Cola (NYSE:KO) or PepsiCo (NYSE:PEP), which have payout ratios of 77% and 80%, respectively.
Investors purely (or mainly) looking for income have the possibility to increase their income yields further by utilizing an options strategy of selling covered calls.

When we look at Cummins' options chain, we see that the January 2017 call option contracts with a strike price of $130 are selling for $4.20 right now. How could this improve your income yield? Let's look at an example.
If you held 100 shares of Cummins at the current price of $123, you could expect $410 in dividends over the next year, for an income yield of 3.4% (assuming no dividend increases). If you sell one call option contract (which means call options for 100 shares), you would receive an additional $1.90 right now when using the above call option (expiry in January 2017, $135 strike price). Your total income over the next year would thus be $600, and your income over the next six months would be $395 ($190 for the option premiums and $205 in dividends). Based on your $12,300 investment, you would receive an annualized income yield of 6.5% over the next six months.
The downside to this strategy is that your maximum gain is limited. If Cummins shares trade for $150 per share by January 2017, you could not sell them for that price, but would be forced to sell them for $135. Your maximum gain, however, is still sizeable: $2.05 in dividends over the next half year, $1.90 option premiums and a share price gain of $12 would allow for a total gain of $15.95 over the next six months (or an annualized return of 28%).
This strategy (selling covered call options) is thus mostly interesting for those looking for income. Those seeking capital appreciation would rather not use it, since the capital gains are limited (depending on the strike price of the option you sell). By choosing other call options (other strike price, other expiry date), one can vary the strategy according to one's personal needs, but it holds a lot of possibilities for income investors.
Takeaway
Cummins is holding up well in the current, rather harsh environment: it is still very profitable, the balance sheet remains healthy and payout ratios are still conservative. Income investors get an attractive dividend yield from their Cummins shares, and by utilizing the above option strategy, investors can easily increase the yield further, with the only downside being that capital appreciation is limited.
Author's note: Dear readers, if you enjoyed this article and would like to read more from me, you can hit the "Follow" button at the top of the page next to my name and icon to get notified about new articles.
Disclosure: I am/we are long CMI.
I wrote this article myself, and it expresses my own opinions. I am not receiving compensation for it (other than from Seeking Alpha). I have no business relationship with any company whose stock is mentioned in this article.