It's easy to see that the Lodging REIT sector is not in favor right now as the market has all but disassociated the daily-paying companies from the more bond-like alternatives. On one end of the spectrum is Realty Income (NYSE:O) - the closest bond look-alike that generates the most reliable sources of income.
Then, on the other end of the spectrum, we have the hotel REITs that offer a much less stable earnings profile subject to higher volatility due to their reliance on transient travel and business customers.
For that reason, it makes it more difficult to forecast earnings patterns for Lodging REITs since their lease contracts are daily. Unlike Realty Income that generates profits from over 4,600 individual net lease properties with an average lease term of ~12 years, hotel REITs rely on prospective customers who want to "spend a night, not a fortune."
Accordingly, Lodging REITs rely significantly more on macro-economic conditions since they are influenced by a number of indicators such as supply & demand, GDP, employment, and business travel. If one of these conditions is weak, the impact could lead to a decline in occupancy and/or revenue or the standard metric referred to as RevPAR.
Revenue per available room (RevPAR) is a performance metric used in the lodging sector and is calculated by multiplying a hotel's average daily room rate (or ADR) by its occupancy rate. It may also be calculated by dividing a hotel's total room revenue by the total number of available rooms in the period being measured.
Source: The Intelligent REIT Investor
Chatham Looks Really Cheap
As you know, I usually begin my articles with a snapshot of the company's portfolio; however, I wanted to start this article with a FAST Graph of Chatham Lodging (NYSE:CLDT):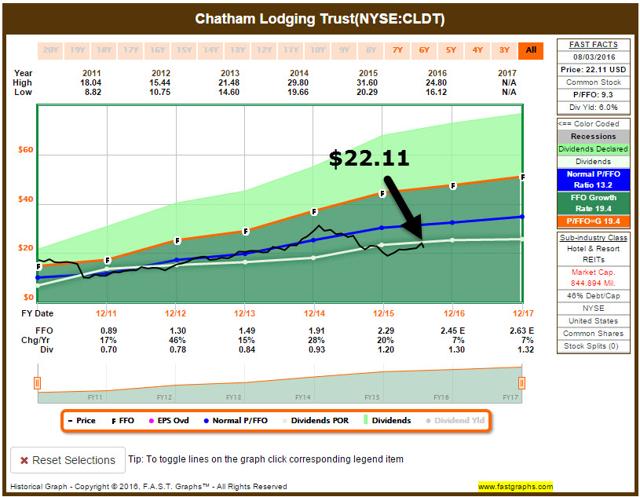 As you can see, CLDT is cheap based on the P/FFO multiple (9.3x) and the dividend yield (6.0%). Today, shares got even cheaper as FBR Capital Markets downgraded CLDT shares to "market perform" from "outperform," and decreased his price target to $23 from $26.
The analyst wrote in a research report:
We have reduced our rating on Chatham Lodging Trust to … as we believe that it faces a handful of headwinds that will likely keep RevPAR growth muted for at least the next six to nine months. Chatham is predominantly exposed to corporate transient business-the weaker segment of lodging of late-and has very little in exposure to the more robust group business.

In addition, while its Houston hotels had been holding up in the face of energy patch adversity, that situation appears to have changed-for the worse. Lastly, while it does have one Silicon Valley hotel expansion opening in 3Q16, the other two will not open until 1H18. Thus, we expect no material positive impact from those expansion initiatives near term.
CLDT shares closed the day dropping over 5%.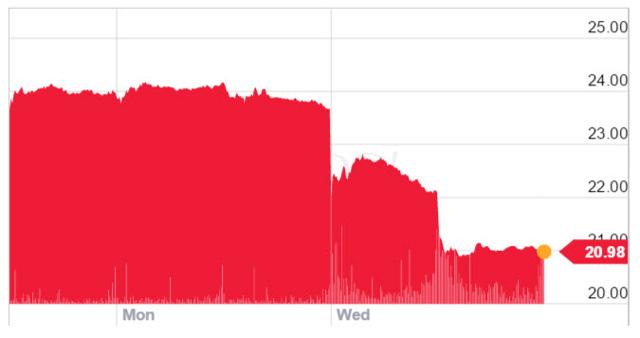 What The Heck Happened?
As I explained above, the Lodging sector is much more volatile than most of the sectors due to the economic drivers. When business is good, it's good, but when it's bad, it's bad. The deteriorating lodging market has led to underperformance from most all Lodging REITs and the second quarter results validate that point.
On the latest quarter, CLDT announced AFFO of $0.69, -2.8.0% y/y, $0.02 below the Street, and at the lower-end of the $0.60-$0.71 guidance range. Guidance was lowered: RevPAR guidance range to flat +1.0% from +2.0%-3.5% and 2016 adjusted FFO guidance range to $2.26-$2.32 from $2.35-$2.50.

CLDT's RevPAR growth was +0.6%, below the 2.0%-3.0% guidance range. ADR was +70 bps to $164 and occupancy was flat at 86.0%. Margins declined 120 bps to 50.7%. OTA booking fees impacted margins by 30 bps. Denver +7.4% and Dallas +7.0% were outperforming markets. RevPAR in Houston was -3.0%, outperforming the market that was down almost 10.0%.
CLDT had cash of $18.4 million and total debt outstanding of $766 million at quarter end. The company has $66.3 million outstanding on its $250 million revolver. The company's net-debt+preferred-to-EV is 46.4% and 2017E EBITDA to net debt is 5.7x.
Is The Dividend Safe?
CLDT's monthly dividend of $0.11/share or $1.32 on an annualized basis, which equates to a 6.0% current dividend. Since the company went public in 2011, it has paid and increased dividends annually.

CLDT's payout ratio is safe and it appears that the company is not in jeopardy of a dividend cut.

The Conundrum With Chatham
Today, I had quite a few emails from readers and subscribers asking whether or not I was going to modify my recommendation. I had heard there were one or two downgrades - all tied to the negative sentiment and slowdown in corporate business travel.
After digging deeper into the numbers, I became fixated on the economic drivers more so than CLDT's fundamental metrics.
The good news for CLDT is that occupancy is not down, the company has been able to maintain occupancy year over year at a very high occupancy rate of 86%. The real takeaway with CLDT is that in the second quarter the company produced ADR of $164 (and an occupancy rate of 86%).
So the problem with CLDT is not occupancy, it is that the company was not able to drive a meaningful increase in ADR due primarily to the following reasons.
New supply in gateway urban markets lower GDP growth which is impacting business travel.
Business travel trends have been soft in 2016 and that trend is likely to continue for the balance of 2016. GDP growth has been moderate at best as corporate profits are mixed and this ultimately restricts corporate travel.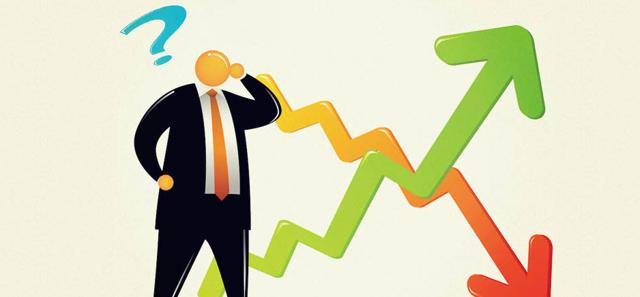 What are the catalysts?
That's a tough question. Overall, the biggest driver for the Chatham shareholder is GDP growth. When the economy picks up steam, hotel profits will follow.
I don't see any near-term catalysts. This stock is tied directly to the economy, so it will be difficult to forecast returns until there is a return to normalcy relative to corporate business spending.
In short, I wish I had a better answer. CLDT does have some room to manage margins and the dividend is safe. I am NOT downgrading shares at this time; however, I am taking a more cautious approach as I watch how CLDT focuses on asset management over the next few quarters.
There are many forces that could drive shares up or down, and given the political environment we are in right now, I think it's important to maintain error on the side of caution. CLDT is one of two Lodging REITs that we have a BUY rating on and we will continue to monitor the stock and wish for better GDP results.
Longer term, we believe there is upside to holding shares in Chatham. This is a value play and I believe as the business climate improves Chatham is well positioned to benefit from its core limited-service focus.
The greatest risk in my view centers on general economic conditions in the US., specifically concerning business and recreational travel, overall economic growth, consumer confidence, enplanement levels, GDP and employment growth, and demand. These risks are much harder to quantify, but if you are tempted by the yield and discounted price, it may be time to check into Chatham.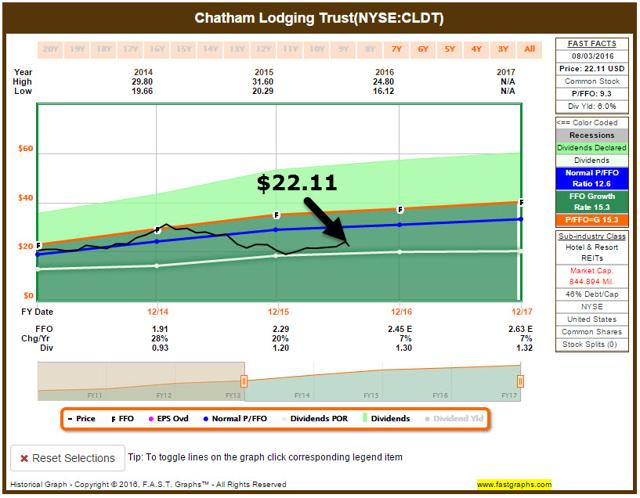 Author's Note: Brad Thomas is a Wall Street writer and that means that he is not always right with his predictions or recommendations. That also applies to his grammar. Please excuse any typos, and I assure you that he will do his best to correct any errors if they are overlooked.
Finally, this article is free, and the sole purpose for writing it is to assist with research (Thomas is the editor of a newsletter, Forbes Real Estate Investor), while also providing a forum for second-level thinking. If you have not followed him, please take 5 seconds and click his name above (top of the page).
Sources: SNL Financial and FAST Graphs.
Disclaimer: This article is intended to provide information to interested parties. As I have no knowledge of individual investor circumstances, goals, and/or portfolio concentration or diversification, readers are expected to complete their own due diligence before purchasing any stocks mentioned or recommended.
Disclosure: I am/we are long O, DLR, VTR, HTA , STAG, GPT, ROIC, HCN, OHI, LXP, KIM, WPC, DOC, EXR, MYCC, TCO, SKT, UBA, STWD, CONE, BRX, CLDT, HST, APTS, FPI, CORR, NHI, CCP, CTRE, WPG, KRG, SNR, LADR, PEB, BXMT, IRM, CIO.
I wrote this article myself, and it expresses my own opinions. I am not receiving compensation for it (other than from Seeking Alpha). I have no business relationship with any company whose stock is mentioned in this article.