Under Armour (NYSE:UA) has had a busy summer in the field of public opinion. From the Nike (NYSE:NKE) (LeBron) vs. Under Armour (Steph) NBA Finals, to the design choices of the Curry Two Low "Chef", to now a partnership with Kohl's (NYSE:KSS) that leaves some questioning the logic. So first off, regardless of what you think about the "Chef" design, I'm not convinced that all the publicity it brought was necessarily a bad thing for Under Armour - not to mention that it isn't anything the new Executive Creative Director Tim Coppens couldn't fix. In regards to the Kohl's deal, this helps open another sales channel for UA, and will be discussed further below. And finally, no matter how many short-term views were expressed during the Nike v. Under Armour NBA Finals, both companies have their sights set on the future of fitness (Under Armour slightly more so). Either way, kudos to both companies for having such dynamic players represent their brands in the NBA Finals. The point of this article is to readjust the perception of recent Under Armour decisions from one that relies on short term performance, and to reframe it in how it fits with Kevin Plank's long-term strategy.
Style/Kohl's
I appreciate the personal account Colin Tedards presented in his article, examining the lack of UA products being worn throughout California. This observation is concerning, but only slightly, because the long-term goals UA is focused on is connected fitness. Gaining popularity through style and design takes a few good hires, a smart ad campaign, and the right sponsored athletes…this, albeit easier said than done, can be accomplished by any of the top tier sports apparel companies. But to aggressively invest in and focus on a digital health platform, and innovate with connected shoes and apparel to build an ever growing moat around their future (see next paragraph) is a much larger task for UA. Even so, I understand the necessity for style within an apparel brand, and Under Armour is planning a fall launch that goes "beyond the comforts of casual active wear and the trusted functionality of innovative active wear". Whether you like the term or not, this will increase UA's exposure in the "athleisure" field, and what better place to display this type of apparel than in Kohl's. Some good points were previously made within Kevin Fulmer's article and the related comments: the UA target market within Kohl's expands beyond the end consumer (Mothers purchasing for children), the revenue bump from Kohl's exposure won't help UA's margin problems, Nike utilizes retail channels such as Kohl's, this is a way for UA to deplete excess inventory, and there may be a separation in quality between a Kohl's and say, the Under Armour flagship store. All good points, and truth be told, this is a surefire way to expand beyond a niche apparel company that only caters to athletes and fitness-focused consumers. A company like Kohl's may struggle in the long-term with ecommerce expansion, but for now, they offer Under Armour a tangible sales channel, predictable merchandise mix (see below), a way to increase brand awareness beyond its core consumers, and this deal can potentially bring about a perceived choice between UA athleisure products and UA high-performance products.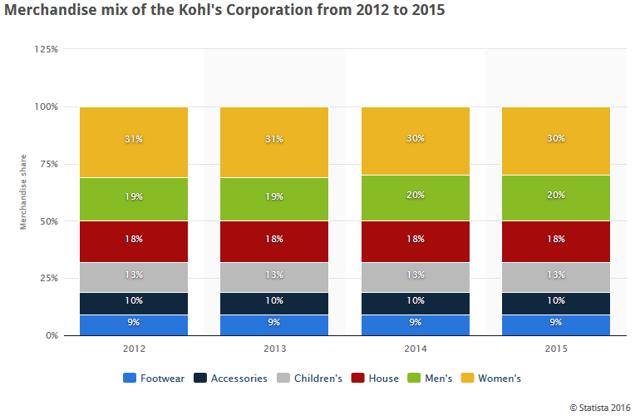 The Kohl's deal won't be bad for UA, but it also won't be a game changing factor in the long run. Introducing UA into a mainstream retail channel is just a continuation (post Sports Authority) of further establishing the UA brand in the general publics purview.
Connected Fitness
Terrapin Trader pointed out in this article how Under Armour's focus is on Connected Fitness, and they are doing so with a jump on the competition. Within the past three years, Under Armour has invested heavily in creating a digital health platform through the acquisitions of: MapMyFitness ($150m), Endomondo ($85m), and MyFitnessPal ($474m). This has led to an initial audience of 160 million registered users, and 62 million monthly active users throughout their app ecosystem (Q1 2016 earnings call). Through these acquisitions, Under Armour has added a social aspect (share nutritional/workout data with friends) and a personal aspect (calorie counter, diet planner) to their platform. Under Armour then, in January 2016, unveiled the UA HealthBox which is comprised of a tracking band, scale, and chest strap (excellent product review HERE). These hardware devices track health data, which is then compiled in the UA Record mobile app - this is the value proposition for Under Armour. This data is compiled within the ecosystem in four different categories: Activity, Nutrition, Fitness, and Sleep; and each of these categories is becoming more and more entwined with personal healthcare. UA is developing a platform such as this because personalized is the direction healthcare is going - which is shown through their recent partnership with Provant to offer their clients and employees access to MapMyFitness API. Furthermore, UA will strengthen their platform through the use of IBM's Watson by adding capabilities through Watson's Cognitive Coaching System in the following areas: Behavioral & performance management, food intake tracking/nutrition management, and environmental impact on training. I recommend reading here to learn more about Watson's capabilities with Under Armour.
The bottom line is, Under Armour knows that wearable data is increasing (see chart below), and it won't be limited to smartphones. The companies with enough foresight (and money) to understand this will capitalize on the need for a simple, user-friendly, sticky platform to compile and translate this data. And when it comes to broadening the compilation of data beyond smartphones, Under Armour has made headway with:
UA Speedform Gemini 2: a shoe that records running data automatically in the MapMyRun app via Bluetooth. This data includes: speed, avg. pace per mile, avg. stride length, distance, shoe life, and cadence.
UA Wireless Headphones: tracks the users heart rate and records data through UA Record. Could potentially help set the pace of a workout through manicured playlists
UA Architech: is a performance training shoe with a 3D-printed midsole. This carries the opportunity for customized footwear based on data recorded via UA Gemini 2 and other apparel
So that's the long-term vision - to create a health/fitness centric platform for data compilation, attract consumers to the health apps through socialization and gamification, develop apparel that not only increases the amount a quality of data collected, but is personalized to that specific customer's workout needs - rinse and repeat. Personally, I would consider this a substantive reason to invest or not in UA, not whether Steph wins the NBA Finals or if Kohl's is the perfect partner.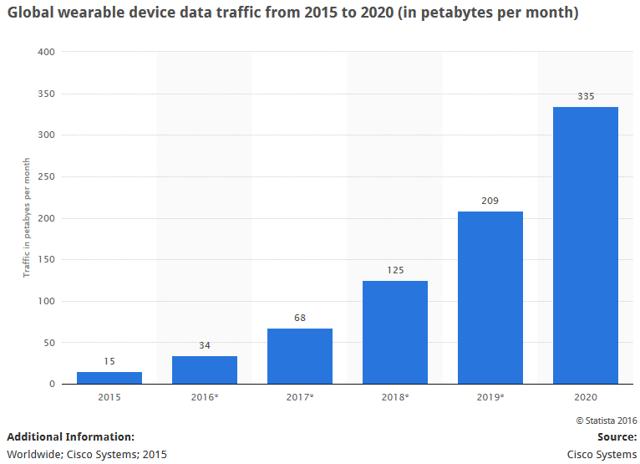 "If we believe that our future is going to be defined by these hard pieces of glass or plastic that sit in our back pockets, you're crazy, it is going to convert into apparel."
- Kevin Plank
Disclosure: I/we have no positions in any stocks mentioned, but may initiate a long position in UA over the next 72 hours.
I wrote this article myself, and it expresses my own opinions. I am not receiving compensation for it (other than from Seeking Alpha). I have no business relationship with any company whose stock is mentioned in this article.