TripAdvisor (NASDAQ:TRIP) reported a disappointing Q2 earnings after market close on Wednesday. The company missed both top and bottom lines, as well as other important metrics such as hotel shopper growth and commission per click (i.e. CPC). Full press release is available.
The Q2 performance was in line with a number of weak spots I called out in my latest article. With the latest earnings result, my overall thesis is little changed. I continue to be bearish on the company's turnaround effort. Q3 will be a crucial quarter to watch for. The management has previously promised significant operating and financial improvement in 2H16 as the roll-out for Instant Booking (i.e. IB) becomes fully completed. Therefore, even though the Q2 earnings missed badly on a very low expectation, the stock was down 8.4% today, still reflecting some hope for improvement in the second half of the year.
There were three main theses in my last article. Here is how they have evolved and where I expect them to head in the near future:
1. Revenue being pressured as a result of limited growth on the user side and CPC
I continue to be bearish on user growth. Hotel shopper growth declined to 3%, despite 5% growth YoY in marketing spend. The travel segment has been soft lately due to many security concerns. The management even pointed out in the earnings call that it sees slower trends in June and July. This is concerning, as summer travel used to be the hottest quarter for travel companies. There is also a more elevated concern for competition. Competitors such as Expedia (NASDAQ:EXPE) and Priceline (NASDAQ:PCLN) have also been struggling for growth. TRIP is not at an advantage for competition. EXPE and PCLN have higher quality subsidiary businesses than TRIP does. TRIP depends highly on SEO (i.e. Google search generated) traffic.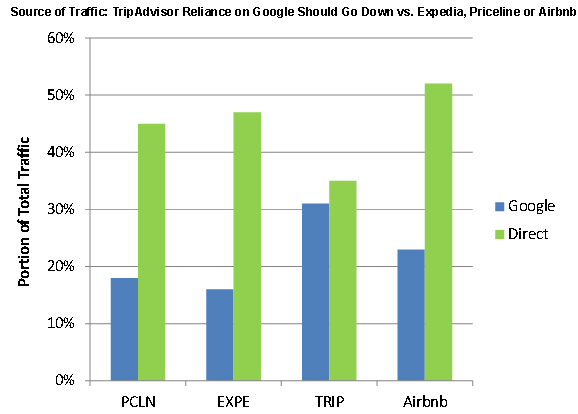 SEO traffic has slowed in Q2, partly because Google (NASDAQ:GOOGL) is ramping up its own travel business. Google has previously said that it is free to place results from Google products before those of competitors. This would erode into TRIP's margin. It now needs to spend more money on marketing, with potentially suboptimal results.
Perhaps the biggest problem I have with TRIP is that it continues to retreat in international markets while focuses on the competitive North America market. In Q2, revenue from North America was up 6.6% Y/Y vs. 4.9% last quarter. EMEA is down -7.9% Y/Y (vs. -8.3% Y/Y in the prior quarter); APAC: -25.0% Y/Y (vs. -11.9% Y/Y in the prior quarter); LATAM: -31.6% Y/Y (vs. -26.3% Y/Y in the prior quarter). Penetration of online travel ex-business travel in APAC is about 27%, compared to 43% US and 45% Europe. Middle East and LATAM are looking at below 20% penetration rate. To increase market share and preserve long-term growth, TRIP should pursue new markets rather than battling the limited turf at home.
Another aspect of the revenue function, CPC, has seen little improvement. At the end of 2015, mobile monetization was only at 30% of desktop. Sell side analysts estimated that mobile monetization improved a mere 2% y/y ex-FX. This slow growth is concerning as desktop hotel shoppers declined an estimated 7% y/y. In another word, TRIP is losing valuable revenue, mostly because it failed to develop an efficient mechanism to capture them on mobile. Furthermore, the commissions from click-through booking and instant booking have not improved. Concessions are still given out on the latter platform. The overall slowness in the industry also depresses commissions. More importantly, as alluded to earlier, competition also increased. This means that TRIP needs to spend more money to win new customers. It is frustrating to see that the company cannot monetize them effectively on those hard-earned businesses because of structural and execution issues.
2. New, highly anticipated initiatives such as IB and growth of Other segments stall
I still believe that optimism on IB was over-hyped. It was a good long-term strategic pivot for the company, but it will not be a game-changing revenue generator in the short term as expected by investors. I have discussed a number of concerns with IB in the last section and/or my previous article: 1) depressed CPC associated with IB; 2) limited growth in offerings now that 8 out of 10 major hotel chains are onboard. Furthermore, North America, the most mature IB platform, was launched in 2H14, and it is now growing at mid-single digit. This gives us a preview of how IB would evolve over time for all IB markets, without taking any haircut of the effect of TRIP's withdrawal abroad. It will not be a major revenue booster. In addition, it is questionable whether IB is successful in diverting shoppers from traditional click-through booking. Those suppliers are mainly OTAs, which use optimization to scrape the web to find the cheapest pricing. There has been multiple citing that claim prices through IB can be slightly higher than click-through. Also, sites such as EXPE have loyalty programs that reward shoppers for continuing to book with their sites. These programs can keep consumers from using IB.
The growth of Other segment still remained strong at 22% YoY this quarter (vs. 14% YoY in Q1). This is one of few green shoots in this earning report. To become a $1 billion business by 2020, this segment needs to grow at 20%+ annually. As mentioned, locals and vacation rental markets can be expensive to acquire and maintain. Groupon (NASDAQ:GRPN) was only able to sustain a 20%+ growth for less than 2 years. The addition of new vacation rental homes has already slowed for TRIP this quarter. I will need more evidence in the future to become confident in this segment. Overall, the Other segment has not been a focal point for investors, thereby having little impact on stock price.
3. Premium valuation
In my previous article, my third thesis was on TRIP's premium valuation. With the price dropping 8.4% today, it is still trading at a higher multiple than my estimate. As this name is categorized as a growth stock, much of the pricing depends on sentiment. I feel there are still a lot of people betting on a turnaround in 2H16, as initially guided by the management. I think this is unlike. On the earnings call today, even the management language has changed. It pointed to softness in June and July.
In summary, I believe that a lot of problems associated with TRIP are on the structural and execution fronts. In terms of structural problems, the whole travel industry is facing competition risk and terrorism fears. There already exist formidable competitors, namely EXPE, PCLN and GOOGL. Transitioning from providing free travel resources to more efficiently monetize bookings is not easy under this environment. Also for IB, it is not easy to take away the concession on CPC initially offered to suppliers when the platform is still in a somewhat nascent stage. In terms of execution problems, I disagree with the approach to shrink international businesses. Those markets could be good for diversification, and new ways to capture market shares and build scale. On the mobile side, clearly managements need to think of better ways to monetize the traffic. Visits on phones and tablets have increased substantially. This is all easy revenue based on existing traffic. Last but not least, it seems that TRIP has been very focused on marketing and promotion in order to attract shoppers. This has failed as increase in marketing cost has outpaced increase in shoppers. This strategy will likely become increasingly ineffective given fierce competition. The management therefore should focus on optimizing the product and user experience for sustainable future growth.
I believe that the firm is making the right decisions to transform its business to be better equipped for the long term. Nonetheless, there are a lot of structural and execution issues which won't be resolved in a quarter or in the short term.
Disclosure: I/we have no positions in any stocks mentioned, and no plans to initiate any positions within the next 72 hours.
I wrote this article myself, and it expresses my own opinions. I am not receiving compensation for it. I have no business relationship with any company whose stock is mentioned in this article.