To an even greater extent than we predicted, the highly successful Overwatch drove Activision's (NASDAQ:ATVI) Q2 earnings above expectations and shares are up slightly in after-hours trading as a result. The strong numbers resulted in the company strongly raising full-year guidance, and despite some valuation concerns, we think the stock looks good here. The quarter proved that the company is much more than its strong legacy brands, and that innovation can and will drive new avenues of high-growth. The valuation is rich, but understandably so, and we think shares can continue to gradually tick higher.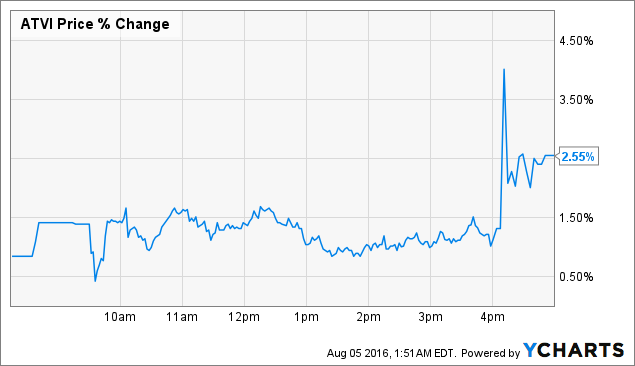 ATVI Price data by YCharts
In a record quarter for the company, revenues more than doubled and earnings more than tripled. The big story in the quarter was Overwatch, which blew expectations out of the water. About 500 million gaming hours have been logged by 15 million different players on Overwatch, something astonishing for a game that launched just over 2 months ago. By comparison, Diablo III had about 10 million players in 2 months.
The rest of ATVI posted impressive growth as well. COD remains incredibly popular, with Black Ops III continuing to outperform the prior year's game across all metrics. Destiny grew MAUs behind an April update. Hearthstone had its own record-breaking quarter in terms of MAUs and hours played, also thanks to an expansion pack. World of Warcraft momentum is building into a highly anticipated Legion expansion launch in August.
Moreover, ATVI's audience is expanding thanks to innovative esports and media initiatives, including a new show which has been sold to Netflix (NASDAQ:NFLX) for global distribution. King (BATS:KING) had a down quarter in terms of MAUs due to seasonality, but that is an entirely separate and equally exciting growth driver through mobile game expansion.
In short, the growth story at ATVI currently and looking forward is attractively robust. The company has a proven track record of creating and obtaining quality brands that continue to sell through sequels and expansion packs over long periods of time. Overwatch is just another name to add to ATVI's long list of consumer favorites. These brands plus new growth initiatives with esports, NFLX shows, and mobile gaming give the company a long runway for growth.
We remain, though, somewhat tempered by the valuation. At more than 19x forward earnings, the stock is not cheap. Granted, the company's consistent EPS beats imply the forward EPS estimate is light, so the multiple realistically stands more around 18x. That is still quite expensive.
We can somewhat get there, though, considering the company's robust earnings growth potential. As stated earlier, earnings more than tripled this quarter. The guide calls for EPS to boom to $1.83, while analysts see over 40% growth. Over the next 5 years, analysts see more than 23% earnings growth per year. Due to the enduring appeal of the company's product portfolio, growth in mobile, and new media opportunities, we think this sort of growth is doable. Such robust earnings growth makes a 19x forward multiple seem fair.
We argue the valuation is rich, but with good reason. The company is supported a strong growth story and consistently tops light Street estimates. We do not see this trend reversing anytime soon, and believe continued ER beats should continue to propel this stock gradually higher over the next several quarters.
Disclosure: I am/we are long ATVI.
I wrote this article myself, and it expresses my own opinions. I am not receiving compensation for it (other than from Seeking Alpha). I have no business relationship with any company whose stock is mentioned in this article.