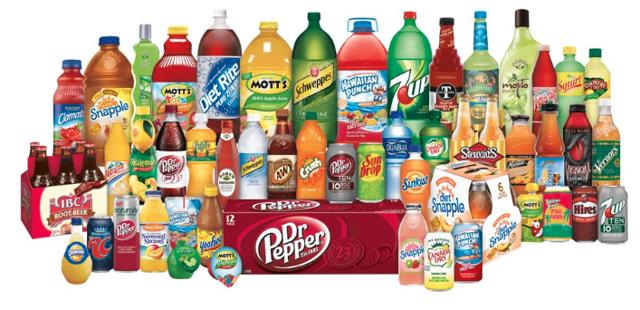 Dr Pepper Snapple (NYSE:DPS) is the third-largest soft drink producer in North America behind Coca-Cola (NYSE:KO) and PepsiCo (NYSE:PEP). Over the 2007-2015 period, DPS's sales have increased, on average, just 1.1% year over year, but with gradually improving margins and over 35% of the stock bought back over the time period, the stock price has ascended nearly four-fold since May 2008 and more than doubled in the past three years. The chart below illustrates DPS's outperformance of both the S&P 500 and its closest peers (KO, PEP, Monster Beverage Corporation (NASDAQ:MNST), Cott (NYSE:COT), and National Beverage Corp. (NASDAQ:FIZZ)).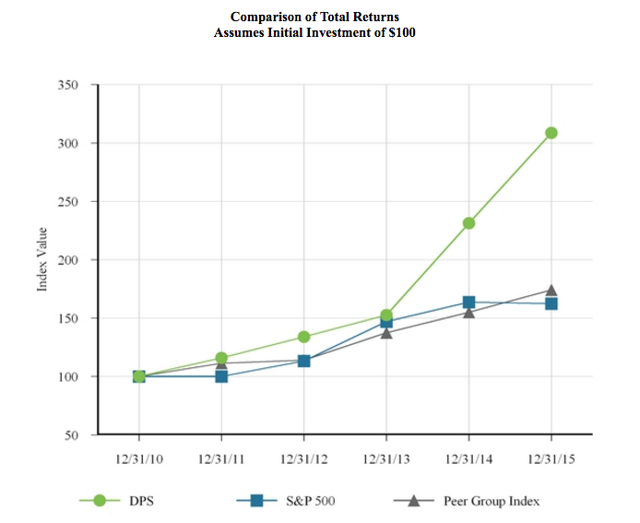 (Image source: DPS 2016 10-K)
There is some concern that DPS's valuation is becoming stretched beyond its intrinsic value due to financials that have not significantly changed year to year. There is also some level of evidence of a secular decline in the carbonated soft drinks ("CSD") industry within the U.S. primarily as a consequence over health and wellness concerns. DPS's product portfolio is heavily tied to the CSD category, normally representing 79%-82% of its volume, with non-carbonated beverages comprising the remainder. CSD volumes contracted slightly above 1% in 2015, and 2016 projects to be the twelfth straight year of general decline for the industry.
DPS operates in only North America, with 83% of company sales volume within the U.S., and therefore has benefited from a general strengthening of the U.S. dollar since mid-2014. Nonetheless, its lack of exposure to overseas markets and lack of brand licensing in many international jurisdictions restrict its strategic flexibility. Companies like KO and PEP have expanded internationally to help offset the drop in domestic CSD volumes and expand to higher-growth markets (and lower effective tax rates as a side benefit). According to Nielsen, DPS maintains a 9% market share in the Liquid Refreshment Beverage ("LRB") industry, with PEP and KO taking 24% and 22%, respectively.

(Image source: DPS 2016 10-K)
As mentioned earlier, DPS has aggressively pursued share buybacks over the years, which is partially responsible for the stock's continuous rise. It's rare for management teams to be so aggressive in pursuing share buybacks, but in DPS's case, it appears to be chiefly a function of how management is compensated. Pages 33-35 of DPS's 2016 proxy statement discusses the board of directors' objectives to reward management performance by "seeking profitable growth, maintaining prudent capital management, and returning cash to stockholders." Over this past year, performance share units (PSUs) jumped from 40% to 50% of management compensation, comprised of the metrics net income and free cash flow (i.e., cash flow from operations minus capital expenditures). Annual incentives based on the metrics net sales and operating income fell from 40% to 30% of the total. A total shareholder return modifier metric was also added to the PSU compensation.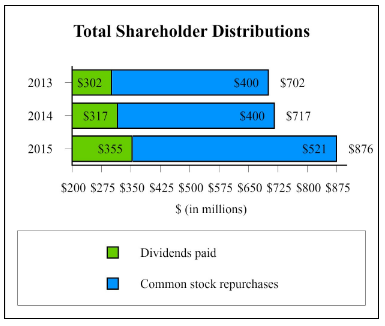 (Image source: DPS 2016 10-K)
Under this type of compensation scheme, management is strongly incentivized to buy back shares (to increase total shareholder return), limit capital expenditures in order to increase free cash flow, and restrict depreciation and amortization expense in order to increase operating income. This helps explain why depreciation and amortization expense is just 2.6% of sales relative to 3.8% for PEP and 4.4% for KO. DPS's bigger two rivals also outspend the company in SG&A and R&D expense as a percentage of sales, which allows for a further increase in operating income and accounts for some of the company's recent margin expansion - over 500 bps in EBIT margin since year-end 2011 - despite a projected increase of less than that amount in gross revenue expansion.
Valuation
With relatively modest investments into capital expenditures, marketing, and R&D, the lack of much of a presence overseas, and over-reliance on a CSD-focused product portfolio, I don't expect the company to grow much ahead. Although net sales represent a portion of management's compensation scheme, it's largely outweighed by margin-expanding, investment-lite incentives.
I have the company's revenue slated at $6.4B for 2016, with assumed 4% Y/Y growth in 2017, with 5% deterioration in that Y/Y growth until 2026 (e.g. 3.8% Y/Y growth in 2018, 3.4% in 2019, etc.). These are not necessarily conservative assumptions with the aforementioned growth-restrictive factors in mind, but still places annual growth at just a 3.2% Y/Y trajectory over ten years.
EBIT margins of 21.7% throughout the projection period. I believe 22%-23% is about DPS's ceiling for now, without sapping necessary maintenance growth measures.
Over the past five years, depreciation and amortization has represented 2.8% of sales. This is set equal to capex in equilibrium.
Effective tax rate of 35%.
Cash flow from operations growth of 2.0%.
I reclassified the company's operating leases into debt obligations, discounted back to the present value based on the company's cost of debt. Operating leases are basically financial expenses and work better for valuation purposes. This increased the company's debt total by ~6%, and expands the company's EBIT margin by 25 bps.
These estimations yield a projected strong free cash flow margin of 16.1% (unlevered) and 14.6% (levered), and provide projected earnings growth of 3% Y/Y.
How would shares be valued?
It of course largely depends on one's discount rate, or return expectations. At a 7% cost of equity (6.37% WACC), shares would be valued at approximately $131 per share (35% upside) assuming a long-term growth rate of 2% for the overall economy. At a 10% cost of equity (8.90% WACC), shares would be valued at approximately $74 per share (21% downside). The stock appears appropriately valued at a cost of equity of roughly 8.50%.
Below I present a series of visuals between the following cost of equity ranges: 7.0%-10.0%, 7.5%-9.5%, and 8.0%-9.0%, with long-term growth rate sensitivity parameters of +/- 50 bps from the 2% assumption.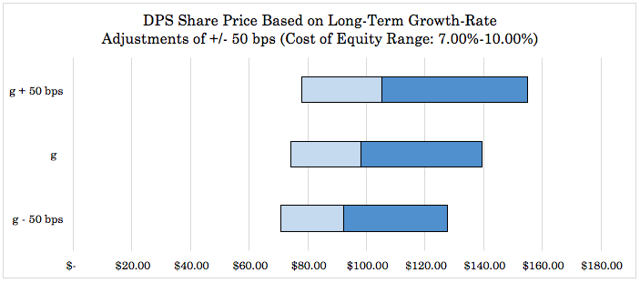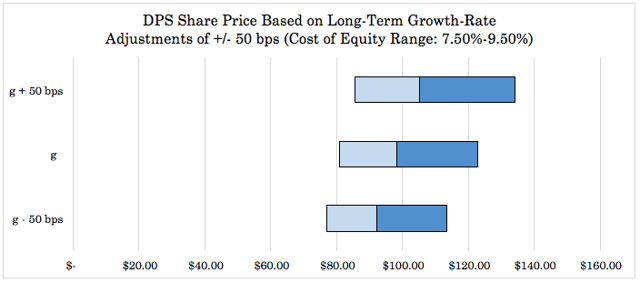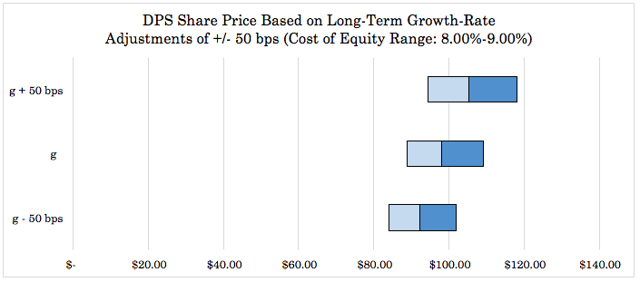 DPS currently trades at 13.6x its projected 2016 EBITDA and 12.3x its terminal EBITDA multiple, lower than PEP's 14.7x and KO's 17.7x. Among secondary competitors, MNST trades at 27.7x, COT at 9.6x, and FIZZ at 22.7x.
Capital Structure
Based on an estimation of DPS's synthetic debt rating using interest coverage ratios (EBIT/interest expense), and estimating the company's current cost of debt based on the historical spreads of these ratings relative to U.S. Treasuries, we can plot out a representative curve to determine the optimal point at which DPS could lever.
Including the operating lease debt conversion, DPS is comprised of 15%-16% debt. As per this model, based strictly on a balance between the accretive effects to enterprise value and share price and ability to afford the corresponding and steadily increasing interest payments, DPS is best levered at around 50%-55% debt.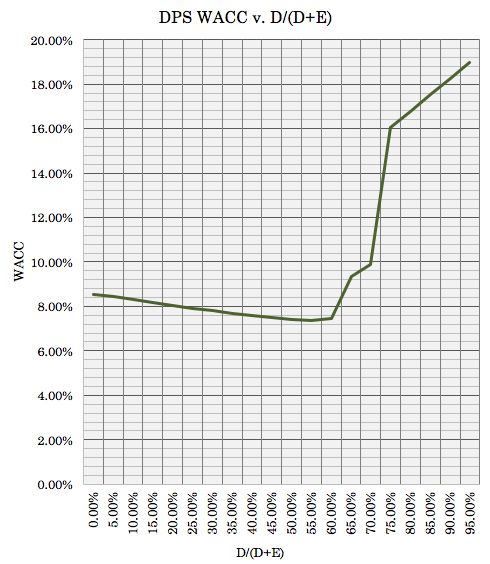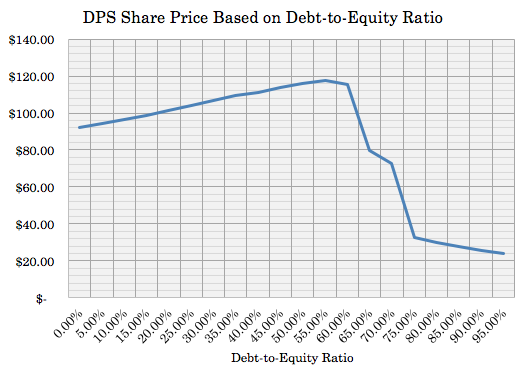 With that said, even at its current relatively low degree of leverage, the company has just a BBB+ bond rating from S&P. Despite the company's liquidity, DPS might lack the collateral to lever much further, with 67.1% of the company's assets comprised of the intangible variety. And there would be no incentive to issue debt without a specific purpose toward growing the company in order to compensate for the losses in net income and levered free cash flow with the additional interest expense.
Conclusion
Overall, the market does not seem to be valuing DPS at a premium to its intrinsic price, even by moving up from more conservative discount rates. The free cash flow margins of the company are solid and predictable, management has continually repurchased stock, and the market has rewarded DPS accordingly with steady, relatively non-volatile returns.
With that said, the company operates nearly exclusively in North American markets where CSD consumption is gradually falling year over year on aggregate. Its investment into growth initiatives lags behind that of its peers, including capex, marketing, and research and development, which evidence suggests is principally a function of management's incentives in how to operate the company. Therefore, it is difficult to envision how the company can realistically grow and capture market share from its larger peers. To keep share prices moving, DPS's primary strategy has been to trim its cost structure (favorably or otherwise) and repurchase shares. But without more in the way of pro-growth measures, it's a difficult strategy to sustain long term.
Disclosure: I/we have no positions in any stocks mentioned, and no plans to initiate any positions within the next 72 hours.
I wrote this article myself, and it expresses my own opinions. I am not receiving compensation for it (other than from Seeking Alpha). I have no business relationship with any company whose stock is mentioned in this article.