The Buy Thesis
Pure Multi-Family REIT (OTCQX:PMULF) presents an interesting opportunity to arbitrage pricing differences between companies incorporated in the US and those in Canada. Its fundamental exposure is that of a US REIT, as all of its properties are in the US; yet, due to PMULF technically being a Canadian REIT, it trades at a Canadian REIT multiple. In other words, it trades at 12X forward FFO, when its fundamentals suggest an appropriate multiple of 16X forward FFO.
Trading availability
Pure Multi-Family REIT trades on multiple exchanges, with its primary being the Toronto stock exchange (RUF.UN). It is, however, available to US investors as a US stock using US currency, trading under the foreign ordinary ticker PMULF. This version is less liquid, but a patient trader should have no trouble accumulating shares.
US to Canadian pricing differential
The Canadian economy is substantially more dependent on commodities than the US. Consequently, when oil prices (along with other commodities) began to sink, the pricing of Canadian REITs materially diverged from that of US REITs.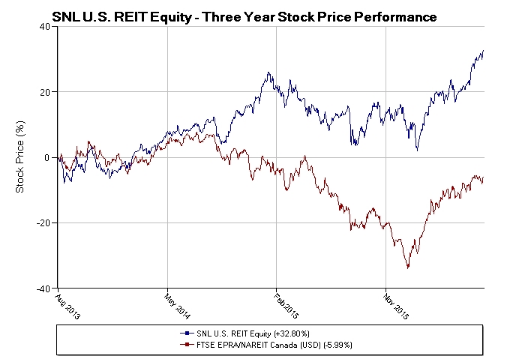 The nearly 40 percentage point spread in performance over the past couple years has led to a rather sizable difference in yields and valuation between US and Canadian REITs. As seen below, a large portion of Canadian REITs trade with yields in excess of 8% and multiples below 10X.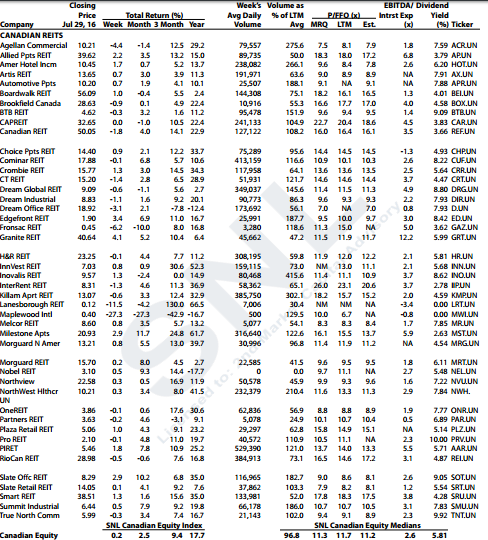 In fact, the overall average multiple is just 11.2X forward FFO compared to US REITs, which are around 20X.
This is a huge discount. Is it fundamentally justified?
Well, the US economy is growing faster, and asset values tend to be higher here. Canadian REITs have almost always traded at a discount to US REITs, and the discount has merely expanded in response to commodity troubles. I am far from an expert on the Canadian economy, so I cannot say whether Canadian REITs are generally more opportunistic than US REITs; however, it is clear that at least some of the discount is fundamentally warranted. In fact, Canadian GDP growth has been almost non-existent over recent years.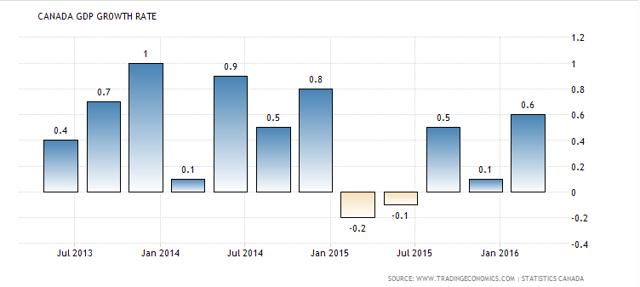 Some people may wish to own Canadian REITs for the superior yield and cheaper valuation, and this may be a valid or even strong strategy. For more US-centric investors such as myself, there is a more interesting opportunity with Pure Multi-Family REIT.
An apples-to-apples discount
100% of PMULF's assets are in the US, so its fundamental exposure is strictly related to the US economy. Therefore, any discount Canadian REITs would have on account of national economic weakness (relative to the US) should not affect the fundamental value of PMULF.
However, due to its country of origin, Pure Multi-Family is traded with Canadian REITs, and its multiple is in line with Canadian peers - with the average P/FFO of a Canadian REIT at 11.2X and PMULF trading at 11.8X.
As a result, it trades at a fairly massive discount to US REITs. Residential REITs trade at an average P/FFO of 19.9X, which makes PMULF a true outlier.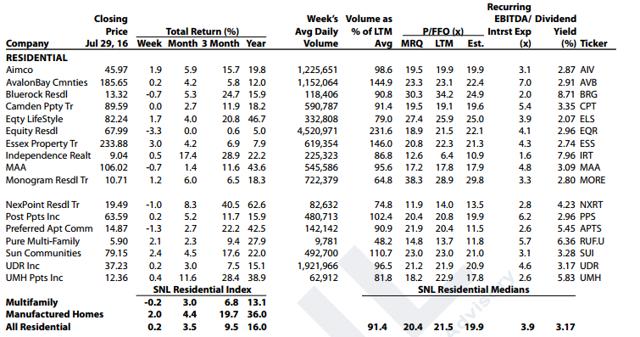 Further, with a yield of 6.36%, it has nearly the largest fully covered dividend of all the multi-family REITs (Bluerock's (NYSEMKT:BRG) dividend is not covered by FFO, but Independence Realty's (NYSEMKT:IRT) dividend is fully covered).
It is very clear that PMULF is cheap, so let us dig into its fundamentals.
Growth and stability
The REIT has a highly concentrated portfolio, with nearly all of its assets in Texas.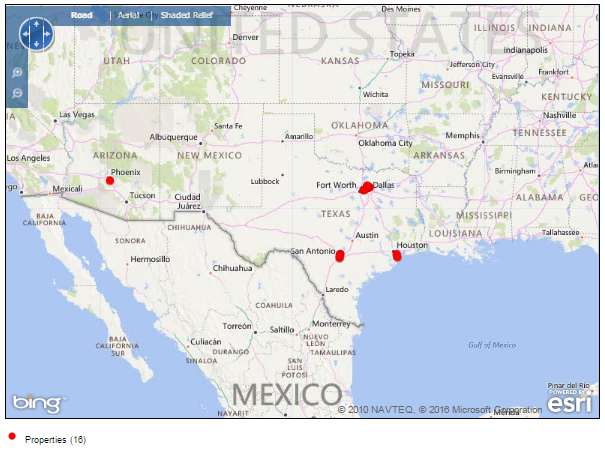 While some may be worried that the Houston properties might be susceptible to the downturn in oil, PMULF's properties are priced above the paygrade of most oil service workers, and have performed exceptionally well since the downturn. Same-store NOI growth has been consistently strong, averaging roughly 8% since the start of 2014.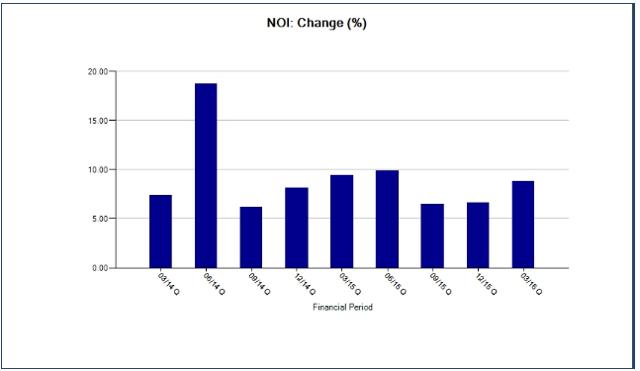 This is very solid organic growth, which should continue to fuel FFO/share growth for the next few years.
Notably, the Texas triangle of Dallas, San Antonio and Houston has some of the best population growth and employment growth projections in the nation, as shown in PMULF's presentation slide below.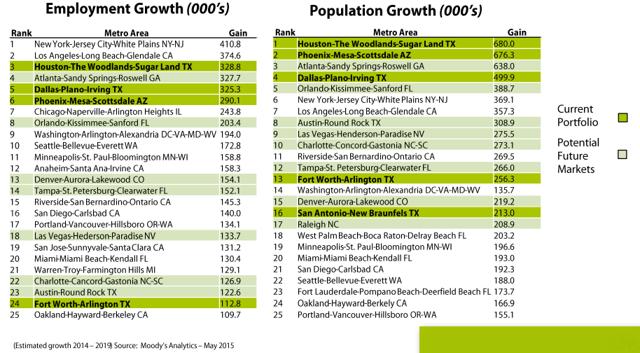 Some of the higher-end apartment REITs are running into the limit of rental rate growth as a combination of supply and sheer expensiveness apply downward pressure on rates. With an average rent per unit of around $1,190, we believe PMULF is in the sweet spot within Class A that is still cheap enough as to not be prohibitively expensive. Further, much of the oversupply is in coastal cities like NYC or San Francisco.
Valuation
We believe PMULF should trade at a substantially higher multiple. By our analysis, the proper trading multiple would be about 16X. How do we get there?
Well, it is essentially a relative valuation among apartment REITs, where we adjust the multiple based on qualitative factors relative to peers. It should trade materially higher than the low-end apartment REITs, as its properties are of superior quality. PMULF is primarily Class A and has a rent per unit of just under $1,200 as opposed to the Class B properties of IRT and NXRT that are closer to $800-1,000 rent per unit. PMULF should also get a bonus for its track record of SSNOI growth and the likely future organic growth embedded in its strong markets.
That being said, we do not believe it should trade at the multiples of the premier apartment REITs like AvalonBay (NYSE:AVB) or Equity Residential (NYSE:EQR), as it has 2 factors which tend to hurt REIT valuation.
High leverage, Small market cap
With a market cap of $318 million and 62% debt-to-capital, we believe a multiple in the 18X-23X range would be too aggressive.
For the reasons listed above, PMULF should trade somewhere between the low-end (10X-14X valuation range) and high-end apartment REITs (18X-23X valuation range). 16X seems appropriate.
Magnitude of upside - 16X forward FFO equates to an $8.00 market price, which represents 36% upside from its current market price of $5.86.
Catalyst
Aside from its Canadian primary listing, one of the main factors holding down PMULF's multiple is its external management structure. It is well known that externally managed REITs trade at massive discounts to internally managed peers, and this is true in nearly every REIT sector.
On July 12th, Pure Multi-Family offered 4.88 million shares for proceeds of CAD 37 million.

This brings the REIT solidly over the $300 million threshold, which triggers a determination event at which management is likely to internalize. We estimate the internalization completing by the end of the year, and as an internally managed REIT, it will no longer have the stigma of an externally managed REIT and its multiple should begin to improve. Based on the discount at which other externally managed REITs trade, internalization could rapidly improve its multiple by as much as 3 turns (from 12X FFO to 15X FFO).
Risks and concerns
While I tend to favor REITs with concentrated portfolios due to the expense efficiencies and market presence advantages, it also creates risk. If anything bad happens to Texas or any of its 3 main MSAs, the adverse impact would be sizable for PMULF due to its concentration.
Additionally, the trading of a Canadian stock presents some risks and difficulties to US-based investors.
There may be tax implication, depending on your personal situation The foreign ordinary stock PMULF is highly illiquid, so one must have a medium- or long-term holding period to trade it effectively. Pure Multi-Family uses IFRS instead of US GAAP, so it may require additional accounting knowledge to digest.
The Bottom line
Pure Multi-Family REIT is trading at a material discount to peers for non-fundamental reasons, making it quite opportunistic. Though PMULF, one can cheaply attain an outsized dividend yield and FFO yield with solid organic growth potential.
Disclosure: 2nd Market Capital and its affiliated accounts are long PMULF and IRT. I am personally long PMULF and IRT. This article is for informational purposes only. It is not a recommendation to buy or sell any security and is strictly the opinion of the writer.
Disclosure: I am/we are long IRT.
I wrote this article myself, and it expresses my own opinions. I am not receiving compensation for it (other than from Seeking Alpha). I have no business relationship with any company whose stock is mentioned in this article.