In this report, we highlight stocks that demonstrate solid growth prospects at a reasonable price (GARP) and provide an update of last month's report and our July 31 rebalancing note. For older reports, you can visit this link.
Our criteria for selecting stocks in these model portfolio strategies, which heavily weight proxies for cash flow growth and ROIC, include the following:
The highest ranked stocks are selected for our long-model portfolios and the lowest ranked stocks are selected for our short model portfolios. These criteria are explained in more detail in our September 2015 report. Intraday price target alerts and returns are posted on our Seeking Alpha blog.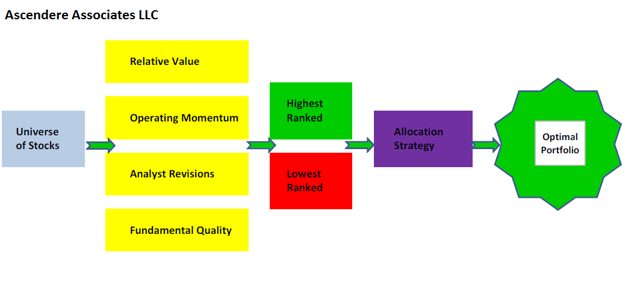 As indicated in our July 31 note, 11 stocks have left the long-only model, 7 have been added, and 10 have been assumed rebalanced as of the July 31, 2016 close.
17 Long Stock Ideas for August 2016
New Long Ideas
Rebalanced Long Ideas

Two long stock ideas stand out
In our rebalancing note posted on July 31 we noted our two new favorite long stock ideas in our updated theoretical model portfolio: Texas Instruments, Inc. and Citrix Systems, Inc. . Both stocks trade at a good relative value, have strong operating momentum as defined by increasing levels of ROIC, solid fundamental quality, and positive consensus estimate revisions.
Texas Instruments


Citrix Systems
21 Short Sale Stock Ideas for August 2016
Our list of short ideas is composed of low-quality stocks. When the market anticipates an improving economy from low price levels, low-quality stocks will at times outperform high-quality stocks as the expected improvements in fundamentals are discounted from a relatively more depressed price level.
New Short Sale Ideas
Rebalanced Short Sale Ideas

Tesla Motors is back in the theoretical short model portfolios once again. The model handled this stock fairly well from April to June of 2016, so we are highlighting the name once again in this report. We note that consensus estimates imply a sharp rise in ROIC over the next year, so it is by no means a slam-dunk short. Unless TSLA is part of a short-term and methodical trading strategy, it is probably best just to stay away from this stock both on the long and short side.


July 2016 Model Portfolio Report Commentary
Once again high-quality stock returns outperformed low-quality stock returns for theoretical model portfolio returns, July 5 to July 1, 2016.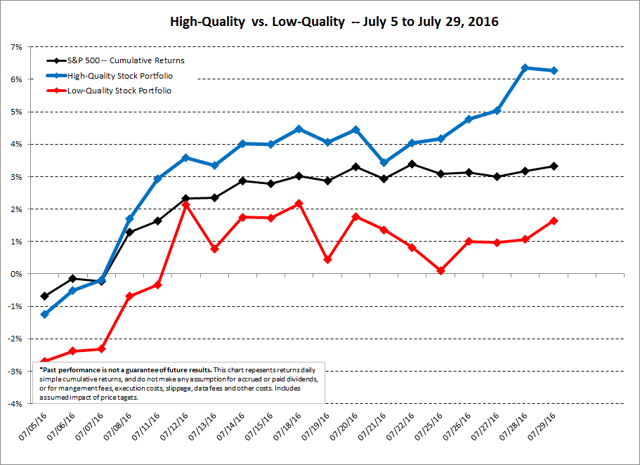 As indicated in the chart above, high-quality stocks in the theoretical Core Long Model increased +6.26% for the July 5 - July 29 period versus a +3.33% return of the S&P 500 over the same period. Low-quality stocks in the theoretical Core Short Model rose +1.63%, which translates into an assumed short sale loss in the same amount.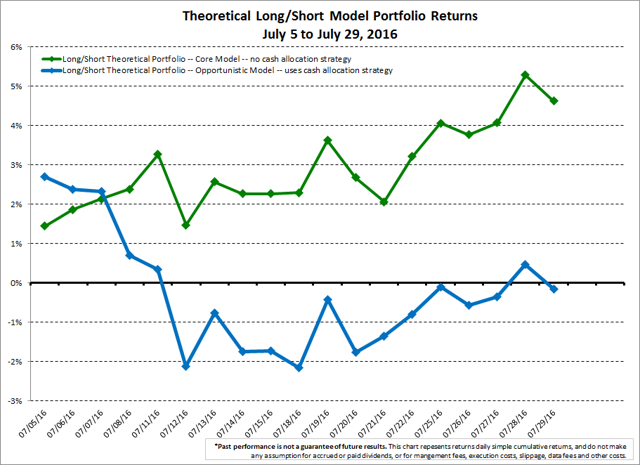 The chart above reflects theoretical returns for the two versions of the Long/Short model portfolios.
The theoretical Core Long/Short Model increased by +4.62% (6.26% -1.63% = 4.62%). The Opportunistic Long/Short Model declined by -0.17% (1.47% -1.63% = -0.17%).
(Both the theoretical "Core" and "Opportunistic" portfolios use the same basket of stocks but the Opportunistic model moves to 70% and 100% cash allocations during periods of high volatility or when portfolio return targets are met.
Volatility related to the United Kingdom's June 23 vote to exit the European Union created enough volatility for the theoretical Opportunistic Long Model portfolio to assume a 100% cash position at the June 24 close.
At the July 25 close, the Opportunistic Long Model assumed a 70% stock and 30% cash position, generating a 1.47% return over the last four trading days of July. Barring no further volatility, this theoretical model will once again assume a 100% stock position at the August 19, 2016 close.)
The next two charts reflect the theoretical simple cumulative returns of the long-only and long/short models since their March 31, 2009 inception.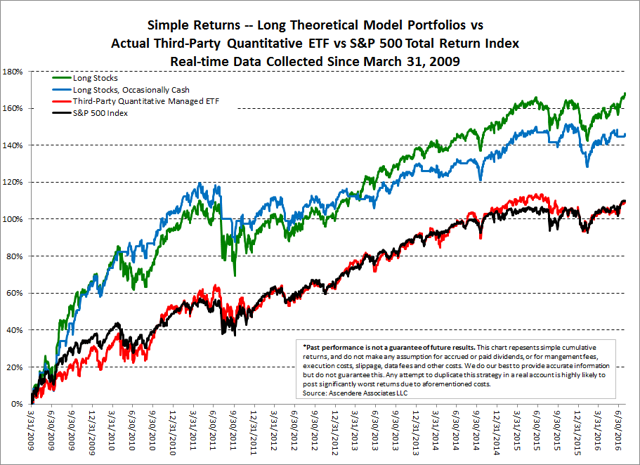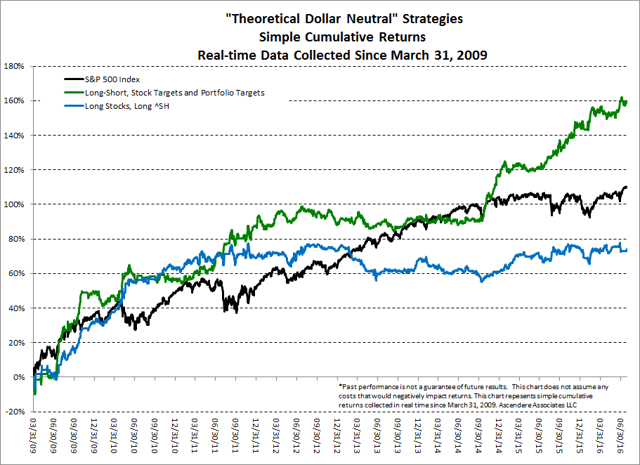 The best model portfolio stocks during July 5 - July 29, 2016
The best performing stock in the long model was Logitech International SA for a 23.84% theoretical return. The worst was Manhattan Associates, Inc. down -9.78%.
In the short model, the best performing stock was Olin Corp. (NYSE:OLN), which assumed a theoretical short sale gain of +16.03%. The worst performer was Tesaro, Inc. for a theoretical short sale loss of -15.03%.
Last month our favorite long idea was once again McKesson Corp (NYSE:MCK), which finished the July 5-July 29 period up +3.43%. Our favorite short idea was Teck Resources Limited. (TCK), which finished the month with an assumed short sale loss of -10.78%.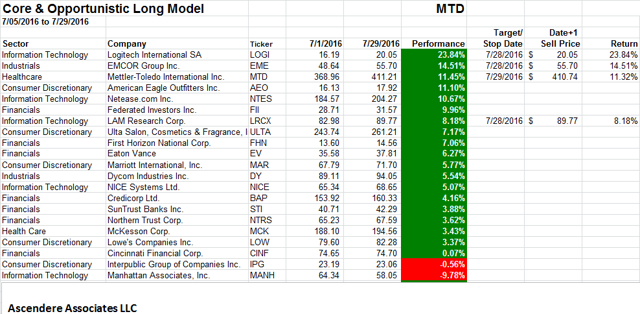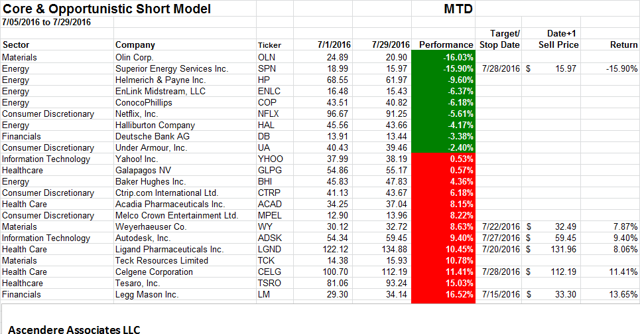 Long running advice regarding the use of our model portfolio report
Wayne Gretzky said it best - "skate to where the puck is going to be, not where it has been." Quantitative screens like the one in this report show where a stock has been and assume the trajectory is fixed. Of course, this is not always the case.
For example, we continue to believe that there is a good chance that NFLX and CELG may severely disappoint short sellers that hold their positions for any extended period of time.
The best investors will use this model portfolio as guidance, and not the end all. With a little effort, we hope that active fundamental portfolio managers will do even better.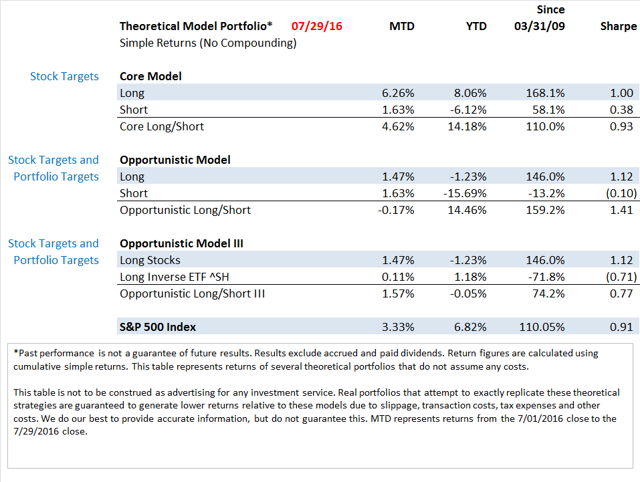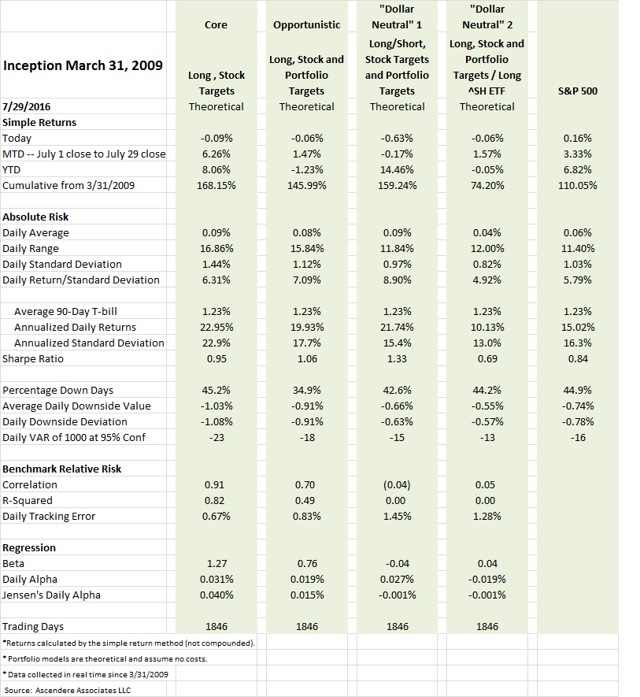 Supporting Documents
Disclosure: I/we have no positions in any stocks mentioned, but may initiate a long position in ANY OF THE STOCKS MENTIONED IN THIS REPORT, OR SHORT POSITION IN ANY OF THE STOCKS MENTIONED IN THIS REPORT over the next 72 hours.
I wrote this article myself, and it expresses my own opinions. I am not receiving compensation for it (other than from Seeking Alpha). I have no business relationship with any company whose stock is mentioned in this article.
Additional disclosure: There are limitations inherent in our theoretical model results, particularly with the fact that such results do not represent actual trading and they may not reflect the impact material economic and market factors might have had on our decision making if we were actually managing client money. I receive compensation from FinDynamics if you make a purchase of XBRL Analyst using the link provided in this report. We do our best to provide accurate information but we do not guarantee the accuracy of information in this report.