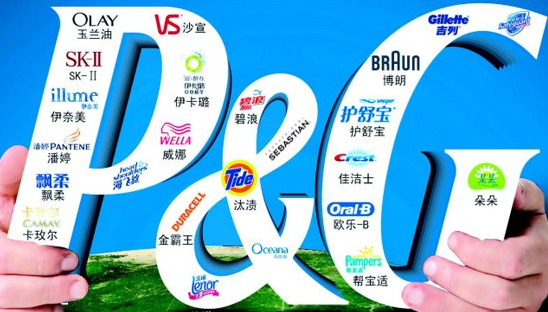 Procter & Gamble (NYSE:PG) is one of many consumer staples stocks that has been flying in the past few quarters. The whole space has been bid up in a flight to safety/quality/yield and PG has certainly been a beneficiary. I've been very critical of PG in the past because while I recognize the greatness of the brands this company owns, I also recognize that its growth rates are virtually nonexistent. It also sports a buyback that is largely wasted on employee compensation and its earnings growth even with margin expansion is weak at best. And yet, up, up, up it goes in a situation that is irreconcilable. The company just came out with Q4 earnings and it was more of the same but with shares back at their multi-year highs, is this time different?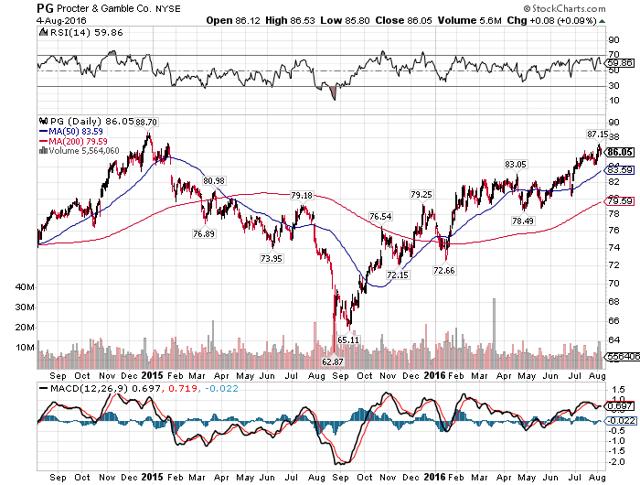 I've always been critical in particular of PG's lack of ability to grow volume as whatever organic revenue gains it has made in the recent past have tended to be driven by price and mix rather than actual demand. That actually wasn't the case in Q4 as total revenue fell three percent but the composition was different. Forex took three percent and a further two percent was lost due to divestitures. However, organic sales were up two percent due to a two percent rise in shipment volume. That's a much better result than what I've become used to for PG and while +2% isn't amazing, it is better than what we're used to. While PG's revenue picture was a little better in Q4, we should still keep it in perspective; net sales were still down three percent and even organic sales were up just two percent.
Further, virtually the entirety of the gain came from the Health Care segment as the rest of the company was negative save for a 1% gain by the Grooming segment. PG and other conglomerates have faced similar situations in the past where marked weakness across the sector is masked by strength in one business. And while that is part of the benefit of a conglomerate structure, one must take into account that the majority of the business is weak while one segment is strong.
One thing PG has been doing well over time - much better than growing sales - is in expanding its margins. PG slices its margins lots of ways but in Q4, core gross margins were up a very respectable 160bps. The bump was driven by massive productivity savings and lower commodity costs but mix was a negative factor. At any rate, PG continues to do very good work in this area and indeed, it is the only real source of earnings growth the company has of late. I've wondered aloud before just how much is left in the tank here but PG continues to press on and grow margins. Forex is going to continue to take a toll as long as the dollar remains elevated against other currencies but commodities look to be a tailwind for margins and productivity improvements keep on coming. So for the foreseeable future, we should expect PG to have progressively higher margins.
The problem is that PG wasted all of those gains and more on SG&A spending. Core SG&A was up 310bps as PG spent on a variety of things but the point is that all the margin gains it made were squandered via much higher spending. That means operating margin was solidly negative in Q4 and given what we know about negative sales growth and an ineffective buyback, PG's only source of profit growth was taken away.
The thing is that PG's sales growth issues aren't transitory; it competes in categories with little to no growth because they are staples. Competition is tough and consumers don't have reason to run out and buy shaving cream or laundry detergent at a faster rate; that will be a problem forever. PG guided for 1% sales growth next year and mid-single digit EPS growth, hardly numbers to get excited about. But then again, take a look at this chart of revenue for PG for the past several years.

Source: Simply Wall St.
Flat-to-down revenue is a perpetual thing at PG and that isn't changing. I suspect in seven years' time this chart will look much like it does right now.
Further, even management knows the stock is expensive. Have a look at this chart of insider trading activity for the past year; it's pretty lopsided.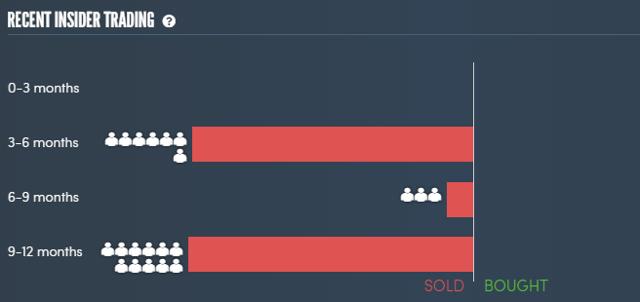 Source: Simply Wall St.
A huge number of insiders have taken action and every single one of them has sold. The numbers are large, too; about $6M of stock has been sold by these insiders with zero shares being purchased. That's far too significant to ignore and if insiders are dumping stock, I'm wondering what longs are thinking about their positions at these levels.
At 22 times next year's earnings, there is simply no way to defend PG's valuation on a fundamental basis. There are stocks out there with really strong growth prospects that are trading for much more pedestrian valuations while PG has absolutely no growth prospects and a spending problem. I get that PG is dividend royalty and that its 3%+ yield is attractive but that is where it ends. This company has a forex problem, it can't grow volume and while it is boosting gross margins, it is wasting those gains on spending. There are no catalysts for PG to ever get close to growing into its $86 price so I think we'll see PG give back some of its recent gains. At the very least, upside has to be slim to none from here; are people going to start paying 23 or 24 times earnings for a company with no growth? Maybe, but I have to think that is the low probability outcome. Insiders are telling you the time to sell has come so if you're long, please consider taking your profits and moving on before you get hurt.
Disclosure: I/we have no positions in any stocks mentioned, and no plans to initiate any positions within the next 72 hours.
I wrote this article myself, and it expresses my own opinions. I am not receiving compensation for it (other than from Seeking Alpha). I have no business relationship with any company whose stock is mentioned in this article.