The EIA has reported a bullish injection report -- it was a storage injection of -6 Bcf vs. the +1 Bcf average estimate. We expected -5 Bcf.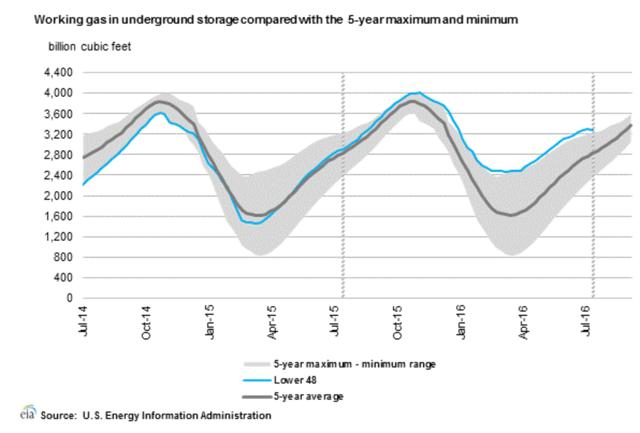 It's nice to see a draw in storage this summer. Storage surplus still persists, but the oversupply is dwindling as we move forward. The issue that we are paying attention to now is the resilient U.S. gas (NYSEARCA:UNG) production. Similar to Canadian natural gas producers, U.S. producers have largely used drilled but uncompleted wells (DUCs) to keep production flat. This has resulted in overall U.S. gas production to remain around the 71 Bcf/d mark over the last several months. We saw temporary dips below 70 Bcf/d thanks to pipeline maintenance, but temporary supply disruptions won't affect storage much.
Most gas producers are saying that they are waiting for winter time to bring on additional supplies. This presents somewhat of an issue. Despite our original belief that U.S. production would fall to 68 Bcf/d by the end of the year, we have revised our estimate to 70 Bcf/d. The natural decline will still win out, but the pace of the increase this winter will offset the natural declines.
For natural gas bulls, how cold the winter gets will be increasingly more important to the longer-term thesis as resilient supplies could keep a lid on prices. Once we get close to the end of storage, all eyes will be focused on how cold this winter will be. If we get a normal winter, we could see storage end at the five-year average in March. But if we get a milder winter, we could potentially have a surplus once again next year. Obviously, no one knows yet how cold winter will be. Most estimates start coming out over the next two months, so we will be reporting on what we find.
Moving on to the daily highlights, power burn demand for this week averaged just slightly over 35.5 Bcf/d. Mexican gas exports remains steady around 3.8 Bcf/d and LNG exports remain around 1 Bcf/d. Canadian gas imports remain steady around 6.5 Bcf/d. Overall, if U.S. production continues to be resilient, it would lower the chance of storage falling below the five-year average by next March.
Eight- to 14-Day Outlook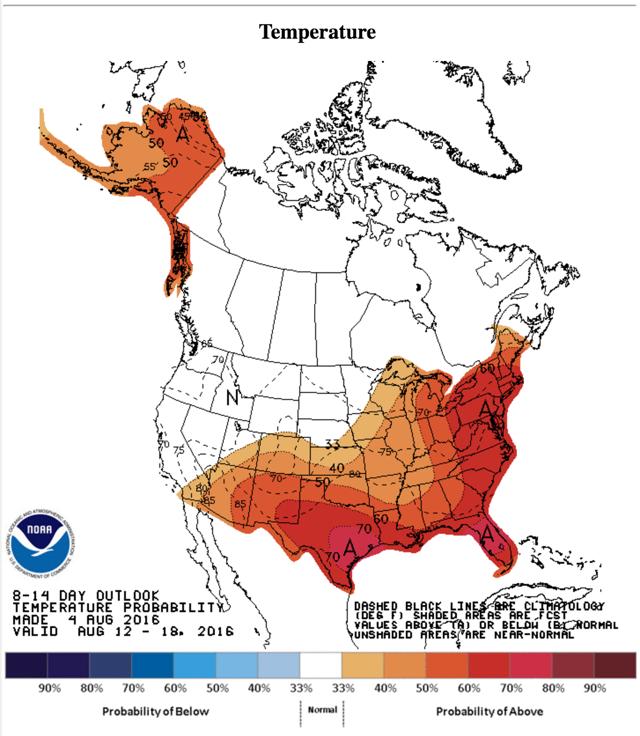 Natural Gas Prices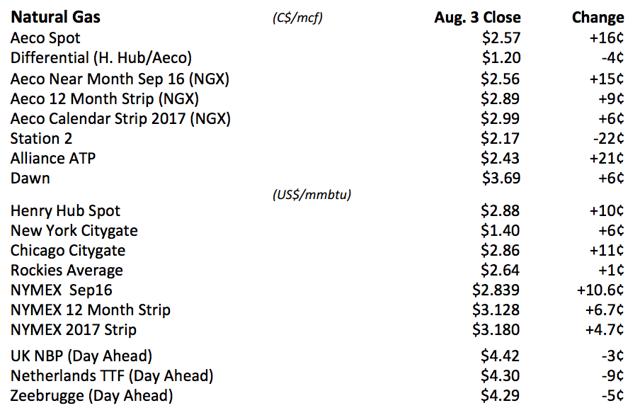 Thank you for reading our Natural Gas Daily. If you want to read more of our articles, please be sure to hit the "Follow" button above. For investors interested in what E&P names we are buying, please check out the HFI Research premium service. We also write a weekly HFI portfolio update for premium subscribers. You can read a sample weekly update here and view our delayed one-month portfolio update here. We hope you can join the HFI community.
Disclosure: I/we have no positions in any stocks mentioned, and no plans to initiate any positions within the next 72 hours.
I wrote this article myself, and it expresses my own opinions. I am not receiving compensation for it (other than from Seeking Alpha). I have no business relationship with any company whose stock is mentioned in this article.