Introduction
There's a lot of talk around Seeking Alpha lately about whether or not dividend stocks have become overvalued. Reuben Gregg Brewer suggests that the closure of the Vanguard Dividend Growth Fund (MUTF:VDIGX) to new funds should be viewed as a warning to dividend investors regarding the valuation of dividend stocks. Similarly, David Fabian notes that prices among income-generating ETFs are at highs. On the other hand, in "Just How Overvalued Are Dividend Stocks Today?", Adam Aloisi opines that dividend stocks as a group are actually not as overvalued as some seem to think.
However, I have not seen much analysis performed to determine, on a quantitative basis, whether or not dividend stocks are overvalued. In this article, I decided to employ a "top down" approach - instead of looking at individual stocks, I will consider a panel of six popular dividend ETFs:
Results
First, let's take a look at performance. Year to date, dividend stocks have been on a scorching tear, and all six dividend ETFs outperformed SPY (+7.20%). Leading the pack is SPHD, one of my favorite ETFs (see "Higher Dividends With Less Risk? Yes, Please!") and a core position of the Cambridge Income Laboratory portfolio, with a blistering +20.49% return.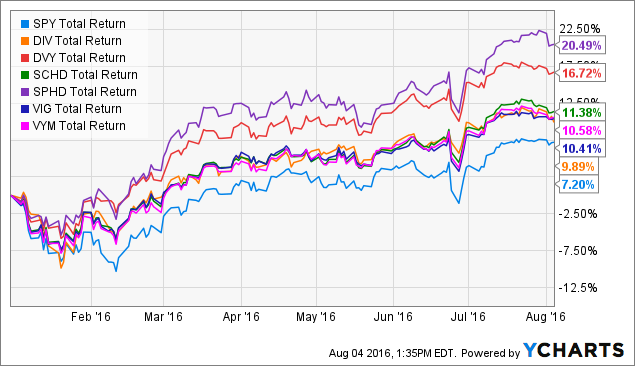 SPY Total Return Price data by YCharts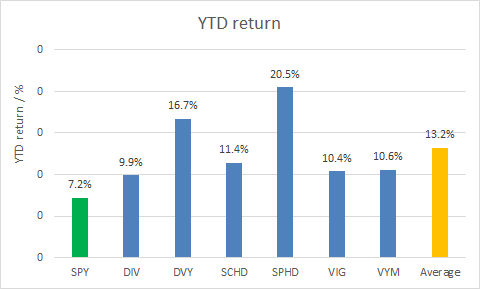 (In the total return chart above, "Average" indicates the average of the six dividend ETFs)
Since Dec. 2014 (a period of about 1.5 years), results have been more mixed. While SPHD still comes out on top at a +24.46% gain, two of the funds underperform SPY (+7.01%), namely DIV (-3.08%) and VIG (+6.78%).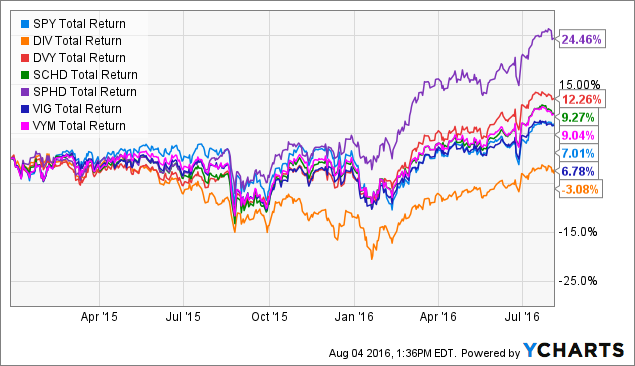 SPY Total Return Price data by YCharts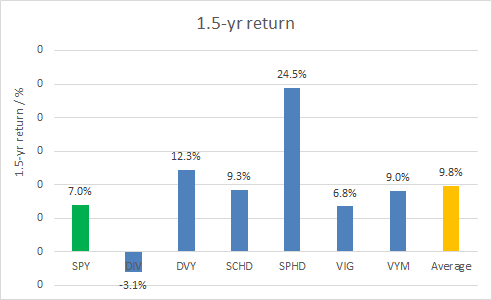 So with a gains of up to 20% with these ETFs, and with all of them hitting all-time highs (except for DIV), you'd expect their yields to be at rock-bottom lows, right? Well then, you might be surprised by the following chart.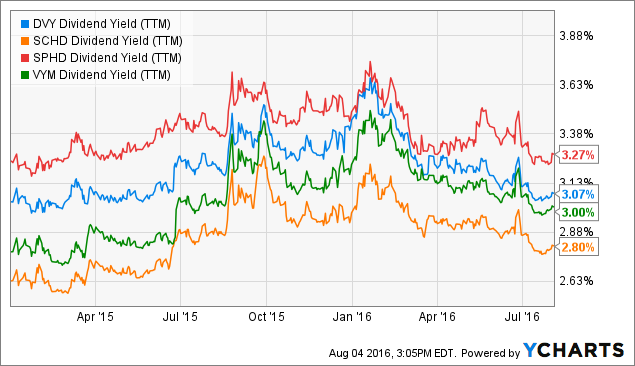 DVY Dividend Yield (NYSE:TTM) data by YCharts
We can see from the chart above that while there has been a definite contraction of dividend yields since the start of this year, the actual yields are still higher than they were 18 months ago (yields for SPY, DIV and VIG are not shown for clarity). How can this be?
I'm sure everyone reading this knows that the formula for dividend yield ("Y") is dividend ("D") divided by price ("P"), i.e. Y = D/P. Thus, if price goes up, then the dividend yield will go down, but only if the dividend remains constant. If the dividend amount increases, then the yield can stay the same or even increase!
Therefore, commentators who claim that dividend stocks are overvalued simply because the stocks are hitting all-time highs are, in my view, missing half the picture.
Case in point: SPHD's trailing twelve months [ttm] of dividends adds to $1.28, compared to a total of $1.06 for the ttm leading up to Dec. 2014. This gives SPHD an excellent 1.5-yr dividend growth rate [DGR] of 21%. Since its price appreciated by about 19% over this time period, its dividend yield has actually increased slightly!
Let's compare the 1.5-yr DGR and the 1.5-yr price return of the dividend ETFs. We can see that all six dividend ETFs, as well as SPY, have had greater percentage increases in dividend amount than their respective price increases. This tells us that, on a dividend basis at least, dividend stocks are not any more expensive than they were 18 months ago, if anything they are slightly cheaper!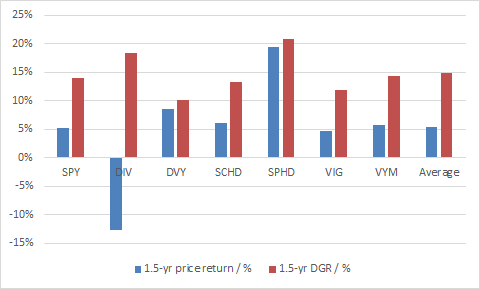 Oh, and check out SPHD's highest 1.5-yr DGR of 21% among the six funds, which leads all comers. Did I mention how much I love this ETF?
Discussion and conclusion
Many pundits are claiming that since dividend stocks are at all-time highs, then they must be overvalued. However, this misses half the picture. As I have shown above, as long as dividend amount rises faster than price, the dividend yield can stay constant or even increase! Based on this analysis, it would seem that dividend stocks are not more expensive than they were 18 months ago, in fact they might even be slightly cheaper.
Of course, there are limitations to this study. The most obvious one is does dividend yield really reflect "cheapness?". A company can increase its dividend yield even when its earnings are falling simply by increasing its payout ratio. Therefore, one could argue that earnings yield, rather than dividend yield, should be considered.
Another issue that is associated specifically with ETFs is that as funds, they can choose to distribute as much or as little cash as they like every quarter. While most funds simply pass through the dividends received to the unitholders, DIV actually has a managed payout policy where the fund managers try to keep the dividend amounts relatively smooth (e.g. each of its last four monthly dividends have been exactly $0.1355). Thus, the yield and DGR of DIV may not accurately represent the yield and DGR of the underlying constituents.
In a nutshell: no, I do not think that dividend stocks are extremely overvalued.
If you have enjoyed my article, please consider clicking the "Follow" button next to my name to be alerted to my new content!
Disclosure: I am/we are long SPHD.
I wrote this article myself, and it expresses my own opinions. I am not receiving compensation for it (other than from Seeking Alpha). I have no business relationship with any company whose stock is mentioned in this article.