Q2 was quite a dramatic, if not a monumental, quarter for ChromaDex (NASDAQ:CDXC). Here I attempt to review and reflect on the major developments in the quarter, and provide an opinion on what to expect from the coming earnings release. I will also present some important questions of interest to shareholders that the management might wish to provide an answer on in its earnings release and accompanying conference call.
Key Positive Developments
The following bullets summarize the important progress made in the quarter.
Short Attack And Lessons Learned
Unfortunately, Q2 was also the quarter in which a short attack managed to bring the stock down by 50% within a matter of hours. Until this day, the stock has not fully recovered the loss incurred by the attack.
Notwithstanding the immense impact on the stock price, the short article (now withdrawn and replaced with an apology; referred to as short piece thereafter) actually seems like one of the lowest-quality short articles ever published on Seeking Alpha. In the lengthy, 10,630-word piece with 8 charts, only about 1/5 of the content was about CDXC. Within that 1/5 content, much of the allegation against the company was simply wrong. And none of the eight charts contain any data about CDXC.
(My fellow SA contributor KarinCA has published an interview with the company's co-founder and CEO Mr. Frank Jaksch. Some key allegations of the short piece were addressed in the article.)
The quality of the original short piece was called into question by the sheer fact that, in an article that professed the fall of CDXC stock by at least 70-80%, it took a lot of scrolling up and down just to find direct allegation against CDXC or its company ChromaDex. The bulk of the article was filled with scary stories of the fall of other stocks, which were linked to CDXC only through common major shareholders. And when it came to CDXC directly, the facts cited were almost all wrong or misleading. Please read on to find out.
The huge selloff of the stock in reaction to the short piece indicates that investors are vulnerable, gullible, and easily manipulated. The sellers in panic were mostly retail investors who do not understand their own investment and have not done much research.
I made this claim because it is apparent that much of the allegation simply was not supported by the facts that can be easily found from public filings. Had investors studied the company well, they would not have sold their shares in panic. Here I'm using a few key issues brought up in the short piece to support my claim. I hope my exercise here will also help those still intimidated in understanding the facts.
[Issue 1] The short piece alleged that Healthspan Research, LLC, a company founded by board member Rob Fried, was the company's largest customer in 1Q16. Thus, the allegation went, 1Q16's profit was engineered and likely fake. Furthermore, according to the short piece, that (accounting shenanigan) "is the only way ChromaDex (is) able to post a profit."
Had you read the 10-K for 2015 (fiscal year ended January 2, 2016), you wouldn't have fallen trap to this kind of misleading statement. The 10-K clearly stated the following:
"As of January 2, 2016, the Company had not shipped any NIAGEN® to Healthspan and Healthspan did not issue any equity interests to the Company. Accordingly, there is no accounting recognition of this arrangement for the twelve-month period ended on January 2, 2016."
And then in the 10-Q for 1Q16, the company stated:
"During the three months ended April 2, 2016, Customer C in our ingredients segment accounted for 27.4% of the Company's total sales."
The short piece alleged that Healthspan was this Customer C that contributed to 27.4% of Q1's total sales. Note that Healthspan started its Niagen supplement business from scratch. How likely could it be for a new business to grow from nothing to its supplier's largest ingredient customer in the span of just one quarter?
Indeed, ChromaDex later disclosed that Healthspan was not even among the company's 20 largest customers as of June 24, 2016. Furthermore, it had placed only one order worth less than $50K of Niagen through its contract manufacturer.
Another factor to keep in mind is that the company does not normally have a fixed largest ingredient customer. Read the following description in the same 10-K:
"For our ingredients segment, there were two customers who accounted for more than 10% the Company's total sales in the last three years. In 2015, Customer B in our ingredients segment accounted for 11.0% of the Company's total sales. Customer B accounted for less than 10% of the Company's total sales for the years 2014 and 2013. During the year 2014, Customer A in our ingredients segment accounted for 10.2% of the Company's total sales. Customer A accounted for less than 10% of the Company's total sales for the years 2015 and 2013."
So even if one day Healthspan does succeed to take the number 1 spot, it most likely will not stay there for long. Furthermore, once the company's high volume, non-supplement business gains traction, in due course, it becomes unlikely that any of the supplement customers would be able to even be the largest ingredient customer.
[Issue 2] The short piece asserted that CDXC belongs to a type of operation that has tremendous revenue growth but is destined to never show a profit. Had you studied the company, you would have been confident in the fallacy of this assertion.
From 2012 through 1Q16, the company's operating margin has improved steadily from -100.2% to +6.2%. You can see this favorable trend from Chart I (red line). It should also be noted that the rightmost data point on the chart is only for 1Q16. When the company closes its book on FY16, I believe the operating margin will head even higher, thus rendering the slope on the right hand side of the curve steeper.
Chart I. Operating margin trend for CDXC and MSLP (Source: Author, based on data from public filings.)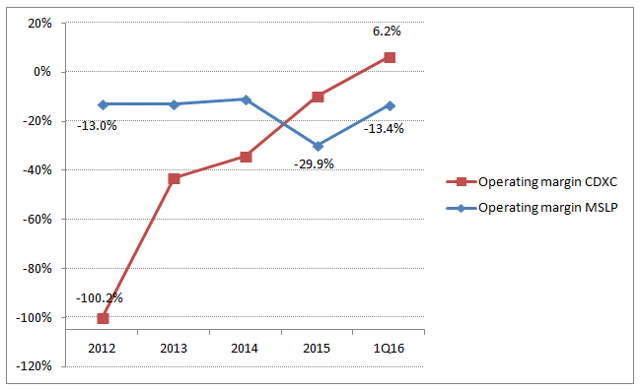 [Issue 3] The short piece asserted that MusclePharm Corp. (OTCQB:MSLP) is a close comparison for CDXC. And therefore, CDXC's stock price should follow MSLP's path.
Not so fast! MSLP is a manufacturer, marketer, and distributor of nutritional supplements. The most important business of CDXC is ingredient development and manufacturing. For now, it mainly supplies the nutritional supplement industry. But it is already actively working on supplying the ingredients to skin care, food and beverage, other consumer products, and pharmaceutical industries. So, the two companies will become less and less like each other in the future.
But you don't even need to consider the future to see the major difference that has already existed between the two companies. As you can see from Chart I above, MSLP's operating margin has stagnated since 2012. Even worse, in 2015, its operating margin deteriorated significantly to -29.9% from -10.9% in the prior year.
As a result of this poor financial performance (and possibly short attacks also), its stock price took a big beating in the past couple of years. The company implemented a restructuring plan about a year ago, thus bringing operating margin back up to -13.4% in 1Q16. But as you can see, that's still at the stagnating level experienced in the past few years.
The difference is day and night as judged by the operating margin trend for the two companies. CDXC is already profitable now. Given this highly favorable margin trend in CDXC, there's absolutely no reason CDXC should follow MSLP's stock price trajectory.
[Issue 4] The short piece claimed that ChromaDex burned $3 million of cash from operations in 1Q16, which made its cash position "certainly precarious." Some uninformed retail investors thus reasoned that the company's net profit in Q1 was low quality or even bogus because of this huge cash burn.
Not so fast again! It was true that operating cash flow was -$2.9 million in 1Q16. But had you looked into the Statements of Cash Flows carefully, you would have noticed that the company had aggressively reduced accounts payable, by $3.3 million, in the quarter.
Basically, the company had a net accounts payable buildup of $2.7 million in the prior quarter, 4Q15. And it used 1Q16 to more than pay off that buildup. So, 1Q16 was a very special quarter in terms of operating cash flow, in no small part due to this huge cash outlay.
If you are still skeptical, just check 2015 10-K again. Operating cash flow in 2014 was -$2.5 million, while that further improved to -$2.1 million in 2015. So, for the past two years, the company has not even burned $2.9 million in a whole year, less to say in a single quarter!
Though in any single quarter cash flow can be volatile and depends on working capital movement, the company should be generating cash from its operation for the whole year in 2016. In fact, I have an arguably conservative model that points to a $1.8 million operating cash flow in 2016, compared to the -$2.1 million cash burn in 2015.
Given that 1Q16 already incurred a -$2.9 million operating cash flow, this implies that I'm expecting the company to generate $4.7 million cash from its operating activities in the last three quarters of the current year!
[Issue 5] The short piece alleged that ChromaDex, back in November, sold shares to its former co-chairmen and Dr. Frost at a price of just $1.50, implying that it was too far below the stock's market price of around $4.5 (post reverse-split adjusted) back then. You just need to check out two of the press releases by the company to see if this was accurate.
The first press release said, " The Company agreed to sell a total of 200,000 units (the "Units") at a purchase price of $10.00 per Unit, with each Unit consisting of eight shares of the Company's common stock." So each share was priced at $1.25. But that was the price before this April's reverse stock split.
After adjusting for a 1-for-3 reverse split, announced in this second press release, the offered share price was actually $3.75 per share. So, as it turned out, this offering price was below the then market price of around $4.5 but above the $3.5 or so market price in late December.
[Issue 6] The short piece alleged or implied that the CDXC stock valuation was partly attributable to frequent paid stock promotions. Yet the cited paid stock promotion bore a date of March 29, 2012. Can anyone imagine the current stock outperformance attributable to a paid stock promotion that's more than 4 years old? Many investors were simply overwhelmed by the malicious attack and did not really take a careful look at the cited sources, even less to say ask questions about them.
Since the short piece was withdrawn and replaced with an apology, there has been a relevant development regarding the piece. The author denied he wrote the article himself, as can be seen in this court document. If you scroll down to the top of page 4, bullet 19 states that "the allegation that Defendant wrote the 'article' (the Blog) is denied" while bullet 20 states that "Defendant did not draft the blog." (Here is the associated document for your reference.)
Why is this relevant to you as an investor? Because this indicated that the short piece was the tool of a coordinated short attack, which by the way can also be inferred from the markedly increased selloff volume in the two trading days prior to the publication of the piece. A certain group was using a young college student as a façade for the short attack.
The real identity of the author(s) was hidden. Therefore, there's less incentive to make the article accurate or appear more accountable. The inexperienced youth would take any potential consequence, as evident from the court battle. Besides, the perpetrators got to make a windfall even if the short thesis turns out to be outright wrong.
The real author(s) and any related short sellers likely have capitalized on an inexperienced young person's eager desire to make a name as well as easy profit for himself. Indeed, besides any potential windfall from shorting CDXC, the youth made it to Forbes' list of "6 Under 30s Who Made Their Mark By Age 23." He reaped this "honor" by doing nothing but publishing a third-party article on Seeking Alpha without proper disclosure.
First Ever Quarter Adjusted EBITDA Above $1 Million
In 1Q16, ChromaDex delivered adjusted EBITDA of $872K. 2Q16 likely would be the first-ever quarter in the company's history that adjusted EBITDA reached well over $1 million. Revenue would likely be around or exceed $8 million. Gross margin and operating margin would likely be similar to or somewhat higher than those in 1Q16. Overall, I recommend having a rational expectation so that you would not react incorrectly when the actual numbers are reported.
The company incurred certain one-time charges due to the complete early repayment of the high-interest loan owed to Hercules Funding II LLC. These charges are likely to be reported as interest expense and reduce the GAAP net income and EPS. As a result, there's a distinct possibility that the headline EPS would be in the $0 to $0.01 range.
Investors are recommended to look beyond GAAP net income and EPS numbers. It's likely the company will in some way provide adjusted net income and EPS excluding the one-time interest charges. But if they do not, keep in mind that the special interest charges add up to about $281K.
It's probably a great idea to focus on adjusted EBITDA and its YoY and QoQ growth rates. Other than that, revenue growth, in particular ingredient revenue trend, margins and operating cash flow are areas worth paying attention to. It's likely we are going to see significant operating cash flow in the quarter. You might not have paid attention, but in 2Q15 the company already recorded a small positive operating cash flow ($94 K). It's reasonable to expect a much better operating cash flow for 2Q16.
What would qualify as a blowout quarter? For me, it means one or more of these things: (1) revenue reaching $8.5 million (compared to $7.3 million in 1Q16 or 16% change QoQ, and $6.1 million in 2Q15 or 39-40% YoY), or (2) operating income reaching $700K (compared to $454K in 1Q16 or 54% QoQ, and -$184K in 2Q15), or (3) Net income ex. special interest charges reaching $530K (compared to $256K in 1Q16 or 107% QoQ, and -$315K in 2Q15), (4) EPS ex. special interest charges reaching $0.014 (compared to $0.007 in 1Q16 or 100% QoQ, and -$0.009 in 2Q15), or (5) adjusted EBITDA reaching $1.5 million (compared to $872K in 1Q16 or 72% QoQ, and $404K in 2Q15 or 271% YoY). My guess is that this kind of performance would trigger a huge stock rally within days.
Questions For Management
I have compiled a list of key questions I believe investors would like the management to provide answers on in the Q2 press release, earnings call presentation, prepared remarks or Q&A session. Meanwhile, I encourage any investor who calls in on August 11th to ask some of the questions below that are not already answered by the press release, earnings presentation and prepared remarks. Please feel free to use the questions as is or modify in any way you see fit. These questions should be viewed as "owned" by all investors or parties interested.
Questions about the JDA with P&G (NYSE:PG):
1. In your JDA with P&G, Safety for Human CLINICAL TRIAL (Item #2 of schedule 2.1) appears to have been completed. Does that mean that you have already received that part of milestone payment from P&G? (If yes, in which period did/will you recognize that revenue?)
2. Is it safe to say that the stable form of NR in this P&G project won't be NR chloride? How close are you now to have that stable NR compound? What's the main obstacle now, if there's any that remains?
3. For technical performance (item 3 of schedule 2.1), is it fair to say that you have no idea what result will end up like? Do you have any reasons to believe that the outcome would be favorable?
4. Apparently it took two years of joint effort to pin down the structured JDA. Can you describe broadly what kind of work you have done with P&G during those two years?
5. Do you expect any milestone payments from the JDA in 2016? Do you have a rough idea regarding when their consumer products (using stable NR) will launch?
Partnership with other Fortune 500 companies:
6. Can you provide some color on your ongoing discussion with other Fortune 500 companies? How many are you engaging with, and how soon can we expect to see the result?
7. You were in advanced discussion with certain Fortune 500 companies on topical applications of pterostilbene. How close are you to a favorable outcome? Is it true that pterostilbene is not stable when subjected to heat and light? How do you resolve that problem?
Other projects/customers:
8. What would be the dosage range used by BPI when they roll out their products nationwide? What's their approximate timeline of launch? Did BPI already contribute to revenue in Q2? Will it contribute more in the second half?
9. CVS Health Age Defense Niagen was introduced in September 2015. Can you provide a qualitative update on the sale of this product? Are you working with them to improve the product such that it might become a success in the future?
10. Can you describe your collaboration process with your dietary supplement customers in general? What kind of support do you provide during product design and after product is launched? Do you follow up on their progress and work with them to resolve any market acceptance issues?
11. Can you provide info about MitoBoost from Nordic Clinical? Is it affiliated with any of your customer deals you have already publicly announced?
12. You have exclusive agreements with various supplement customers in different channels and geographic regions. Would you describe your thinking here, i.e., why exclusive on certain channels or areas to certain customers?
Other Questions:
13. You purchased over $6 million of NR chloride from W.R. Grace late last year. Was that the main reason you had a huge inventories and accounts payable buildup in Q4? Can W.R. Grace freely manufacture and sell NR chloride without violating your patent rights on NR?
14. How stable is NR chloride under regular ambient conditions? If I stock up a lot of Niagen supplements in my pantry, how long will those supplements remain potent?
15. Can you talk about the origin and thinking behind DSM's strategic investment in ChromaDex? How much is DSM involved in your business process? Are you in discussion with them on developing any potential consumer products using Niagen or other ingredients?
16. Can you identify the investors in early June's $5.25 million registered direct offering? Making this public serves to improve transparency and is highly recommended.
17. Is the board of directors actively looking out for someone to fill the position left vacant by the departure of William Smithburg?
18. How much percentage of the total ingredient sales does Niagen and pTeroPure combined account for? Can you also comment on the relative proportion of pTeroPure sales versus Niagen?
19. Can you comment on the sustainability of earnings growth and cash generation from this point on?
20. Can you update us in terms of the timeline for publishing your Phase I clinical trial result in a peer-reviewed scientific magazine?
21. Historically, who identified pterostilbene and nicotinamide riboside as promising ingredients for you? Were they third-party sources, independent contractors or full-time employees?
22. We understand that your momentum in the ingredients business has enabled you to attract executive-level talents like Mr. Will Black. However, your employee rating presently sits at an ultra-low 1.5 on Glassdoor. Would you say that you have a problem attracting or keeping talents at lower levels? Do you have any HR personnel working on improving this?
23. Can you talk about your R&D expense in the second half? What would be your working capital trend, e.g., AR, AP, inventories? Can you also comment on trend in the second half on gross margin, SG&A expenses, stock-based compensation and D&A? How about capital expenditures in the second half?
24. ChromaDex® Quality Verified Seal was first announced with BPI Sports in February 2015. 18 months have passed and we have not seen this 3rd-party quality verification program gaining traction. Are you in talk with other natural product vendors regarding possible adoption of this program? Can you talk about the promises as well as roadblocks for this program gaining traction?
25. Can you explain the advantages of NR as a NAD+ precursor over other forms of vitamin B3, in particularly NAM? Can you also explain NR's advantages over NAM in terms of treating diseases or health conditions?
26. Can the company's outstanding warrants have a negative impact on your stated earnings in future periods as the stock price rises? If the answer is yes, how are you going to report that impact?
27. Do you have info on the University of Washington NR clinical study which was completed in February? In particular as it's related to steady-state whole blood NAD level changes, as well as glucose, potassium, creatine kinase levels, etc. Will the result be published in a scientific magazine?
28. Do you have more specifics on the "four additional human trials which are also estimated to begin sometime over the next 6 to 9 months"?
29. A few months ago, you mentioned about a few new NAD+ precursors you are developing and near commercialization. Can you compare these precursors to Niagen? Are they cheaper to synthesize, more stable, have better or worse potency, and so on? Basically their pros and cons versus Niagen?
30. In the last earnings call, you mentioned about possible public relations campaigns. Would you provide their time line, in what form and shape, cost, and so on?
Final Remarks
I have used this pre-earnings period to reflect on the major events that occurred to ChromaDex during 2Q16. I have shared my reflection here in Seeking Alpha in the hope that it might be useful to the investing community and the company's management.
To investors, my advice is to know your investment and the opposite arguments so you can make the right move regardless of stock price movement. With Q2 earnings release only about a week away, it is very important to have a rational expectation so that you wouldn't react incorrectly.
To management, I have provided a list of investor questions that I believe they should provide an answer on going forward. I also hope they will strengthen corporate governance, hold themselves to the highest ethical standard, and maintain great transparency to the investing community.
Given NR's promising benefits on human health and considering the fact that it has only just begun to penetrate the market, the Niagen ingredient business could be the one that's able to grow regardless of the economic cycle in the next few years. Although the stock could be volatile due to the recent short attack, quarterly earnings fluctuation, or general market condition, investors might be wise to use any weakness to build a long position for their long-term benefit.
Disclosure: I am/we are long CDXC.
I wrote this article myself, and it expresses my own opinions. I am not receiving compensation for it (other than from Seeking Alpha). I have no business relationship with any company whose stock is mentioned in this article.