Ebix Inc. (NASDAQ:EBIX) provides insurance software development and outsourcing solutions. Over the last 10 years, EBIX has done a consistent job compounding capital for shareholders. And by looking at the trends in their historical financial statements, I'm curious to see if there are any signs of it slowing down.
This potential long-term return opportunity backed by a solid track record is the reason I wanted to take a closer look at shares of EBIX. Plus, the company has a unique niche that could provide a compelling competitive advantage. If this is the case, I expect it to show up in the financial statements.
And as you might be wondering, will operating results keep pushing the share price higher? For context, here's a look at results the last 10 years: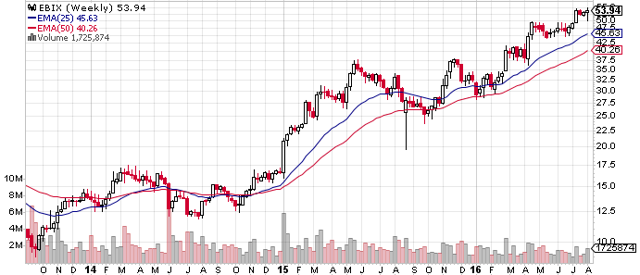 Business Model Overview
As a quick refresher, EBIX provides software and e-commerce services and solutions to the insurance industry. Given the specialized nature of this business, I expect we'll see this characteristic reflected in consistently healthy margins. Plus, the insurance industry as a whole represents a durable business model that I don't believe is unlikely to be disrupted in the near future.
Another factor to consider is that EBIX is by no means a start-up operation. With offices in over 40 countries, EBIX has a global footprint. They've conducted over $100B USD worth of insurance premiums on their platforms. This deep expertise should further show up in consistent operating metrics. The reason this is of interest to me is because I like to look for trends in financial statements. And these qualitative signs of a consistent business give me confidence that the trends are more likely to continue going forward, which can result in attractive opportunities to compound your capital.
Finally, I'm interested in the EBIX business model because these kinds of specialty services that provide key functions like e-commerce are very sticky. Often, contracts represent recurring revenue commitments because clients become very reliant on their vendors. So again, I'm curious to see if this consistency can be found in some of the key historical financial metrics.
Financial Operating History
I like to look at financial information over a ten-year and trailing twelve-month basis (source). This helps me see trends. And in consistent, established businesses, I'm a little more confident extrapolating these trends into the future.
With EBIX, I'd like to start with the top line. After all, if a company can't consistently grow sales, then that drastically reduces the investment appeal. Luckily, you can see that the trend in sales for EBIX has been up and to the right.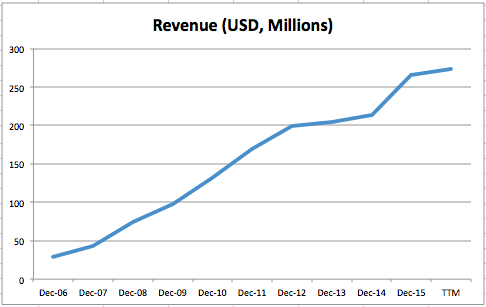 Not only is the trend in the right direction, the growth has been pretty consistent. And based on consensus estimates (source), more of the same seems to be the expectation. Given the niche nature of the business, I expect pricing power and upselling can complement organic revenue growth going forward. To confirm, we can look at gross margins: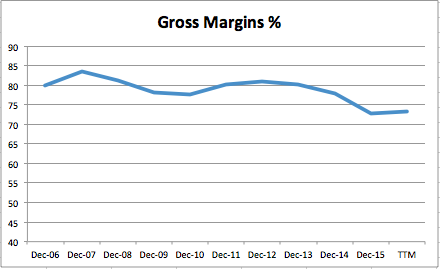 Personally, I'd love to own a business with these kinds of margins. It really speaks to the competitive position of the company. While they've come down a bit lately, they are still very high. When you consider the large lifetime value of insurance contracts, it makes sense that EBIX clients are willing to pay a premium for the help acquiring customers. And EBIX is only happy to deliver.
Plus, don't forget EBIX is a software company with scalable solutions. While there are incremental R&D costs to fuel both growth and maintenance, a developed code base provides a neat source of operating leverage.
And as you might expect, due to the high margins earnings growth is growing at a similar way to revenue.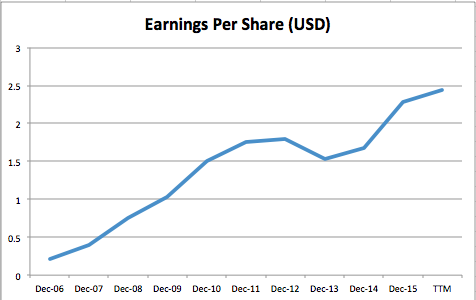 Finally, it's worth taking a look at how these earnings are compounding for shareholders. While EBIX has recently initiated a dividend, most of the value for shareholders has been retained as equity. As a matter of fact, I think the growth in shareholders' equity is nothing short of impressive: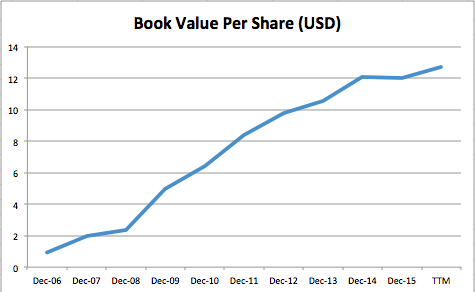 Over the last 10 years, EBIX has maintained an average ROE of 25%. With that kind of internal compounding, I'm happy to let management retain earnings. But that doesn't make this a risk-free investment, by any means.
Risks and Other Factors
One area of potential concern for EBIX investors is the balance sheet. Although EBIX is a capital-light business, it does require investments. About 70% of assets are made up of intangibles and goodwill (source). This makes sense because of the sticky nature of the software business - acquisitions can be more cost-effective than competing aggressively, which shows up as goodwill.
So since I understand these intangibles are typical for the type of business, and because the company hasn't had to write down any goodwill in the last 5 years, I don't see this as an area of immediate concern. But it is something to keep an eye on.
And here's one more thing to watch out for (source):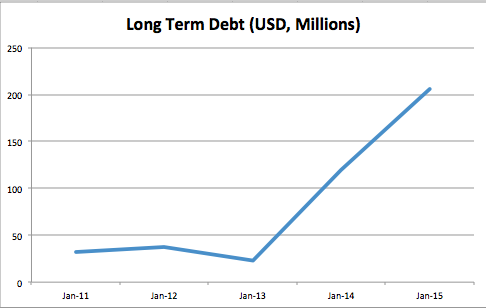 As you can see, the company has started to lever up the balance sheet in the last couple of years. For now, interest expense is only about 6% of operating income. But I'll be curious to see if this number goes much higher.
One other thing that has gone much higher is valuation. Over the last five years, EBIX has gotten progressively more expensive. If history is to repeat itself, as shown in the graph below (source), you may be able to wait a few years and get EBIX at a much cheaper price.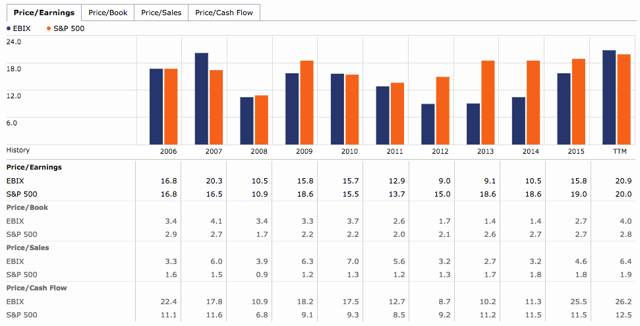 Finally, and like most things in life, EBIX has pros and cons. While the company has a specific niche focus, this also limits growth and removes diversification of clients. If the insurance industry faces a downturn, EBIX could be in trouble. However, based on historical operating trends, the company's qualitative moat looks to be confirmed by consistent quantitative results.
Conclusions: Holding EBIX
I've been lucky to own EBIX shares for a few months now. At the time, I thought the shares were a little expensive, but I wanted a piece of the action because it appeared to be a high-quality business. Since then, I haven't gotten a chance to average in at lower prices. I guess that's a good problem to have.
I'll continue holding EBIX as long as the financial trends shown above continue to exist. I'm not excited to buy shares at these prices, but will consider adding on pullbacks because I think the company offers an appealing total return opportunity backed by a solid track record. So now, I'm curious to hear from you. What do you think about EBIX?
Disclosure: I am/we are long EBIX.
I wrote this article myself, and it expresses my own opinions. I am not receiving compensation for it (other than from Seeking Alpha). I have no business relationship with any company whose stock is mentioned in this article.