Bearish view
In an article published on March 28, I exposed a bearish view on Mediaset (OTC:MDIEF) (OTCPK:MDIUY), a famous Italian company operating in the media & entertainment industry.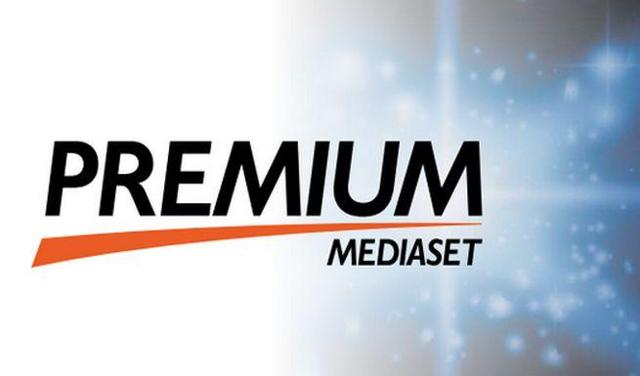 The company operates in the Italian and Spanish markets through free on air channels, a pay per view platform called Mediaset Premium and an online platform called Infinity, something very similar to Netflix (NASDAQ:NFLX). The company has been struggling to maintain its market share for years. Unfortunately, the company is seeing rising competition, and the whole advertising industry still suffers for the low growth economic environment in Italy. Until a few years ago, the only competitors for Mediaset were RAI SpA, the government owned broadcasting company, and Sky plc (OTCQX:SKYAY) (OTCQX:BSYBF), the British pay-per-view king. Despite the acceptable level of direct competition, the company stopped being profitable already in 2012 and hasn't shown a decent profit so far.

During the last year, competition has only intensified, with Netflix entering the market and becoming more and more popular.
You can read my bearish view here.
The deal with Vivendi and the short catalyst
On April 19th, I published another article analyzing the deal between Mediaset and Vivendi, an agreement aimed to create a strategic partnership to face the increasing competition in the industry, after Netflix's entrance in the market and the announcement of aggressive expansion plans. The partnership would have enabled the two companies to cooperate in the production of new content and to create a platform for broadcasting content at a global level.
Mediaset would have transferred to Vivendi (OTCPK:VIVHY) (OTCPK:VIVEF) existing treasury Mediaset shares, corresponding to 3.50% of the company's share capital. In exchange, Mediaset would have received a number of existing or newly issued Vivendi shares, equal to 0.54% of Vivendi's share capital.
RTI, the company in the Mediaset group and owner of Mediaset Premium, would have transferred to Vivendi 100% of the share capital of Mediaset Premium, and in exchange, RTI would have received a number of existing or newly issued Vivendi shares, equal to 2.96% of Vivendi's share capital.
First, while many sell-side research firms welcomed the deal very positively, I considered the move to be the confirmation of the problems that the industry is facing, where the two companies were trying to move towards further consolidation in order to compete better.
Second, the sale of Mediaset Premium to Vivendi as part of the deal, after the company had spent over €1.7 billion for sports rights, confirmed that management had only wasted resources in an effort to improve its competitive position against Sky.
You can read my thoughts on the deal here.
A few days before the Brexit referendum, I wrote about the possibility of an imminent fall in Mediaset's stock price and I disclosed my short on Mediaset. I knew that the Brexit referendum would have been a source of volatility for Italian stocks, and I thought it was a good catalyst for a short.
Since then, the stock is down over 30%.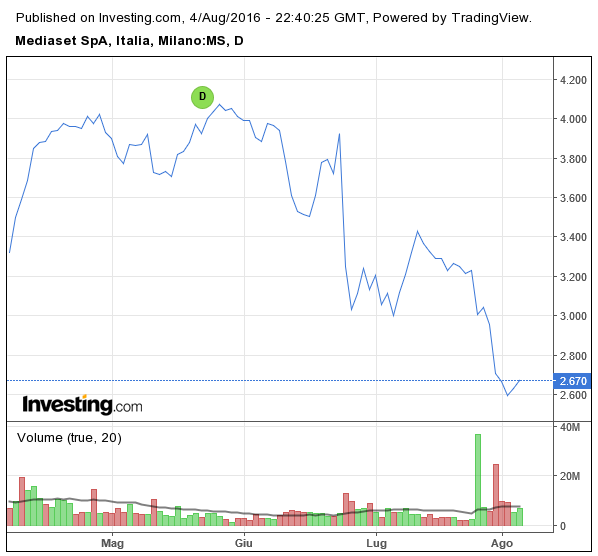 Recent results
Recent results confirmed my fears about Mediaset. During the first half of 2016, the company reported a €27.8 million loss (US$ 30.99 million), despite reporting revenue at €1,870.60 million (US$ 2,085.72 million), 8.7% above 1H 2015. While total revenue grew by about €150 million, operating costs rose by €102 million and rights amortization by around €85 million. Clearly, the costs incurred for football rights were exaggerated and way below the economic benefits of having the exclusive rights on UEFA Champions' League. Competition on content rights is getting fierce, and I expect even harder times when Netflix will start to be more aggressive on the Italian market.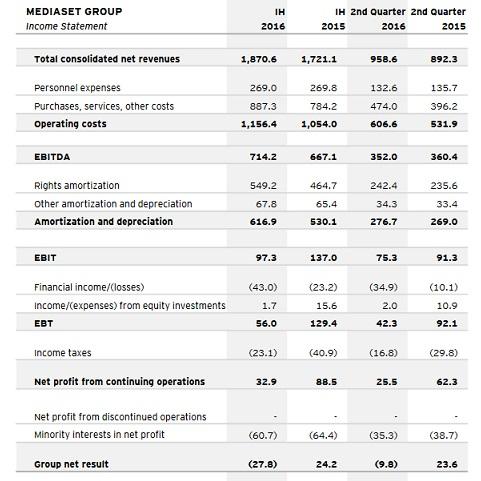 The company declared that such results were negatively influenced by a loss of audience share because of football event UEFA Euro 2016 between June and July. I want to underline that this doesn't have to be meant as a one-time event leading to temporary fluctuations in revenue. Unless the company has decided to buy the rights for the UEFA Euro 2020, 2018's world cup and all the other football events that will be held in the future, this statement can be misleading.
Every two years, a football event transmitted by RAI conquers a high chunk of audience share at the expense of Mediaset. So it's true that results for H1 have been influenced by the loss of audience share because of UEFA Euro 2016, but this happens every two years. On the other side, the Spanish division of Mediaset purchased the rights to broadcast 23 matches of UEFA Euro 2016. This should have partially offset the loss coming from the Italian division but revenue from the Spanish division grew basically at the same rate as the Italian division.
Revenue from the Spanish division grew by 9%.

Revenue from the Italian division grew by 8.52%

My reading of the financial data reported by Mediaset is negative. The company reported another weak semester affected by rising costs for content rights and disappointing sales from pay-per-view, a segment that is facing increasing competition from new players such as Netflix and that was expected to rise much more after the acquisition of exclusive rights on UEFA Champions' League. If we look at margins, we have a confirmation of rising costs affecting the business. As you can see below, EBITDA Margin, EBIT margin, EBT Margin and Net Margin were all down.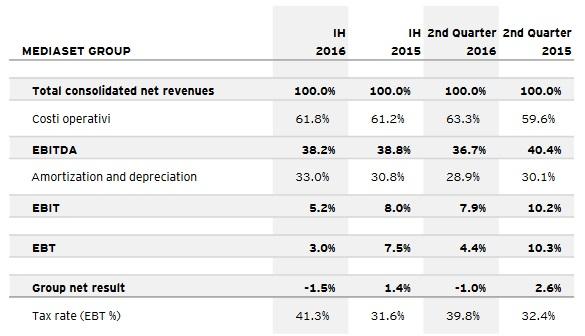 Vivendi steps back
A few days ago, French Group Vivendi declared its intentions to renegotiate the deal with Mediaset, triggering a further decline in Mediaset stock. Vivendi has doubts about Mediaset's growth projections for the pay-TV unit Mediaset Premium, claiming they are unachievable.
While the two companies threatened to sue each other after the announcement, I believe this event gives us a clear message. Mediaset Premium is a broken business that is hurting the group's financial results. If Vivendi doesn't want Premium despite the positive synergies that could be created with its division, I think nobody could find it attractive.
It could be that Vivendi is trying to take advantage of Mediaset's situation to have a better deal, but what happens if the French Group doesn't buy the Premium division? I believe this would be a big problem for Mediaset. The premium division has never been profitable since 2007, and even the most aggressive recent moves, such as the acquisition of exclusive rights on UEFA Champions' League have been a failure. The company needs to get rid of the division that is a drag for profitability.
Now that competition is intensifying because Netflix and other platforms such as TimVision (an online pay-per-view platform from Telecom Italia) are on their way to gain significant market share, the situation can only get worse. If the company doesn't get rid of Premium and starts to focus only on free-on-air channels, the only segment in which the company keeps some kind of competitive strength, Mediaset won't see a decent profit for a long time.
Conclusion
Disappointing results from H1 2016 confirm a difficult situation, made of rising operating costs and a lack of profitability that I attribute mainly to the Premium Division. With Vivendi stepping back, the problem is back even bigger than before. Sky keeps trying to gain market share, even offering its products in a bundle with services from telecommunication operator Fastweb. Netflix has entered the Italian market less than one year ago (October 2015) and even if we don't have official numbers, it is clearly gaining popularity and market share.
Mediaset stock is 32% down after I disclosed my short. I remain bearish and I believe investors should stay away from the stock.
Disclosure: I am/we are short MDIEF, MDIUY.
I wrote this article myself, and it expresses my own opinions. I am not receiving compensation for it (other than from Seeking Alpha). I have no business relationship with any company whose stock is mentioned in this article.
Editor's Note: This article discusses one or more securities that do not trade on a major U.S. exchange. Please be aware of the risks associated with these stocks.