US stocks continued to recover from the bearish scare earlier this week. Thursday brought a mixed day; only the Nasdaq posted a more than slight gain. However, volatility faded and stability returned.
Tech stocks led, but consumer goods companies also fared well, as they start to recover from the recent profit-taking in dividend and low volatility stocks.
Friday will likely bring another green day on modest volume. The jobs number beat expectations by a significant margin. And the market decided this is good news. The market is not yet worrying about the next Fed hike that much, we can deduce. Stocks futures popped nicely following the data release.
Interestingly, the dollar is moving higher on the results. The euro is heading for yet another test of 1.10, and the British pound may lose the 1.30 level if it isn't careful.
The jobs data also provoked sharp losses in gold (NYSEARCA:GLD) and especially silver (NYSEARCA:SLV). The latter metal falls back under $20/oz. There was more reason to buy gold and silver immediately following Brexit. However with oil plunging, the dollar stable and markets rising almost daily, it's hard to see why people are still eager to stay long precious metals as a trade here.
The Olympics Are Here; What's Next For Brazilian Stocks?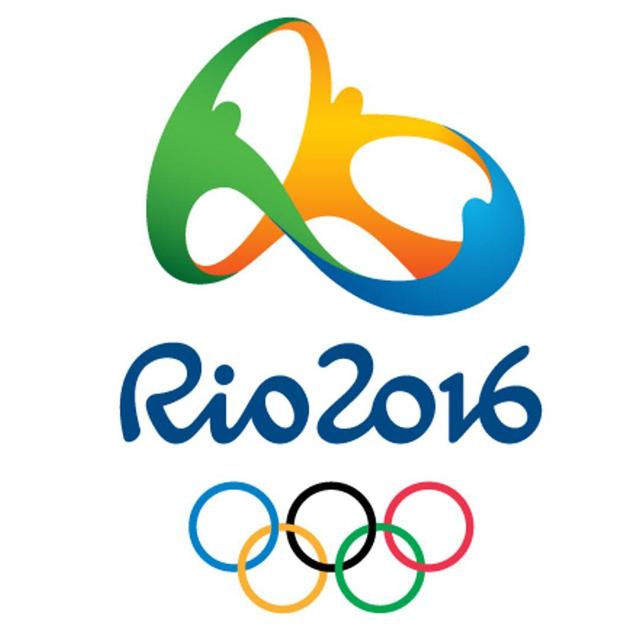 The 2016 Summer Olympic Games begin today. There were many people - including hundreds of highly-esteemed doctors - suggesting the games should be postponed or relocated due to Zika. Despite all economic, political and public safety-related obstacles, however, for better or worse the decision has been made to let the games carry on.
Brazilian shares (NYSEARCA:EWZ) have been on a gold-medal winning run since early spring: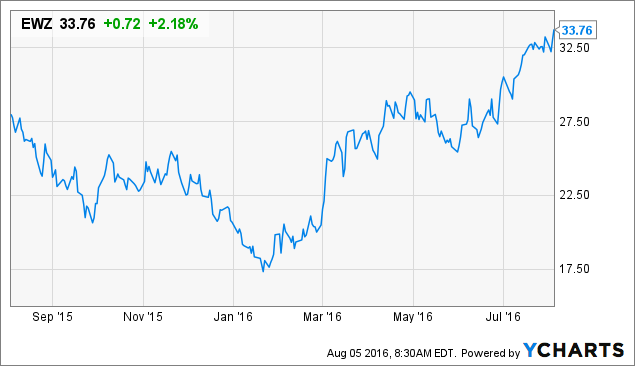 They've consistently rivaled with neighboring Peru (NYSEARCA:EPU) for the world's top-performing stock market in 2016. What's driving the enthusiasm?
Rising commodity prices played a part. Soybeans - a key Brazilian export - saw prices surge earlier this year. That momentum has totally reversed over the past month, however. Iron ore, another key export, has seen more optimism as negative stories out of China have garnered little media attention lately. Out of sight, out of mind.
The pause in the rally in the US dollar (NYSEARCA:UUP) has allowed the Brazilian real to go on a rampage. It's up 25% off the lows. Oddly enough, the Brazilian real has totally detached from its Latin American peer currencies. While the regional barometer, the Mexican peso, saw its springtime rally fade and is now heading back toward new all-time lows, the Brazilian real remains as well-bid as ever.
Remember that the Mexican peso is the region's only fully deliverable free-floating currency. As such, it tends to best represent mood toward the region since there are no limits on speculators wishing to buy or bet against it. One should generally be skeptical when regional currencies stop following the Mexican peso, it often means government interference is involved.
The most obvious (though slightly conspiratorial) theory is that Brazil is pulling as many strings as they can to jack up the real in value so they can extract more money from tourists during the Olympics. This theory is at least slightly plausible, and - as someone short Brazil - I regret not thinking of the possibility ahead of time.
The Olympics are shaping up to be a major economic fiasco for Brazil. Given that the country was already in its worst depression in more than a century, it hardly needed the $15 billion+ loss it will suffer from the Olympics. But, it's been decided, the show must go on.
Question is, what happens in two weeks after the fanfare ends? The new Temer government sees its approval rating already down to 11%. It's increasingly thought that the effort to remove predecessor Dilma Rousseff from office was a coup d'etat. And Brazil's leading newspaper got caught in an embarrassing scandal fabricating poll numbers to try to make Temer look less hated than he actually is.
It appears increasingly likely that pro-Dilma forces will win the next election and reverse the allegedly pro-market changes that the Temer government has tried to institute.
In other words, to summarize, no, the political situation isn't resolved. Not even close. There's hardly a popular pro-foreign investor right-wing movement in Brazil. The people spouting that line of thinking are aggressively misstating the facts to push their own personal agenda.
On an economic front, the Brazilian economy may have hit rock bottom earlier this year. Inflation appears to have topped at 10% and is now starting to decline (a massive rebound in your currency tends to curtail inflation). Manufacturing has picked up a bit.
The question is, will this rebound be sustained, or is this a dead cat bounce off the lows? If you're a believer in this being the bottom, you need a few things to happen.
First, you would need China and other emerging markets that buy Brazilian exports to pick up steam. This isn't happening. The recent plunge in grain prices in particular threatens to undo much of Brazil's apparent economic progress in 2016.
Second, you would need Brazil's political situation to stabilize. The opposite is happening. Temer is skating on thinning ice. It wouldn't be surprising to see his interim government collapse within the year. The replacement is hardly likely to be pro-foreign investor.
Third, you would need major societal problems, including but certainly not limited to Zika, rising crime and income inequality to be somewhat controlled. Given the horrific headlines coming about the Olympics and gross inability to guarantee safety and reasonable conditions for the Olympic athletes, optics are poor on this front.
Finally, the surge in the Brazilian real needs to be sustained. If the real heads back to the lows, the progress made on inflation, interest rates and debt sustainability would be lost. The country faces such a massive debt load that a falling currency can turn into a death spiral.
With the Peruvian, Colombian and Mexican currencies all struggling lately as oil dives again, it's odd how the real has remained so strong. If there's been some sort of sustained intervention to hold the real up in front of the Olympics, look for that to fade within the month once the event ends.
In any case, I remain short Brazil. I've been short since early 2015, and while I clearly should have taken my profits earlier this year, the economic and political situation is far from fixed. Even if the Olympics go off without a hitch, deep structural problems remain. Long Chile/Peru/Mexico/Colombia and short Brazil against it remains one of my favorite trades.
Disclosure: I am/we are short EWZ.
I wrote this article myself, and it expresses my own opinions. I am not receiving compensation for it (other than from Seeking Alpha). I have no business relationship with any company whose stock is mentioned in this article.