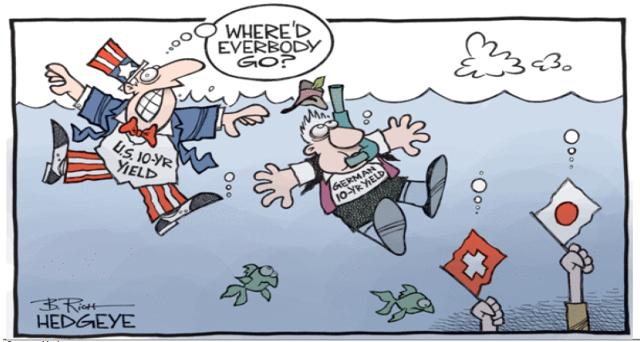 Source: Hedgeye
According to Morgan Stanley, ten-year U.S. yields will fall more than 50 basis points, or 0.5 percentage point, to 1 percent in the first quarter of 2017.
"The year of the bull for rates markets is set to continue with support from politics, productivity and policy," according to a Morgan Stanley report Hornbach sent by e-mail Monday. "We expect growth to come in increasingly below consensus over the coming 12 months."
Albert Edwards, Societe Generale Global Strategist, said that "it is only a matter of time till US 10y yields converge with Swiss, Japanese and German bond yields in negative territory".
Now don't get me wrong, I'm all in favour of perpetual government bonds. Indeed I used to hold the UK Government's perpetual 3½% War Loan, issued in 1917 to finance the UK's WW1 spending. But at least I actually used to receive a bi-annual coupon for doing my bit for the war effort that is until that pesky George Osborne redeemed it after almost 100 years, proving that unlike diamonds, perpetual government bonds are not forever. Maybe I'm getting old, or on the wrong medication, but I just can't get my head around this brave new world where we lend the insolvent Japanese government our hard-earned money to receive nothing back from them, forever! We could just give it to them. But one thing is clear - it is only a matter of time till US 10y yields converge with Swiss, Japanese and German bond yields in negative territory.
Bank of America is the most exposed to low yields
Bank of America (NYSE:BAC) is highly sensitive to interest rates. While the group discloses its sensitivity to interest rates, there is generally limited discussion on the specific components that result in this impact. As a reminder, residential mortgage-backed securities (NASDAQ:RMBS) are the key element that drives Bank of America's net interest income.
The following chart shows that there is a strong correlation between BAC's "market-related NII adjustments" (i.e gains/losses from RMBS premium amortization) and changes in U.S. Treasury bond yields.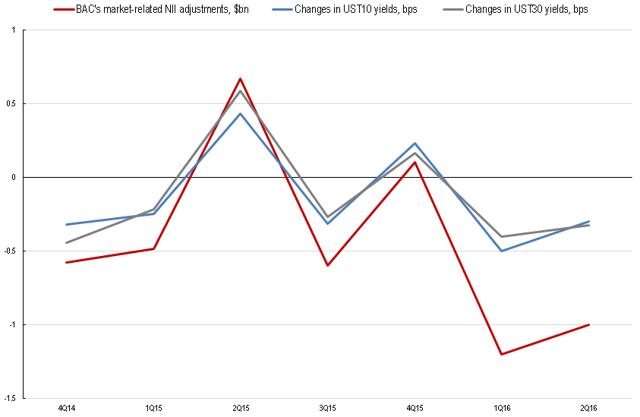 Source: Company data, Bloomberg, Renaissance Research
What is a mortgage-backed security?
The U.S. Securities and Exchange Commission gives us the following definition
Mortgage-backed securities (MBS) are debt obligations that represent claims to the cash flows from pools of mortgage loans, most commonly on residential property. Mortgage loans are purchased from banks, mortgage companies, and other originators and then assembled into pools by a governmental, quasi-governmental, or private entity. The entity then issues securities that represent claims on the principal and interest payments made by borrowers on the loans in the pool, a process known as securitization.
With declines in medium- and long-term rates in recent years, most banks have been buying mortgage-backed securities at premiums. This premium gets amortized into (i.e. reduces) net interest income/net interest margin over the expected remaining life of the bond. For instance, a bank owns a RMBS, that matures in 20 years, with a face amount of $1000 and a 5% coupon (i.e. a coupon of $50 per year). Because rates are low, a bank bought this security for $1200 with a $200 premium to its face value. Accounting principles require that bank amortize this premium of $200 over the next 20 years. So, roughly speaking, each year bank gets a $50 in cash interest, but reduces its interest income by $10 to account for the $200 premium over the remaining average life of the bond. However, as rates and prepayment speeds change, banks have to adjust their assumptions on the remaining life of their bond book. As underlying mortgages in the pool prepay (lower rates accelerate prepayments), the average life of the bond declines and the premium amortization needs to be written off over a shorter period. In some cases, banks take hits on the expectation that prepays will increase before it actually happens. So, for example, now accounting principles requires a bank to amortize the $200 premium over 10 years instead of 20, doubling the charge it takes against its interest income.
At Bank of America, when the expected life of a bond declines, for example (as it has in recent periods), they catch up on the required higher bond premium amortization all at once in the current period per FAS91. This compares to most banks incurring higher amortization levels over the remaining life of the bonds. BAC reported these gains/losses under the "market-related NII adjustments" line.
Bottom line
We estimate that each 10bps drop in long rates results is a one-time hit to BAC's net interest income of $150-180mn. Hence, should U.S. 30-year Treasury bond yield drop below 1%, BAC could post losses ("negative market-related NII adjustments") of $3-4bn or 24-28% of its FY2016E earnings.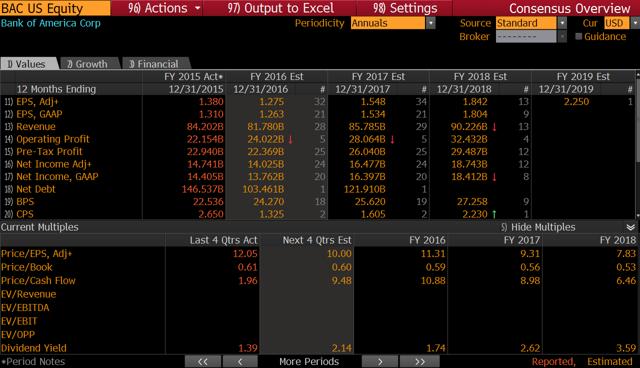 Source: Bloomberg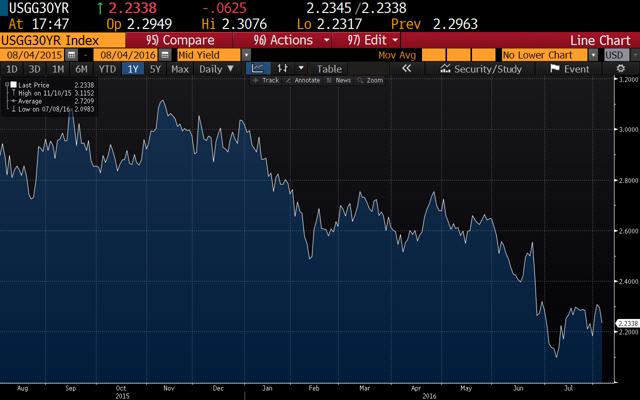 Source: Bloomberg
If you are interested in equity research on U.S., European, LatAm, and CEEMEA banks/financial companies, including fundamental analysis, DCF/multiples valuation, commentaries on price-sensitive events and actionable trading ideas, click the "Follow" button beside my name on the top of the page.
Disclosure: I/we have no positions in any stocks mentioned, and no plans to initiate any positions within the next 72 hours.
I wrote this article myself, and it expresses my own opinions. I am not receiving compensation for it (other than from Seeking Alpha). I have no business relationship with any company whose stock is mentioned in this article.