In my last review of VASCO Data Security (NASDAQ:VDSI), I was happy with the progress management had made in acquiring some executive level talent to help its operations going forward. It had made a good, though pricey, acquisition that some of this management talent would help to unlock the value of. I felt VDSI was overvalued at the time. Unfortunately for the readers, the market clearly disagreed with me, sending shares up 25% since February, beating the S&P's return of 12% over the same time period: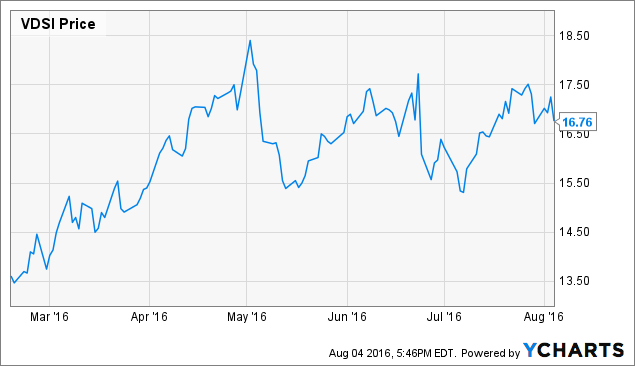 As a refresher, VDSI provides software and hardware security and authentication solutions aimed predominantly at financial institutions.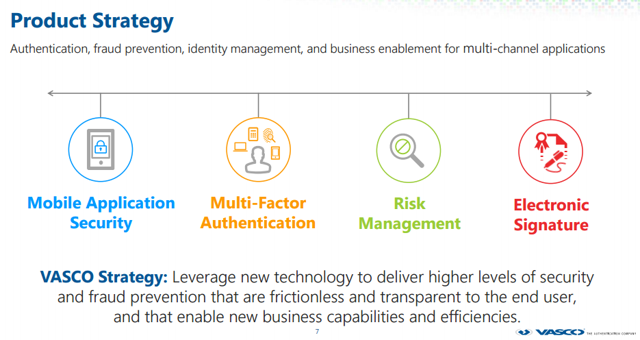 Source: Company Presentation
VDSI had previously guided expectations down for fiscal 2016. With high revenues in 2015 generated from the one-time Rabobank hardware contract, this was not a surprise. On July 28, 2016, VDSI delivered Q2 results ahead of this reduced plan, most notably on the earnings front.
In my original write-up, I had felt that there would be some synergies through the Silanis acquisition that would allow the company to reduce cost, potentially by outsourcing internally to the lower cost Canadian operation. However, a quick review of the headcount at year-end compared to June 30, 2016, shows this was not the case:
Headcount (including Silanis acquisition)
| | | | |
| --- | --- | --- | --- |
| | December 31, 2015 | June 30, 2016 | Variance |
| Sales & Marketing | 259 | 299 | 40 |
| R&D | 209 | 231 | 22 |
| G&A | 77 | 85 | 8 |
| Total | 545 | 615 | 70 |
Source: VDSI Conference Call transcripts
The headcount numbers included the Silanis acquisition, so not only did VDSI not reduce headcount, but the company increased it. It did this while being able to exceed its profit targets. In my original review, I had underestimated how low the Rabobank margins were, as I had modeled out gross margins in the mid-sixties, while management has indicated that they should be in the 70+% range going forward.
The low level of G&A increase is also a good sign. With a large majority owner like Ken Hunt (with 23% ownership) actively involved in VDSI's operations, it is no surprise that additional headcount was aimed at R&D and sales, rather than administration. I had originally assumed that there would be some short-term bloat but that appears to have been minimized. As a result, operating margins were in line with management guidance and with my model despite the headcount increase.
VDSI continued to generate strong levels of cash, adding $10m to its cash balance, bringing it up to $135.7m cash on hand with no debt. Management spoke that the company would be looking into potential further acquisitions or R&D on its conference call, but there was nothing imminent.
Prior to these results, the market had begun to re-rate VDSI's business, which we can see in the uptick of its EV/EBITDA ratio: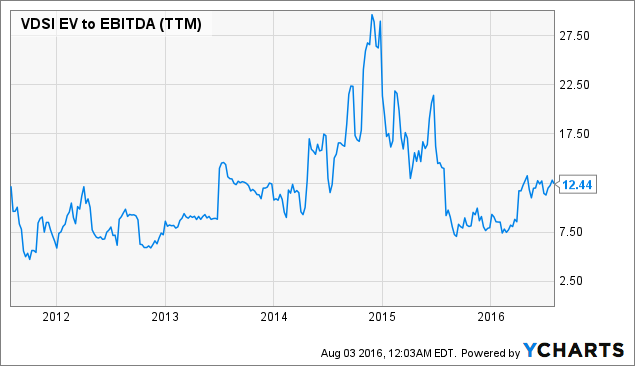 VDSI EV to EBITDA (TTM) data by YCharts
The question is why did VDSI re-rate? Management pointed to the growth drivers in the company presentation: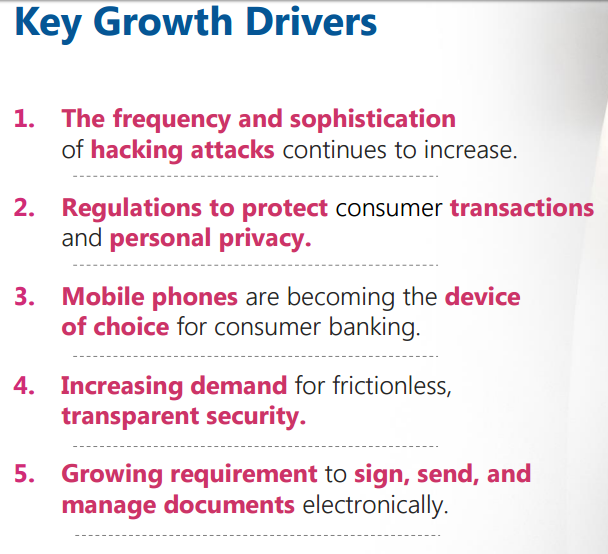 They re-iterated these items on the conference call but also mentioned the potential opportunity in providing security solutions for healthcare data as well, which VDSI is marketing its DigiPass solution towards and indicated it had partnered with several companies to enter this market.
VDSI's increased R&D group has continued to develop products to meet these identified trends (per its July 2016 earnings release):
VASCO extended its biometric authentication capabilities with the addition of face recognition to its DIGIPASS® for Apps application protection solution.
DIGIPASS for Apps and DIGIPASS for Mobile application security solutions won the prestigious SIIA CODiE Award and honors from SC Magazine, respectively.
VASCO expanded the power, usability and accessibility of e-signatures for global organizations with its eSignLive™ Spring '16 release.
VASCO launched DIGIPASS SecureClick, a FIDO U2F one-button authenticator that allows users to easily add two-factor authentication to popular online applications.
However, VDSI has not yet realized this potential. The company also has not been able to penetrate the US market for financial institutions, as just 8% of its sales this year have been generated from the North American market. This represents yet another opportunity for VDSI that it needs to breakthrough into.
I believe there was a headline tailwind here as well. Although the DNC email hack and subsequent release of documents by Wikileaks were caused by weaknesses in security areas not served by VDSI, it put the need for data security on centre stage. Another significant theft of bitcoin may have further pushed the need for security home.
If I look to my model and update it for revised depreciation, cash, gross margins and current multiple ranges, I have the following valuation on VDSI: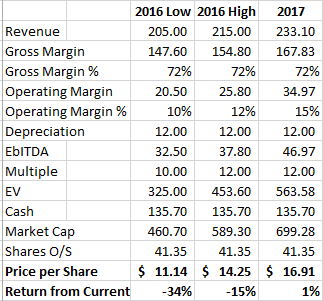 Source: Company Guidance, Author Assumptions
The Takeaway
Management has definitely stabilized VDSI's performance after the expiration of the Rabobank contract. However, I believe the share price run-up from my last review has once again left VDSI fairly valued and priced in its performance so far. I like the business segment VDSI is in and I believe it does have several upside catalysts. Its large cash balance could be put to use (hopefully more effectively than in the past) to acquire a company that could accelerate its entrance into either the US banking market or the healthcare space. I believe the management additions should help it to get better value the next time it conducts some M&A. However, at its current price, I don't see a further potential re-rating beyond a general market re-rating.
On the other side, I also don't see a lot of downside; its growth catalysts are real and management has a good grasp on its costs. It has been able to hit its operating margin targets, even after integrating Silanis. With the political and global environment the way it is, the value of data security will only remain in focus.
Technically, we do have a symmetrical triangle pattern developing: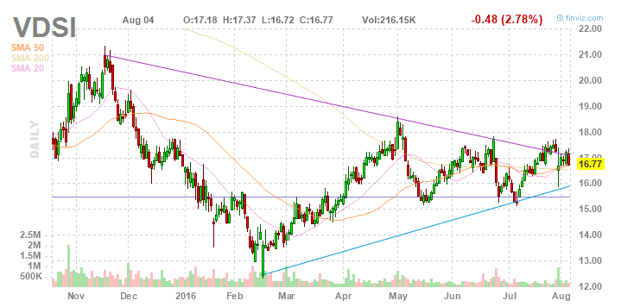 Source: Finviz
This type of pattern will force a price move one way or the other, with some downside support at about $15.40. Combined with the fundamentals above and the potential growth drivers, if you are long VDSI, I would continue to remain so. It isn't a compelling time to establish a new position, though a pullback to the support level would improve the risk-reward proposition significantly.
For continued discussion, please don't hesitate to comment below; I learn from your feedback. If you like what I'm doing, you can follow me by hitting the "Follow" button at the top of this article. Plus, you can follow me in real time by selecting that option. It might give you somewhat of a head start whenever I write an article, as to what actions I am taking and the reasons behind them. Good investing!
Disclosure: I/we have no positions in any stocks mentioned, and no plans to initiate any positions within the next 72 hours.
I wrote this article myself, and it expresses my own opinions. I am not receiving compensation for it (other than from Seeking Alpha). I have no business relationship with any company whose stock is mentioned in this article.