Let me start off by saying I was away for much of July so I apologize for not writing an article during most of last month. I also should apologize for not getting back to readers who email me with questions, of which there have been quite a few lately, but as an Investment Advisor first and a Seeking Alpha contributor second, I really have to concentrate on my existing clientele so I hope you understand if I can't get back to you.
A Hurricane Of Liquidity
Sovereign fund liquidity seems to be everywhere in the markets these days and recent stories about central banks in Japan and Switzerland making huge purchases of US securities this summer are making the rounds.
The question is, is this smart money or dumb money? I don't know how long central banks can continue to put a floor under this market and things would change very quickly if there was any hint of a pullback from these funding sources. For that reason, I'm quite hedged right now and remain skeptical of where we are at and how we have arrived at essentially all-time highs in the markets, but that doesn't mean that there are not good values in equity CEFs and if sovereign funds have assets to put to work, then I have a couple of ideas.
Plenty Of Dumb Money In CEFs
I personally believe there is a lot of dumb money sloshing around in CEFs right now. When you see a fund like the Voya International High Dividend & Equity Income fund (NYSE:IID), $7.52 market price, $6.72 NAV, 11.9% premium, 11.0% current market yield, skyrocket in market price over the summer even though its NAV continues to be in a downtrend, you have to ask yourself, "Who would be buying this?"
I mean if you compare IID's NAV performance over the past year with Voya's two other global option-income CEFs, the Voya Global Equity & Premium Opportunity fund (NYSE:IGD), $7.02 market price, $7.73 NAV, -9.2% discount, 13.0% current market yield and the Voya Global Advantage & Premium Opportunity fund (NYSE:IGA), $9.71 market price, $10.71 NAV, -11.0% discount, 11.5% current market yield, they are virtually the same. In fact, over most periods, IID has the worst NAV performance of the group. This is shown in this one-year NAV graph of (MUTF:XIIDX), (MUTF:XIGDX) and (MUTF:XIGAX). Note: Graph does not include the fund's large distributions but since all the funds have similar NAV yields, the graphs of each fund would not vary much.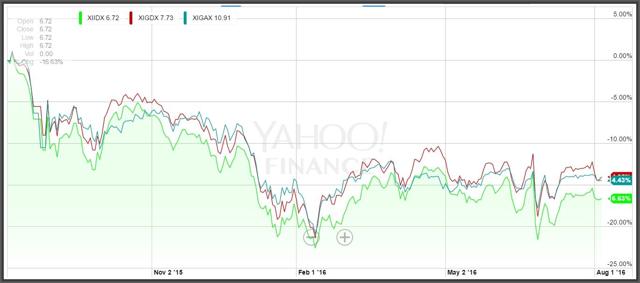 Here you can see that IID's NAV is actually the worst of the group over one year. Part of that is because IID is a mostly international stock CEF with only about 15% exposure to US stocks whereas IGD and IGA are global stock CEFs with higher US stock exposure of closer to 50%. All of the funds use a sell call option strategy with IGD the most defensive and IID using the least option coverage.
But here is where it gets ridiculous. IGD and IGA keep trudging along at -9% and -11% market price discounts while all of a sudden, IID's market price goes straight up to a 15% market price premium the other day, as shown in this 1-year Premium/Discount chart.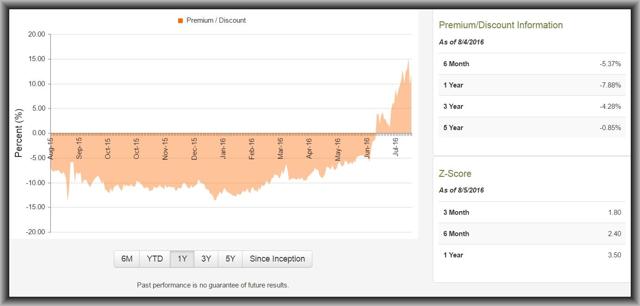 Why did this happen and why is IID the recipient of such attention all of a sudden? One reason and one reason only. IID is a very small $56 million fund while IGD is a very large $750 million and IGA is a $200 million fund.
In other words, it doesn't take much fire power to move IID up and in a small fund like IID there are not nearly as many sellers as you would find in an IGD or in IGA. Is this deserved? Absolutely not. IID has had very poor total return NAV performance over the years (as have most of the Voya CEFs) and its NAV has dropped on an absolute basis from $19.06 when it went public in late 2007 to $6.72 today.
But don't tell that to excess liquidity that needs to be deployed. Maybe it came from sovereign funds and maybe it came from somewhere else. Who knows. But if this is what can happen to a small international CEF with a poor track record, imagine what might happen to a fund that actually deserves a liquidity infusion.
Hey Sovereign Funds! Manipulate This!
If you want to get the most bang for your buck in a bull market, leveraged pure equity CEFs are where you want to be. And nobody has more of those than the Gabelli funds.
And the most growth oriented Gabelli CEF is the Gabelli Multimedia fund (NYSE:GGT), $7.40 market price, $8.50 NAV, -12.9% discount, 11.9% current market yield. GGT is only slightly leveraged with $35 million in borrowed assets, so for a $240 million CEF, that works out to about 15% leverage. But it's the fund's portfolio in many growth sectors such as entertainment, cable, computer software and services, etc. where you'll find the fund's real appreciation potential.
For example, back in 2013, GGT's NAV returned 43.8% and its market price returned 69.8% (includes all distributions added back). Now I sincerely doubt the fund can repeat that but back then, GGT rose to about a 15% premium (sound familiar?) in late 2013 though today, GGT finds itself at a -12.9% discount as shown in this three-year Premium/Discount graph.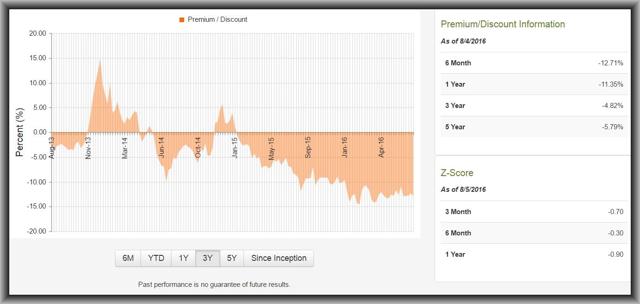 So why does GGT make sense now? Because after a couple of subpar years in 2014 and 2015 (after superb years in 2012 and 2103), GGT's NAV is back on the move up. YTD, GGT's NAV is up 6.9%, and with growth stocks back in vogue after the Nasdaq had been in the red most of 2016, I believe GGT deserves a much higher valuation now.
GGT, like Gabelli's flagship CEF, the Gabelli fund (NYSE:GAB), $5.67 market price, $5.93 NAV, -4.4% discount, 10.6% current market yield, sets a 10% NAV yield each year and then adjusts the quarterly payout at the end of the year accordingly. Now as you may expect, you're not going to find GGT, or GAB for that matter, showing 10% yield portfolios. These funds rely on leverage and appreciation to cover that 10% NAV yield and so far in 2016, both funds are doing just that.
And as I've said many times, when you buy a fund at a steep discount, you receive a windfall yield over and above what the fund has to cover at NAV. In the case of GGT, its current market yield is 11.9% but the fund only has to cover a 10.3% NAV yield.
GGT also is a global fund and its largest position is Grupo Televisa (NYSE:TV), although you will find Facebook (NASDAQ:FB) and Yahoo (NASDAQ:YHOO) among its top 10 holdings. So do you think GGT might be attractive to a sovereign fund at a -12.9% discount and an 11.9% market yield? Certainly makes more sense than IID.
Conclusion
I wanted to get this article out right away so I will be back with some other equity CEFs that I believe are undervalued in a resurgent growth stock environment.
Disclosure: I am/we are long GGT, IGA.
I wrote this article myself, and it expresses my own opinions. I am not receiving compensation for it (other than from Seeking Alpha). I have no business relationship with any company whose stock is mentioned in this article.