Last night, Universal Display Corp. (NASDAQ:OLED) announced financial results for its second quarter:
EPS of 46 cents missed by 4 cents...
...on revenue of $64.4M, which missed by $4.3M.
Full-year guidance was also lowered to $190-200M, down $25M at the midpoint.
Management claims that revenue will rebound next year. This article will examine that projection in light of management's record on such matters, as well as introducing just a few other points that the market seems to have overlooked.
More Detail
Management blames the current and future revenue loss on two main factors:
Failure of customers to adopt new emitters: This is something of a double-whammy because it allows customers to continue both volume pricing discounts and optimized recipes.
The only possible bright spot in the current report is a new agreement with Tianma Microelectronics in China. Management flat out refused to give even the slightest relative characterization of this agreement compared to Samsung or LGD. If this is similar to other development contracts, then there will be little material impact, though I continue to think development in China carries some long-term risks. Whatever payment is there should come up in deferred revenue next quarter. The only relevant comment that could be gotten was that there may be "small quantities this year."
Prior Reports
1Q16: EPS of 4 cents, beats by 4 cents, but revenue of $29.7M missed by $2.3M. Shares tanked because everyone was expecting a big jump in revenue due to LG's TV sales jumping from 90K to 200K from Q3 to Q4. The associated royalties should have been recognized by UDC this quarter, yet royalties were just $5.1M, increasing only 20% both QoQ and YoY. In the call, virtually every analyst asked about this, and at first, management gave misleading answers about product mix and timing, saying that the TV sales counts were those reported by LG Electronics, whereas UDC earns royalties based on LG Display's panel sales to that company (and eventually others). Jed Dorsheimer eventually made the obvious point that TVs had to be the lion's share of the product mix and that LGE would not be recognizing sales before LGD. Only then did UDC management concede that it'd already been paid all it would for AMOLED TV production in 2015. The call was brought to a somewhat abrupt end soon afterward. The real problem seems to be that LG Display can conceivably sell screens to LG Electronics for virtually any price and money can then be re-channeled within the conglomerate without UDC earning much in royalties.
4Q15: EPS of 39 cents missed by 13 cents, on revenue of $62.3M, which also misses by $9.5M. 2016 guidance of $220M in sales also missed by $26M despite an unexpected jump in 2016 Samsung licensing. More than half the miss is due to a $33M write-down of host materials. Again, shares tanked severely.
Takeaways
In each case, OLED's shares eventually recovered to new highs,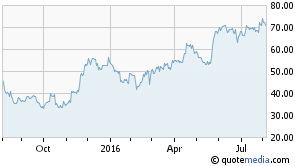 principally due to analysts and pundits hyping AMOLED adoption from Apple (NASDAQ:AAPL). These reports consistently ignored the point that consumer product adoption has no effect on UDC results since the industry is capacity-constrained, and that the UDC/SDC agreement could end next year, before much of the planned new capacity comes online. Providing valuation math showing that UDC earnings would have to at least quadruple to bring the 70 PE closer to normal levels was similarly rare. Furthermore, I find it ridiculous to think that Apple would source undifferentiated screens from its main competitor over an extended period. For those who haven't seen it, here's my alternate take on Apple's medium- to long-term plans.
The bigger problem is with UDC management itself. Every conference call begins with an extended, enthusiastic monologue about the AMOLED industry. This often includes factors such as wearables that couldn't possibly have any near-term measurable effect on earnings. At the same time, competing new technologies and the cessation of some products and favoring of competing ones, are consistently ignored. All companies do that to varying extents, but UDC extends this attitude even into specifics of its guidance. For instance, my Top Long Idea on the stock was able to correctly predict the complete decline of host sales back in 2014 and the trend in the business was already becoming quite clear as the year progressed. Yet even in mid-2015, management was still insisting:
We think we can be competitive moving forward
Such comments border on willful ignorance in light of the evidence, and I think the other examples in this article show a pattern. In light of this, and of industry changes tracked by my subscriptions services, I think that management has little credibility when it comes to accurately projecting the timing or sustainability of a rebound in revenue guidance. This is especially true for long-term guidance, because, in questioning, management has been repeatedly forced to acknowledge that it has no specific information on how its customers use materials, let alone what their future plans are.
Conclusion
This is the third successive quarter where UDC management has attempted to sweep away disappointing performance with grand promises. It remains to be seen whether or not the market will continue to be forgiving, but I think that analysts pushing such an agenda are, in the most benign interpretation, missing a structural problem in UDC's contract with LG Display and looking at the wrong data points with regard to growth. Much of the problem can be chalked up to UDC management's presentation, including the conflation of its own prospects with those of the entire AMOLED industry. This has consistently created problems, which I've cited from the very beginning. A healthy skepticism and better information would serve investors now more than ever.
Disclosure: I am/we are short OLED.
I wrote this article myself, and it expresses my own opinions. I am not receiving compensation for it (other than from Seeking Alpha). I have no business relationship with any company whose stock is mentioned in this article.