In my article "Instagram Sees Posts Slowing," I discussed why Instagram was losing out to Snapchat (CHAT). To summarize, Snapchat is the equivalent of a doodle pad, while Instagram (FB) is like a resume. You add to a doodle pad without thinking, while you don't change your resume unless something important happened in your career. Because of this use case, Snapchat has more content uploaded to it.
Instagram is aware of this problem. In order to combat this problem, they did the unthinkable. Instagram attempted to copy Snapchat with the mindset "if you can't beat them, join them." The one thing that I am now certain of with this launch is Snapchat is causing a decrease posting on Instagram. There were some stats on this topic. This move supports their findings.
What is 'InstaStory'?
If you don't use Snapchat every day, I'll clarify the important points of what happened, before we get into what this change means for Snapchat and Instagram. Snapchat started as a messaging app, but now messaging is a secondary feature. The main differentiating feature Snapchat has is the ability to post videos and pictures to a story which deletes every 24 hours. There are no likes and comments, so there's no judgment. The only feedback you get is who viewed your story.
Instagram decided to take this story feature and put it on top of the newsfeed. There are some small differences, but the only thing I noticed was the lack of lens filters. I consider lens filters to be the best part of Snapchat because they encourage you to post even if you aren't doing anything interesting. Snapchat monetizes this feature by allowing firms to sponsor filters which gets users to willingly post ads on their story because they are so engaging. It takes a lot more effort to create a filter than a tweet or a Facebook post, but it has shown to be worth it from the initial results.
I wouldn't go as far as saying this 'InstaStory' (my name for it) feature will be dead on arrival like Facebook's previous failed attempts at copying Snapchat only because it doesn't have filters. To me, it shows that Instagram doesn't understand why users are on Snapchat. Snapchat will always understand their users better than Instagram simply because it was the original creator of the product. That being said, the reason why 'InstaStory' isn't dead on arrival because of the lack of lenses, is because I'm pretty certain Instagram is working on creating them. I can't see why it wouldn't just go through with a complete copy of Snapchat.
The reasoning behind why Instagram would go through with this initiative is the platform has a structural problem with posting. It doesn't want to necessarily create a better mouse trap than what Snapchat has. It wants to provide a home for users to post more content. It wants to increase posting incrementally without making a change to the news feed. This would be the same as if Twitter (TWTR) provided a separate part of the app to house long form content. This longer form blog wouldn't rival the top blog sites, but it could provide an increase in posting.
For those who have huge following on Instagram, but not on Snapchat, this is a great alternative. Instagram has suggested this as a reason for the 'InstaStory' feature. There is no way for me to compare the following of various celebrities on Instagram to Snapchat because Snapchat follower counts aren't public information. However, I would say Instagram is a few years too late as users with Snapchat probably have already built up a following. From my personal experience, my Snapchat friends are more engaged than my Instagram followers. This new 'InstaStory' feature can reengage followers. It's too early to tell because the feature is going to get heavy usage in the first few days after it is launched because of curiosity with the product. The key will be if users keep engaging with the product over time.
While Instagram wants users to incrementally increase their posting on the app, it's not a lock to actually happen. Firstly, users weren't exactly clamoring for another version of Snapchat as Snapchat works just fine. In the previous analogy, I described Twitter expanding the character count on a separate part of the app. If you remember a few months ago, when this was mentioned as a possibility by Jack Dorsey it was rejected by users. There is a risk that users on Instagram switch from posting on the newsfeed to the 'InstaStory'. If original posting decreases more on newsfeed, than it would relegate Instagram as a Snapchat knockoff.
Anecdotal Evidence
My initial evidence, based on the users I've spoken to, is the feature is not something they're satisfied with. Sometimes users like to complain about a new feature on Facebook, but then continue using it anyway. Therefore, initial gripes aren't a death knell. However, what I did found shocking was almost all my friends posting on 'InstaStory' uploaded a picture telling their followers to add them on Snapchat, including their username. I would call that a major backfire as Instagram's attempt to compete with Snapchat actually helped Snapchat.
Reviews
A big problem with 'InstaStory' is how blatant of a copy it is of Snapchat. It's not like when Facebook put trending topics in the corner on the desktop. This is so obvious, that users are noticing and they aren't liking it. As you can see from the App Store, users are not pleased with the new update. One reviewer said it best "I like both, but I don't want Snapchat to be Instagram, and I don't want Instagram to be Snapchat." Users also seem to be disappointed with the previous update to the app where the chronological order of newsfeed was replaced by an algorithm. This makes the 'InstaSttory' update even more despised because it makes it seem like Instagram is trending in the wrong direction. To reinforce my previous point, a reviewer wrote "The new stories is a direct stab at Snapchat, but an epic flop that no one uses except to shoutout their Snapchat."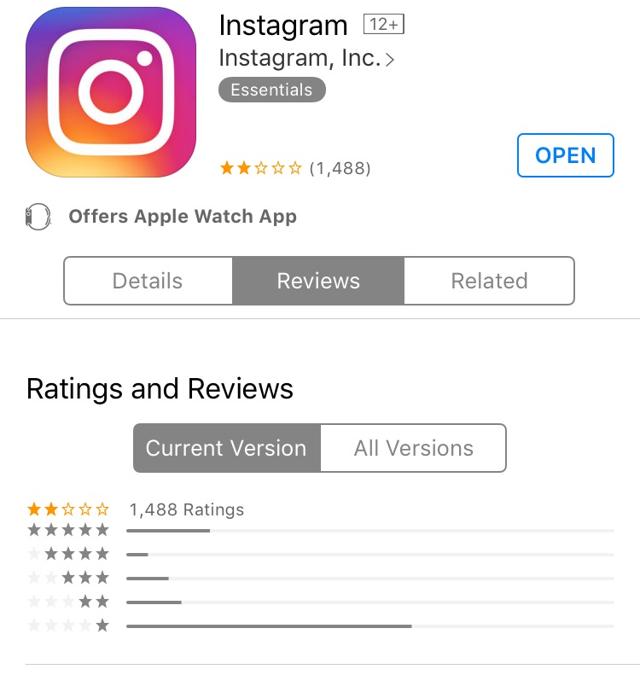 What it means
This update is great news for Snapchat as users are being encouraged by their Instagram friends to share their Snapchat username on Instagram. It is better marketing for Snapchat than the company could have done itself. Anytime Instagram alienates its users, it is a big win for Snapchat as it makes them spend less time on the app. Instagram has already lost out to Snapchat as the favorite social media app among teens, but this may accelerate its downfall.
The update is a negative for Instagram. The fact that it was done shows how the company lacks innovation. Like I said, Facebook has been able to copy some Twitter features. However, they were small changes. It's not as if Facebook decided to institute a 140 character limit. That would obviously be a bad idea because it would change the makeup of the network. Just as I am betting Instagram is going to add new lenses, I am pretty sure the company will not be eliminating 'Instastory' unless the results are disastrous. At that point it would be too late to salvage the problems it caused.
Takeaway
Instagram was Facebook's connection with younger users as the main app is more popular with the older generation. Now that it is losing popularity, it will be harder for Facebook to convert young people into users on the main app. This can't come as shock to investors. Did anyone think that an industry rife with innovation and change would be easy to compete in? As I mentioned in my last article, Periscope is now losing out to Live.ly in the live streaming category. If Live.ly continues its success, it can take away potential young viewers who would be watching Facebook Live.