Today's July jobs report, which, similar to the June report surprised to the upside and created a fury of risk asset buying, was once again interpreted as market friendly. While signs of a strengthening U.S. could also be interpreted negatively by the markets (increasing the odds of another rate hike from the Fed, some day), for the moment, all news is good news. Many investors have a carefully watch-list of factors to help them determined when to reduce risk in their portfolios and raise cash. However, this cycle may prove to be more difficult for those relying on (1) macroeconomic indicators, (2) interest rates, or (3) company fundamentals.
Macroeconomic indicators will prove to be a double-edged sword. If they get too strong, a Fed rate hike is assured. As many justify holding equities due to the low interest rate environment, even a 25 bp rate hike would make equities overvalued for these investors. And of course weakening macro indicators announce the next recession.
Interest rates, as everyone knows by now, have been so distorted by central banks that they are almost useless this cycle. Looking for an inversion of the yield curve? You'll still be looking even after the U.S. economy gets finished with the next recession.
Company Fundamentals have not mattered for five quarters. Don't be surprised if stocks sell off on an improvement in company earnings, as investors have already attached such inflated P/Es to U.S. stocks that we may be get a "buy the rumour (of better future earnings) and sell the news (of a mediocre improvement in earnings)".
A market top in U.S. stocks will, as always, be marked by investor euphoria. And today we are seeing levels of euphoria and complacency worthy of at least an intermediate market top. The VIX volatility index has fallen to 11.18 (top chart below). The last time the VIX was at this low level was... August 5, 2015. Déjà Vu? Today, August 5, 2016, we returned to the same low on the VIX. What happened after August 5, 2015? Our final chart below shows the S&P 500 (NYSEARCA:SPY) price action after August 5, 2015. Still holding on to your equities?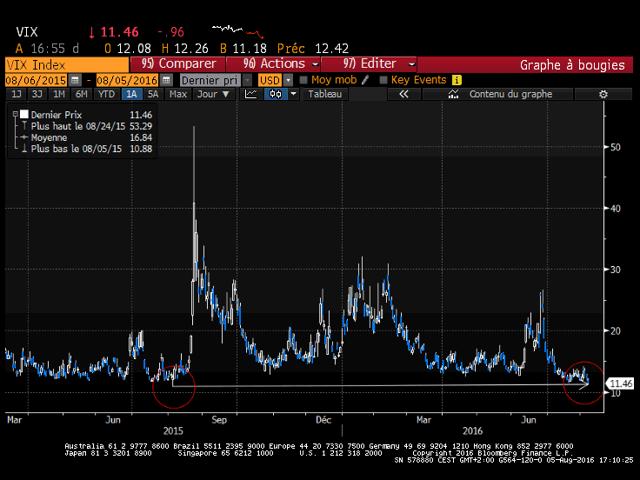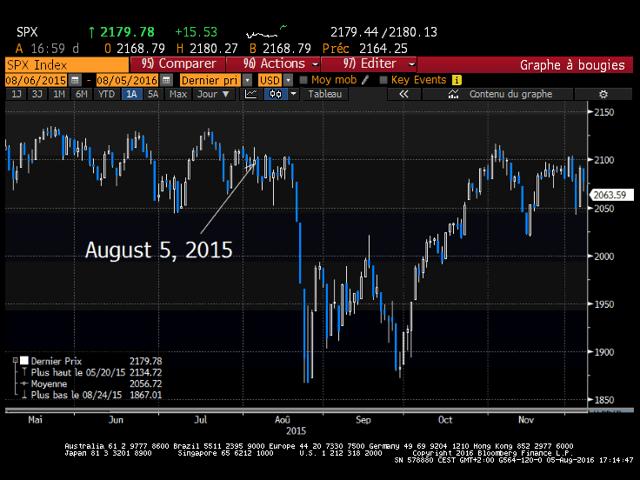 Disclosure: I/we have no positions in any stocks mentioned, and no plans to initiate any positions within the next 72 hours.
I wrote this article myself, and it expresses my own opinions. I am not receiving compensation for it (other than from Seeking Alpha). I have no business relationship with any company whose stock is mentioned in this article.