During the Q2 conference call, Elon Musk spoke of the "production hell" that the company had been in during Q1 and most of Q2 as it struggled to ramp production of the Model X. Mostly ignored by analysts is the fact that Tesla has managed to successfully emerge from this hell, increasing vehicle production by almost 60% y/y. Most importantly, Tesla (NASDAQ:TSLA) is now making about the same gross profit from a Model X as it does from a Model S. This could prove a turning point in the company's quest for automotive profitability.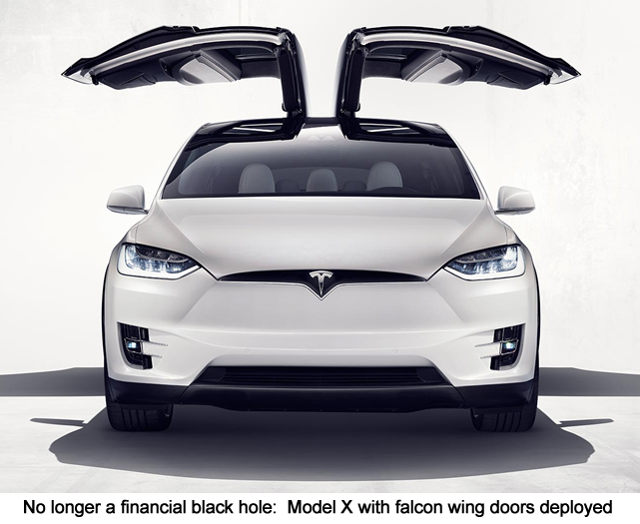 Source: Tesla Motors
Credible Guidance
Bearish takes on the Q2 earnings report and conference call have of course focused exclusively on the negatives. Receiving particular attention was Musk's faux pas in stating during the conference call that "Tesla would be profitable excluding the Model 3 CapEx ramp." Despite my lack of formal training in accounting, even I realize that CapEx doesn't factor into profit calculations, even on a non-GAAP basis.
As embarrassing as this was, it wasn't the significant takeaway that Musk had to communicate:
Basically, we were in production hell for the first six months of this year. Man, it was hell. And then we just managed to climb out of hell in like basically partway through June. And now the production line is humming and our suppliers mostly have their shit together.
This statement has been ignored by Tesla bears who prefer to characterize TSLA's management as dishonest, especially in the production guidance for the second half of the year. In the Shareholder Letter, Tesla guided to 50,000 deliveries in the second half of the year. Bears have roundly criticized this as non-credible.
In fact, the implied production rate appears to be entirely credible. Tesla states that it achieved a production rate of 2,000 vehicles/week by the end of the quarter, and expects that rate to improve incrementally through Q3 and Q4. At that rate, Tesla should be able to produce adequate supply to meet the delivery goal.
According to the earlier press release on production and deliveries, Tesla achieved a 59% y/y growth in vehicle production. This is a very impressive achievement that the bears completely ignore. Model X deliveries nearly doubled compared to Q1.
Most importantly, automotive gross margin on a GAAP basis has recovered to slightly above the pre-Model X level of 22.7% to 23%. This implies mathematically that the Model X gross margin is now comparable to the Model S.
In my article on Q1 earnings, I had pointed out that automotive gross margin had declined to 19.6%, implying that Model X gross margin was about 5.9%. I concluded that the lack of profitability in the Model X had motivated the acceleration of the timetable for Model 3 production.
It is the improvement in automotive gross margin that makes the production guidance credible. If margin hadn't improved, I would have concluded that Tesla only managed the Model X production increase through heroic and unsustainable effort. The gross margin improvement says that the production rate is sustainable, and can be improved further.
CFO Jason Wheeler also guided to 2-3 points of additional automotive gross margin improvement by the end of the year. This is probably a reasonable expectation given the current trend.
Financial Performance
Although Tesla continues to lose increasing amounts of money per car on a GAAP basis, the financial news was not all bad. Total GAAP revenue grew 33% y/y to $1.27 billion. Gross profit grew 29% y/y to $275 million.
The GAAP operating loss worsened to $238 million from last year's $170 million as operating costs grew from $383 million last year to $513 million this year. As Tesla preps for Model 3 production and Gigafactory startup, operating costs are unlikely to come down.
Tesla likes to throw a lot of non-GAAP metrics at investors, but even on a non-GAAP basis, Tesla had a non-GAAP net loss of $194 million. Jason Wheeler claimed that Tesla could still be non-GAAP profitable by the end of the year, but I consider that highly improbable.
At least Tesla's somewhat creative "cash flow form core operations" metric did turn positive this quarter at $293 million.
Much has been made of the CapEx spending being under the planned level for the year of $2.25 billion. So far, only about $511.5 million has been spent. Wheeler stated the intention to "beat" that guidance, and I interpret that as an intention to come in below it since the comment was made in the context of capital efficiency.
It's been claimed by SA contributor Montana Skeptic that Tesla is holding back on CapEx in order to provide a "bridge loan" to SolarCity (SCTY). Tesla may well provide such a loan, but I doubt that would cause TSLA to hold back on CapEx. Given the desire to be in production of Model 3 by late 2017, Tesla is spending everything it reasonably can towards that goal.
And with Tesla's cash position having improved considerably following the $1.7 billion capital raise, as well as the Model 3 deposit impact, Tesla has no particular need to hold back on CapEx.
Speaking of Model 3 deposits, despite claims that Model 3 deposits had fallen, Wheeler specifically reiterated that Tesla has 373,000 Model 3 deposits. However, allowing for this number, there appears to be a decline in non-Model 3 deposits sequentially.
Investor Takeaway
Lately, my sell rating on Tesla has caused me to be lumped in with the Tesla bears, but I'm a very reluctant bear, and I would never short the stock. Under no circumstances would I be willing to profit from a Tesla failure.
I remain somewhat bearish on Tesla based on the SolarCity acquisition, which I believe puts an undue strain on TSLA's financial resources, and the goal of achieving 500,000 vehicle production per year by 2018. I regard this goal as unrealistic. A more realistic goal would be about 200,000 vehicles in 2018, with about 100,000 being Model 3.
I believe the more realistic goal above is achievable and would probably get Tesla to non-GAAP profitability. If it weren't for Solar City, I'd be willing to upgrade Tesla to hold, but unhappily, I have to continue to rate TSLA a sell.
The virtue of the SolarCity deal is that it furthers the goal of sustainable BEV transport and electricity generation. The financial virtues of the SolarCity deal just aren't there. It just seems like nepotism run rampant. If Tesla's shareholders reject the deal, I'd change my rating, but unfortunately, that appears unlikely.
Disclosure: I/we have no positions in any stocks mentioned, and no plans to initiate any positions within the next 72 hours.
I wrote this article myself, and it expresses my own opinions. I am not receiving compensation for it (other than from Seeking Alpha). I have no business relationship with any company whose stock is mentioned in this article.