This week, I wrote an article about a possible NFP outcome. Both the ISM and NMI employment index pointed towards lower job growth. Both had predicted the 2015 job growth decline and are currently at low levels. The ISM employment index is at 49.4 (contraction)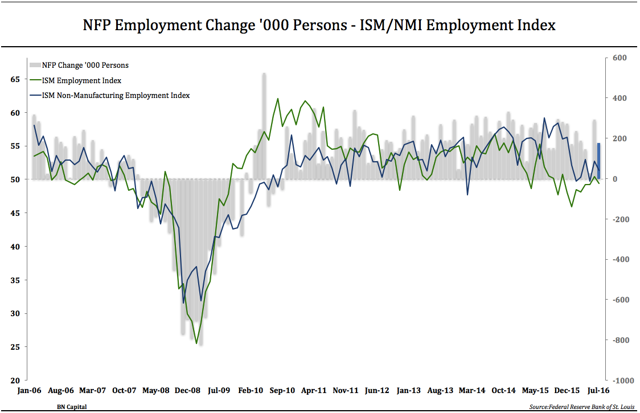 The actual job number came in at 255K. Much higher than the expected value of 180K. It is really starting to look suspicious. Leading indicators are slowing since 2015 and growth is staying at historically high levels.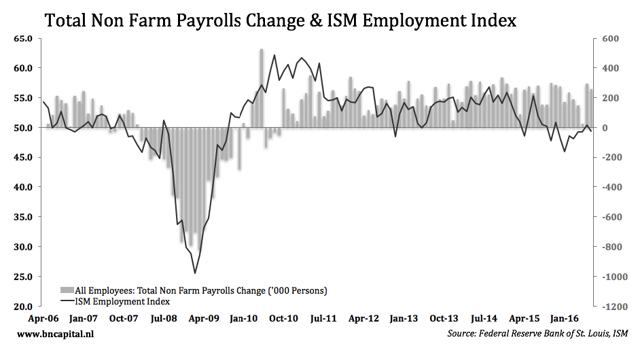 Total employment growth rates are falling and showing a typical late-cycle pattern. Employment growth started falling at the end of 2014.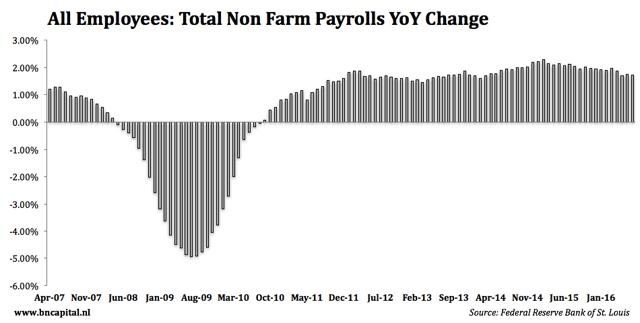 The good news is that the labor force participation rate increased 10 basis points to 62.8%. It looks like the participation rate is bottoming after hitting a bottom in Q3 of 2015.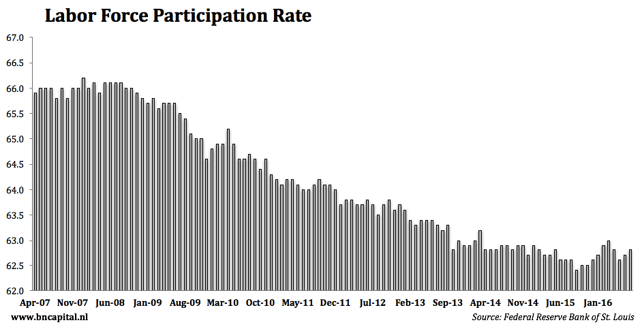 The following list shows job changes per industry.
Professional & business services +70K
Health care +43K
Financial activities +18K
Leisure & hospitality +45K
Government +38K
Mining -6K
Mining has lost 26% of its workforce since the third quarter of 2014 when growth slowing started.
I find it interesting to see that the divergence between leading indicators and actual jobs is widening. One thing is clear, companies are getting less positive about hiring (ISM/NMI data). Another thing that is important is the year-on-year employment performance which indicates late-cycle growth.
Thank you for reading my article, I hope you enjoyed it. Feel free to leave a comment if you have questions or remarks.
Disclosure: I/we have no positions in any stocks mentioned, and no plans to initiate any positions within the next 72 hours.
I wrote this article myself, and it expresses my own opinions. I am not receiving compensation for it (other than from Seeking Alpha). I have no business relationship with any company whose stock is mentioned in this article.